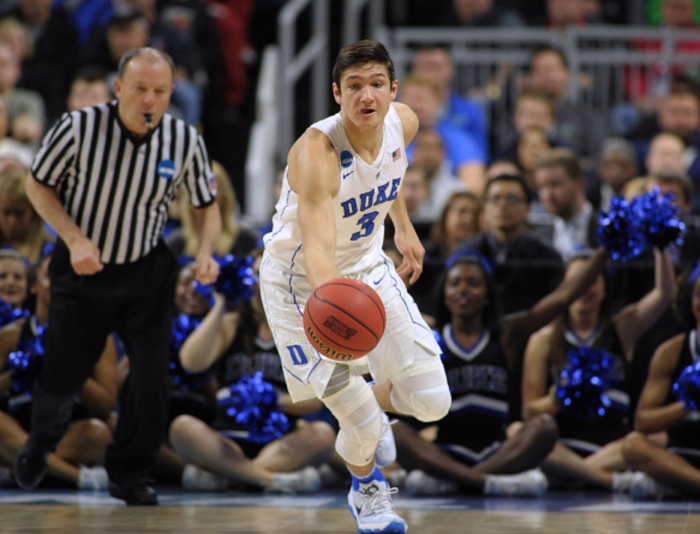 Duke sophomore Grayson Allen has announced that he will be returning for his junior year with the Blue Devils. His return is welcome news to the Duke side which will be returning a majority of their 2015-16 roster minus senior Marshall Plumlee. The other senior, Amile Jefferson, could be given a medical redshirt this season after missing time since early December due to a foot injury meaning he could be available next season as well.
Loaded Lineup Next Season
According to ESPN, Mike Krzyzewski's side is number one in their "W ay Too-Early Top 25". This is due to what they have returning and incoming. Returning along with Allen are: guards Derryck Thornton and Luke Kennard, forward Matt Jones, and center Chase Jeter.
Duke will also be bringing in one of the best recruiting classes in the country. They bring in the two top recruits in Harry Giles and Jayson Tatum. Also coming in are Frank Jackson and Javin DeLaurier. The Blue Devils are also in the running for center Marques Bolden, a top 20 recruit.
Projected Starters: Thornton, Allen, Tatum, Jefferson (assuming he's given medical redshirt), Giles
Projected Bench: Kennard, Jones, Jackson, Jeter, DeLaurier
Allen's Achievements
Grayson Allen broke out last season during the NCAA Tournament, playing a vital role in helping Duke win their fifth National Championship last season. This season, Allen was named as a Second-Team All American. He averaged 21.6 points, 4.6 rebounds, and 3.5 assists per game. He was named a part of the Final Four All-Tournament Team last year and was an Academic All-American this season as well as an All-ACC First-Teamer.
Coach K Speaks On Allen's Return
"We are thrilled that Grayson will be back with us next season," said Head Coach Mike Krzyzewski in the press release. "Following the season, he put a lot of thought into an important decision that will impact the rest of his life. In the end, he chose to remain at Duke, where he will pursue an undergraduate degree and develop even more as a man and basketball player. Grayson's passion and commitment to our school and his teammates have been very apparent in our discussions with him."
"On the court, Grayson is a warrior, as I've said many times," Krzyzewski continued. "He has untapped potential, both on and off the basketball court. I have loved coaching Grayson and I'm going to love coaching him next season."