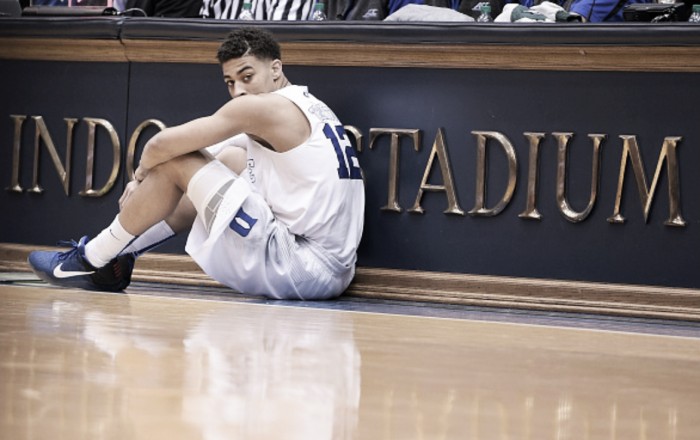 Earlier this week, Duke Blue Devils point guard Derryck Thornton announced he was transferring from Duke. This was first reported by ESPN's Jeff Borzello and Jeff Goodman. The point guard will have to sit out a year due to transferring but will have three years of eligibility remaining.
Thornton's Short Career At Duke
Thornton, who reclassified to be part of the recruiting class which brought in Brandon Ingram, Chase Jeter, and Luke Kennard was the 17th top prospect in the Class of 2016 according to ESPN. This season, he averaged 7.5 points and 2.5 assists a game. In November, he scored a career-high 19 points against VCU and also chipped in four assists. He started 20 of the 36 games this past season, but inconsistent performances throughout the season saw Grayson Allen become the primary ball handler and even saw Luke Kennard take over his spot at times in the lineup.
Thornton Values His Time At Duke While Coach K Wishes Him The Best
"I have loved my time at Duke, but I want to pursue the opportunity to play college basketball closer to home," Thornton said in a press release. "I want to thank my teammates and coaches for their support this year. The relationships I have with them will always be special to me."
Coach Mike Krzyzewski was very appreciative of the point guard in his lone season in Durham, "We wish Derryck the best and appreciate his contributions to our team this season," Duke head coach Mike Krzyzewski said in the release. "We support his decision and want only what is best for him in the future."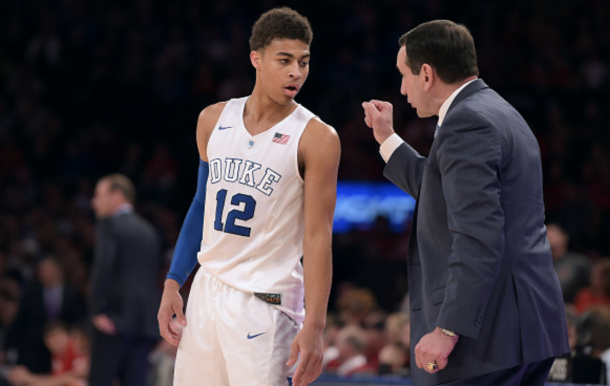 Quotes from Thornton's Trainer and Director of Basketball Scouting
Thornton's trainer and close family friend, Mark Edwards, took to Twitter to criticize Coach K over his use of Thornton in the offense, "I was in Coach K's office when he told Derryck he would be used in a ball screen offense," Edwards told 247Sports' Jerry Meyer. "Looking at this year's team, I think he knew he wouldn't have the type of team to follow through on that promise. Derryck was in on 20+ ball screen situations this year, and in comparison (Providence freshman) Kris Dunn was in over 250+ situations ... to me, he was lied to."
Below is what Jerry Meyer, 247Sports' Director of Basketball Scouting had to say,
"I do believe Thornton came to Duke with unrealistic expectations of how he would be used in the offense," Meyer, 247Sports' Director of Basketball Scouting, said. "Coach K likely did overpromise, as is typical in recruiting. However, it became evident quickly that a high ball-screen offense centered around Thornton was not the best approach for Duke. He did get 26 minutes per game, but in those minutes shot only 39 percent and delivered 2.6 assists."