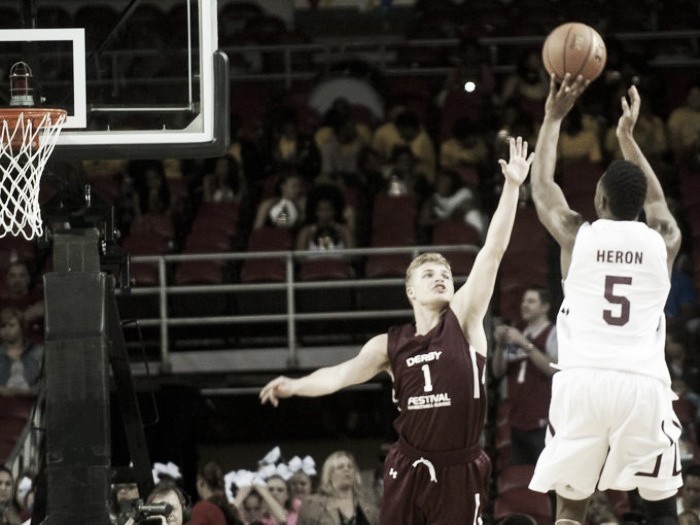 Without a shot clock, the possibility of production on the offensive ends was doubtful, but points came in bunches all game long.
The game remained fast-paced from beginning to end with these recruits and committed players hungry to prove their ability. A handful of players were able to catch the eyes of spectators without breaking a sweat.
Derby Stars
The SEC will have to deal with a major threat next year as Auburn-bound Mustapha Heron from Sacred Heart who dropped a game-high 32 points to go with 11 rebounds. His effort was able to lead the White Team to the win.
Eron Gordon, brother of NBA-star Eric Gordon, won the MVP honors after his 29-point and 10-rebound effort for the Maroon Team. The Senior from Indianapolis Cathedral is currently undecided and is deciding between Seton Hall, Memphis, and Auburn.
A player who was close to home in Louisville, Kentucky was the future Indiana Hoosier Curtis Jones. Jones dropped 25 points, six rebounds, and four assists for the Maroon Team. Jones comes off as an explosive player, the Hoosiers have pure talent on their hands. The other Indiana commit, De'Ron Davis, sat out the game because of an injury.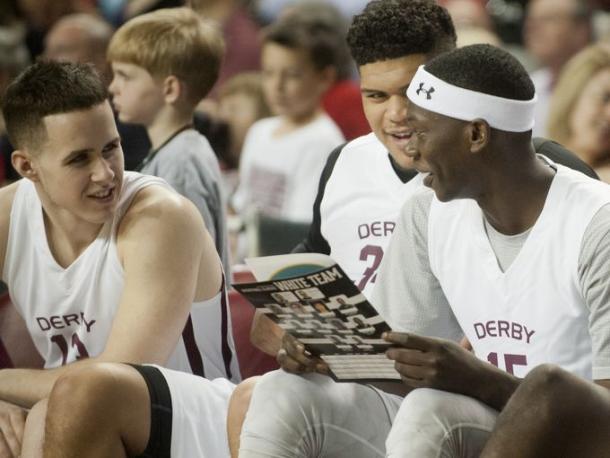 Kentucky Mr. Basketball Carson Williams made his debut for the Maroon Team and had 14 points with nine rebounds on 7-8 shooting. Williams will be attending Northern Kentucky next season.
The player who won the fan favorite award for the game was Brad Calipari. The son of Hall of Fame coach John Calipari will be attending the University of Kentucky and is going to be a walk-on under his father. Calipari scored nine points on 3-6 shooting from deep.
No Clock Needed
The game was a never ending cycle of basket after basket, each team would respond to the other within five seconds of the last score. Both teams had hit 100 by the time the fourth quarter started.
These players wanted to prove themselves despite their commitments. The crowd had to think these schools were getting a nice player added to their roster.
It's hard to argue what team got the best deal out of the players involved, but there's some clear winners conference wise.
Big 10
The Big 10 Conference had players such as Jones (Indiana), Micah Thomas (Maryland), and Derek Funderburk (Ohio State).
Jones and Thomas were big parts of the Maroon Team as Thomas played well on the defensive side. Both Funderburk and Thomas were able to grab boards with ease due to their size.
The Big 10 is a clear winner, these players will be seeing some big time minutes against each other next season.
SEC
The SEC had outstanding commits, and they don't plan on going to Kentucky.
Some of the contributors for the SEC are Heron (Auburn), Mario Kegler (Mississippi State), Eli Wright (Mississippi State), Jared Harper (Auburn), Calipari (Kentucky).
Auburn and Mississippi State made some great moves on the recruiting trail with these additions. Harper is the perfect small guard for a team who needs a leader and Kegler will provide a small Mississippi State team with some size.
Kentucky, of course had their recruits playing elsewhere, but the Wildcats, and every other team in the SEC, will have to eventually face these players too.
Proven
With such a high scoring game, it's easy to say a lot of these commits, despite not needing to do it, proved something.
2016-17 will be quite the basketball season.