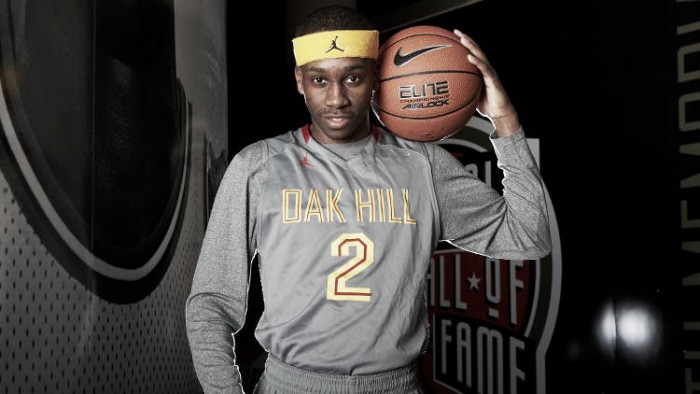 Class of 2017 point guard Matt Coleman says the Duke Blue Devils have contacted him. However, the Blue Devils have not made an offer yet to the playmaker from Oak Hill Academy. Duke's number one recruit of the 2016 class, Harry Giles, is also reported to be recruiting Coleman to the Blue Devils according to NCAA Basketball insider Adam Zagoria. Giles is currently attending Oak Hill Academy and is a teammate of Coleman's.
Coleman With A Plethora Of Offers
Coleman has no shortage of offers, especially since he is part of next year's class so he has plenty of time to make a decision. Whilst Duke has not made him an offer yet, over 15 schools have made an offer to the Norfolk, Virginia native. College basketball powerhouses Arizona, Louisville, Connecticut, and Indiana have all made him offers. Also, notable ACC rivals of Duke in Virginia, North Carolina State, and Virginia Tech have all made scholarship offers.
One Of The Best In His Class
The 6'2'' point guard is the 21st best prospect in his class in ESPN's Top 60 of the Class of 2017. He's the third highest-rated point guard behind Trevon Duval, ranked fifth from Wilmington, Delaware, and Trae Young, ranked 20th from Norman, Oklahoma. Young has an offer from Duke, making him one of six players to have received an offer from the Blue Devils.
Gary Trent Jr., Kevin Knox, Wendell Carter, D.J.Harvey Jr., and Austin Wiley also received offers, and should Coleman receive one, he'd be the seventh player to get an offer. Oak Hill Academy produced former Duke point guard Quinn Cook so moving from Oak Hill to Durham is a move that doesn't fall too far from the Oak Hill tree.
Coleman Knows What He Wants
Despite the many offers, Coleman knows what he's looking for when it comes to a school. He said in an interview, "Who's the coach and what's his background. Most of the coaches, they played point guard, so that's big. Then, do they put guys in the league. The academics, if basketball doesn't work out, what I could do. Location, so my parents can see at least some games. And then fanbase. Want to go to home games that get a lot of fan support."