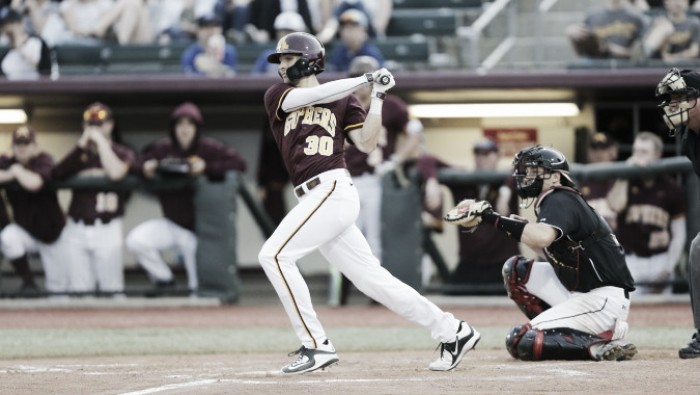 The Minnesota Golden Gophers, fresh off a loss to North Dakota State, traveled to Illinois to take on the Fighting Illini, and left with a 3-1 victory that will help maintain their lead in the Big Ten standings.
Minnesota takes the early lead
The Gophers got on the board first, although it took until the third inning, when shortstop Luke Pettersen led off the inning with a walk. Dan Motl than followed that up with a single to right field, advancing Pettersen to second base.
Connor Schaefbauer than hit a single of his own to load the bases for Matt Fiedler. Fiedler hit into a double play to second base, but that allowed Pettersen to score and give Minnesota the early lead. The inning ended when Austin Athman grounded out to shortstop.
After Illinois was set down relatively easy in their half of the third, Minnesota had another scoring chance in the fourth, when Alex Boxwell hit a two out double to left field. Jordan Smith then drew a walk to put two runners on with two outs. Pettersen then stepped up and hit into an inning-ending fielder's choice to the third baseman to end Minnesota's scoring chance.
Illinois scores their only run of the game
The Illini managed to tie the game in the bottom of the inning, as Pat Mcierney hit a one out single to third base. He advanced to second when DH Luke Schilling grounded out. Dan Rowbottom than stepped up to the plate and hit a single to right field, allowing Mcierney to score and tie the game at one.
Nobody scored again until Minnesota got two runs in the sixth inning. It started when Micah Coffey hit a two out single to center field. He advanced to second when Boxwell singled to left field. After a wild pitch from Cody Sedlock, both of them advanced one base, putting runners on second and third for Smith. He hit a single to left field to score Boxwell and Coffey to give the Gophers the 3-1 lead.
That was the score when Illinois stepped up to the plate in the bottom of the ninth inning, needing two runs to keep the game going, and three to win. Schilling started the inning by grounding out on what looked like a swinging bunt. The next batter was Rowbottom, who singled to left field.
He was then removed for pinch runner David Craan. Mark Skonieczny than stepped up to the plate to bat for Trent Hammond, and promptly struck out swinging for the second out of the inning. That left it up to Zack Kolakowski, who kept the game alive with a single to right field. Jack Yalowitz than stepped up to the plate and struck out swinging to end the game.