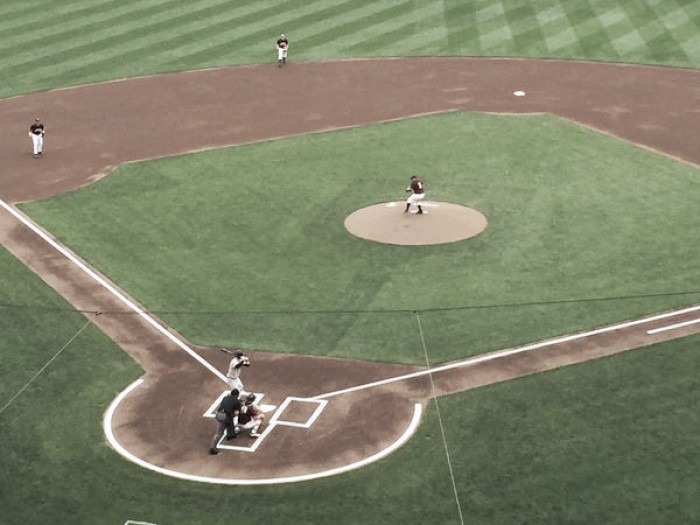 The upsets continued on Wednesday at the Big Ten Conference Tournament as the third game of the day saw the third upset with the #8 Iowa Hawkeyes beating the #1 Minnesota Golden Gophers 8-2 to advance into the winner's bracket.
Iowa strikes immediately to take early lead
The Hawkeyes struck first as Nick Roscetti drew a one-out walk. He advanced to second when Joel Booker hit an infield single up the middle. Roscetti advanced to third after Mason Mccoy hit into a fielder's choice that saw Booker retired at second. Austin Guzzo followed with a double to deep center field, scoring both Roscetti and Mccoy. Robert Neustrom then drew a two-out walk bringing up Daniel Aaron-Moriel, who grounded out to third base to end the inning, with Iowa in the lead, 2-0.
After Minnesota failed to even get a hit in their half of the first, Iowa came back to the plate. They struck again as Peyton hit a two-out triple to right field. He scored when Roscetti singled to right field. Booker then stepped up and hit a single to the shortstop.
That setup Mccoy, who singled to right-center field, scoring both Roscetti and Booker, and gave the Hawkeyes a 5-0 lead. Guzzo then singled to right field to put runners on first and second for Robert Neustrom, who flew out to center field, ending the inning.
Minnesota scores only runs in the third inning
Minnesota finally got on the board in the third inning, when they scored two runs when Connor Schafenbauer hit a two-run home run to left-center field to make it a 5-2 Iowa lead. The two teams then proceeded to trade zeroes for a few innings until the Hawkeyes scored three runs in the fifth inning which started from a leadoff walk by Moriel. He advanced to second on a passed ball and moved up to third on a wild pitch.
After Daniels walked, Peyton stepped up to the plate and doubled down the left field line scoring Moriel, and advancing Daniels to third. Roscetti followed with a sacrifice fly out to left, scoring Daniels. They added another run when Booker singled to right field, scoring Peyton, and moving the lead up to an 8-2 margin.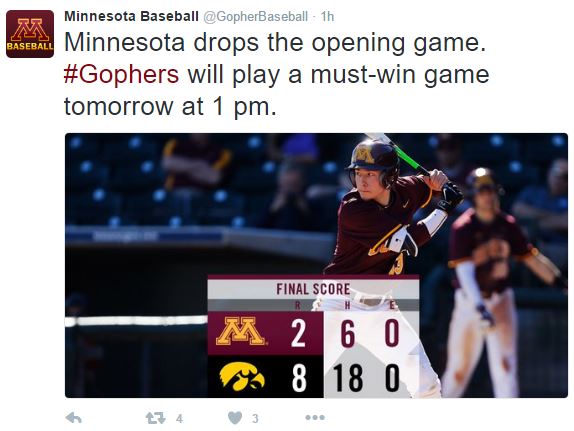 That was the last run either team would score as both pitching staffs threw consecutive shutout innings to end the game and give the Hawkeyes an 8-2 win.
Final Stats
Iowa was led at the plate by Booker, who went 5-5 with one RBI. Peyton also contributed, as he went 4-6 with a double. Pitcher C.J. Eldred went seven strong innings, giving up just two runs while striking out five batters. He threw 96 pitches while facing 29 batters.
The Gophers starting pitcher didn't have as strong a start, as Matt Fideler went just 2.1 innings, giving up eight hits and five runs while striking out nobody. He threw just 53 pitches while facing 17 batters. He did not get any help on offense, as Pettersen was the Gophers best hitter, going 2-3 with a double. Schaefbauer had just one hit, which was his home run.
What's next
Minnesota, the tournament's #1 seed, now moves on to play in an elimination game on Thursday afternoon against either Michigan or Ohio State. The Hawkeyes, who barely managed to sneak into the tournament, move on to play Thursday night against the Michigan-Ohio State winner.