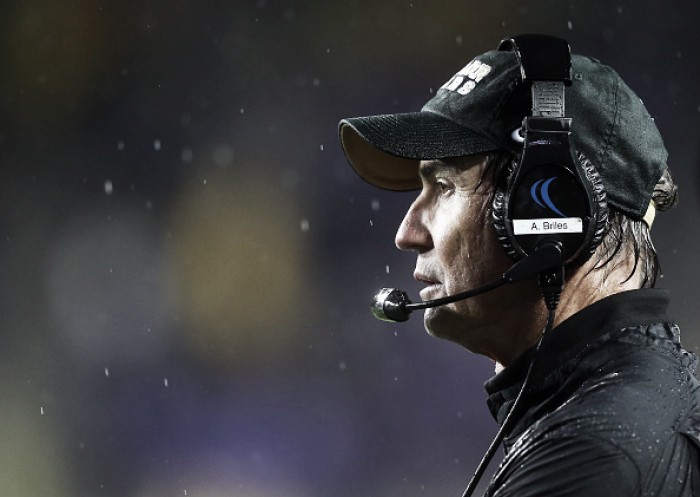 Art Briles will no longer continue as head coach of the Baylor University Bears.
The school officially announced that it planned to fire the embattled coach after an independent law firm released a scathing report detailing the findings of a months-long investigation into the school's handling of allegations of assault against women by many of its players. The investigation, commissioned by the private university, found that Baylor was "wholly inadequate" in its actions and represented a "fundamental failure" to properly respond to reports of physical and sexual violence against women at the school.
One of the most damning and damaging pieces from the investigation found that officials at Baylor directly discouraged some complainants from reporting or participating in student conduct processes and in one instance constituted retaliation against a complainant for reporting sexual assault. That was enough to finally get action from a "shocked and outraged" board of regents at the private Christian university. The chair of the board announced he was suspending Briles with intent to fire him.
"We were horrified by the extent of these acts of sexual violence on our campus. This investigation revealed the University's mishandling of reports in what should have been a supportive, responsive and caring environment for students," chairman Richard Willis, said in a statement released this morning. The board also announced that president Kenneth Starr, previously famous for carrying out a series investigations in the administration of former U.S. President Bill Clinton and his sexual affair with White House intern Monica Lewinsky, would no longer serve as leader of the university.
In an interesting twist from that sordid story, investigators found that Baylor's administrators failed to properly adhere to key tenets and amendments of the Violence Against Women Reauthorization Act of 2013 (WAVA). The act was originally signed into law as part of a larger crime bill by President Clinton in 1994.
A long and painful investigation
The report today comes after months of an investigation of the school's responses to allegations that sent shock throughout the college football world and across Baylor's campus in Waco, Texas.
In June 2014 former linebacker Tevin Elliott was convicted of sexually assaulting a student and sentenced to serve 20 years in prison. The conviction stemmed from an assault that happened in 2012, four years after Baylor hired offensive guru Art Briles as head coach. A little over a year after Elliot's sentencing, Sam Ukwuachu, another standout defensive player was sentenced to six months in jail and 10 years of probation for an alleged assaulting a freshman soccer player at the school. That incident occurred in 2013. Defensive end Shawn Oakman was also arrested for assaulting a woman at the school. He was a defensive star at Baylor, widely praised by his coaches. The alleged victim claimed Oakman attacked her and ripped off her clothes before sexually assaulting her.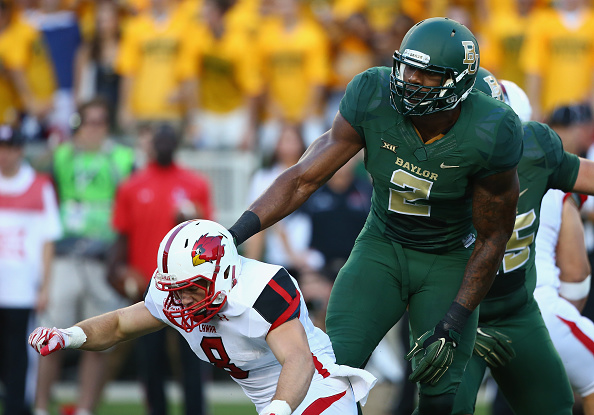 Tre'Von Armstead and Shamycheal Chatman were other players later accused of assaulting young women at the school. Armstead was eventually dismissed from Baylor University.
All of this was happening while Briles was building a football powerhouse at the once long-dormant program. Briles entered the school promising to change the culture at the program. He did on the field at least. After two dismal years, the Bears secured their first bowl berth since 1994. And then, a man who would become legend took the world by storm. Robert Griffin III electrified the Baylor crowds with dazzling quickness and a big arm. He would capture the 2011 Heisman Trophy Award. All told, Briles would guide the school in Waco to a 65-37 record, including two Big XII conference titles. The coach had come a long way since his days as a high school football coach.
Baylor tries to stop the bleeding
Ultimately, the story of Ukwuachu put the final nail in the coffin for Briles. Ukwuachu came to the school after being dismissed from the program at Boise State University. In August 2015, Ukwuachu was sentenced to 180 days in jail for assaulting another student-athlete at the Baylor.
Many pondered why Briles took in the troubled player in the first place. He was dismissed from the Boise State program for violation of team rules- reportedly for beating and choking a former girlfriend while he was in Boise, Idaho. She, too, would testify at Ukwuachu's trial. Briles said he knew nothing about the intricate details surrounding Ukwuachu's dismissal.
Then Boise State head coach Chris Peterson would call into question Briles' defense. The coach claimed he told Briles about Oakman's past behavior. Briles immediately came under fire but was able to survive the following football season. He led Baylor to a 10-3 record and a Russell Athletic Bowl win. That win would be his last at the school. In January, ESPN'S Outside the Lines ran a report in which several women in and around the school claimed the program and the university didn't care about the victim. One of the most troubling lines from the report came when an official responded to a mother who pled for help and justice for her daughter, who said she had been assaulted by a player.
Furious fans, students, and outsiders called for swift reaction at the school. The school, in response, pleaded for patience until the findings of an independent investigation came forth.
Today, it finally did. The findings revealed a lack of strong institutional management and control on a number of levels. It explicitly placed blame on school administrators and said they fostered a massive failure to protect victims at the schools and implement correct measures in response.
Then, the ax finally fell on the head of Art Briles. Willis claimed the board was horrified and had little choice to suspend coach Briles and announce that it planned to terminate the contract of the face of the football program. Briles had won enough to gain many fans and supporters. The report's findings evaporated those that were left. He now leaves a program and a school embroiled in scandal and controversy. It will be surely hard for him to secure another coaching job.
Players and recruits had mixed reactions.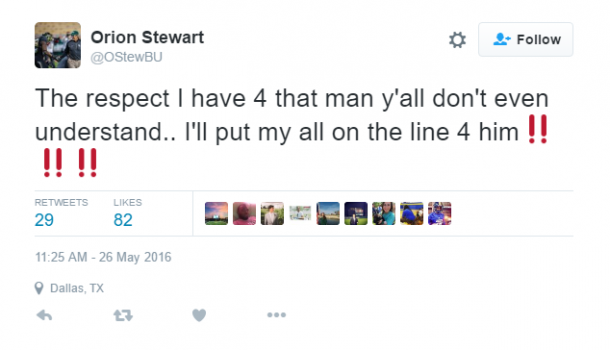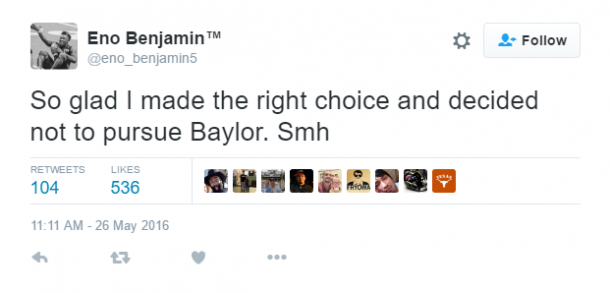 Defensive coordinator Phil Bennett will take over as interim head coach. Briles' son Kendall will stay on staff for the moment. He is the program's offensive coordinator. His father, meanwhile, exits to college football purgatory.