For a brief moment, it looked like Clemson Tigers' closer Pat Krall would blow another lead, but shortstop Eli White saved his pitcher with a smooth running catch on a line drive heading for center field. The would-be game tying hit ended up trapped in White's glove for the third out of the ninth inning, preserving a nail-biting 5-4 victory over the Virginia Cavaliers in the opening game in pool play action of the 2016 ACC Tournament. White led the Tigers on offense with three hits, half of the offensive attack produced by the opportunistic Tigers. The Cavaliers got a pair of hits apiece from Matt Thaiss and Daniel Pinero, but it wasn't enough for the defending national champions.
Teams trade runs in early on
Clemson struck first in the pool play matchup, picking up a tally in the second inning. Up with one out and one man on first base, Weston Williams picked up his lone hit of the contest, turning on a fastball and ripping it down the third base line. Virginia executed their relay sloppily, dropping the initial toss from the outfield before airmailing the throw home, allowing slow-footed catcher Chris Okey to slide in safely. However, the Cavaliers wasted no time in knotting the score back up, as Pinero hit a bomb to left field for a solo shot that tied the game. After that, however, both Clemson starter Charlie Barnes and Virginia ace Connor Jones settled down, and the game remained knotted at one run apiece for several innings.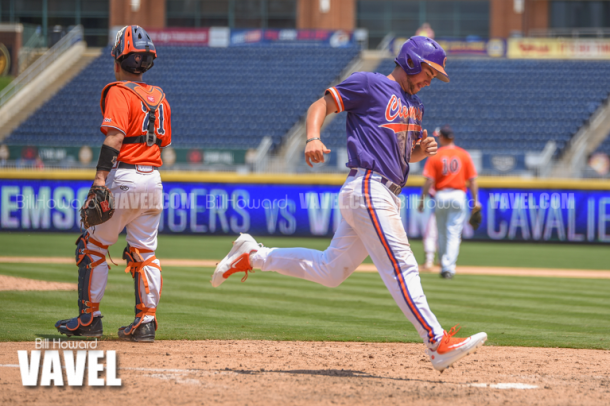 Big inning vaults Clemson into lead
Not many teams get big innings against Connor Jones, the Virginia ace with a sparkling 2.29 ERA, but the Tigers managed the rare feat. They marked Jones for three runs in the fifth frame, sparked by a two-run home run to left field by Mike Triller. Chase Pinder helped manufacture a run with two outs in the inning, working a walk to start the mini-rally. Dancing on the basepaths, Pinder rattled Jones into issuing a balk and a wild pitch, sending Pinder to third base. This set the stage for White's double to left-center field, giving Clemson a 4-1 lead halfway through the game.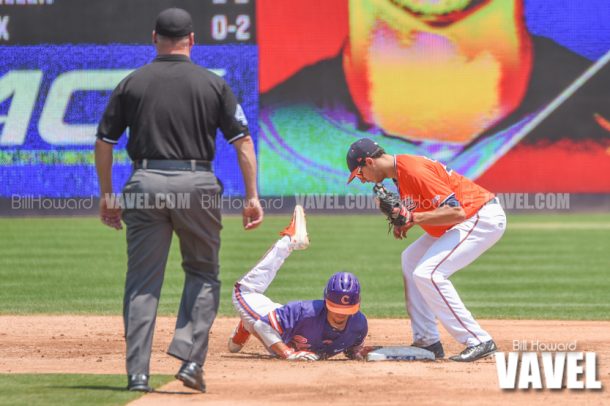 Virginia fights back
Having garnered the advantage against the defending national champions, Clemson failed to throttle Virginia, allowing the third-seeded Cavaliers to creep back into the game. Virginia tacked on a deuce in the sixth, with a pair of sacrifice flies. A single and double began the frame, before Pinero and Adam Hasely whacked a couple of long fly balls that were deep enough to score the two runners, cutting into the Clemson lead. Alex Eubanks relieved in the sixth for Clemson after their lead shrunk to one run, holding Virginia scoreless over 1.1 innings. This allowed Clemson to set up the back end of their bullpen, but Pat Krall was greeted by Matt Thaiss. Thaiss golfed a home run deep into the right field stands, re-tying the game at four runs apiece.
Clemson rebounds from Cavalier comeback
Although most teams tend to fold after allowing such a comeback, Clemson did not go away, striking for what would prove to be the winning run in the top half of the ninth inning. A single and a walk began the frame, before a sacrifice bunt moved both runners over and set the table for the top of Clemson's lineup. Pinder blasted a deep fly to center field, on which Hasely made a spectacular catch -- but it did it's job, scoring the winning run for the Tigers. It could have been a two-run doublle, but it ultimately wouldn't matter.
Krall came back out for the ninth inning and quickly had Clemson fans holding their breath, surrendering a one-out infield single, which stretched into a two-base play thanks to a throwing error. Krall then induced a foul pop out, bringing up Ernie Clement. It was a scary sight for Clemson fans, watching Virginia's hot-hitting second baseman stride to the plate, a .346 average attached to his name. It was even scarier when Clement ripped a line drive right past Krall -- but White was there, reeling in the game-sealing catch.
Clemson gets a stiffer challenge tomorrow, taking on the second seed in the ACC tournament, the Louisville Cardinals, at 11am. A win clinches them a spot in Sunday's title game. Virginia needs to win both their remaining games to make it to the title game, as well as hope for a pair of Clemson losses. They'll start by trying to take down the tenth-seeded Demon Deacons of Wake Forest.
Other ACC Action
In other ACC tournament games, Florida State and Miami both picked up their second wins of the tournament, setting up a showdown on Friday between the two squads. The winner will advance to Sunday's title game. Jackson Lueck had three hits to lead the Seminoles in a 6-1 victory over Georgia Tech. Miami squeaked by NC State 8-7.