Coming off of a last-place finish, Xavier baseball fans were not encouraged by the team's 3-12 start. The Musketeers lost seven to open the season, victimized by a four-game sweep at the hands of Arizona State, plus three other losses to Mercer.
Xavier collected three wins over USC Upstate, then promptly lost five more. They didn't turn things right around either, playing .500 ball for much of March and the first half of April. They started Big East play looking like anything but a formidable foe. They didn't do anything to bolster their reputation either, dropping three of their first four conference games, two to Georgetown and one to St. Johns.
Then, something clicked. The rest of the way, Xavier went 11-1 in conference play, sweeping Butler, Villanova, and Seton Hall, while taking two of three from the second-place Creighton Blue Jays. The Musketeers' final victory, a clean 9-0 wipeout of Villanova, clinched Xavier's first regular season Big East title in program history.
Three games later, Xavier took their second Big East title in program history, taking down Creighton 8-7 in the championship game, securing their second championship in three years, as well as a berth in the NCAA tournament. Creighton (38-17) will hope that their outstanding resume during the season plus their runners-up finish will be enough for an at-large bid at tomorrow's selection show.
Creighton nabs early lead; looks to force second game
Creighton came in needing two wins to secure the Big East Title. In the early going, it looked like they might do just that. The Blue Jays touched Xavier starter Brad Kirschner for three runs in the first frame, loading the bases with no outs on two singles and a walk. Matt Gandy hit a weak grounder to second that resulted in an out at first base, but a run crossing home plate. Harrison Crawford poked a two-run single one batter later for a 3-0 lead.
After keeping the high-octane Xavier offense silent in the first inning, Creighton tacked on another run in the second inning, on a solo blast from Kevin Connoly. However, having scored 14 runs in their first two tournament games, Xavier wasn't going to be quieted for long.
Xavier's Way: Musketeers utilize the long ball in game-tying inning; takes lead in ensuing innings
Xavier entered Sunday's game with 52 home runs, easily the top mark in the conference and the 35th best in the nation. They didn't change their ways to make their comeback against Creighton. The Musketeers tied the game with a pair of two-run blasts in the third inning, the first from Rylan Bannon, and the second from Joe Gellenbeck. Matt Fallon singled to precede Bannon's shot, while tournament MVP Daniel Rizzie, (5-5 on the day), poked a one-base knock through the hole to set up Gellenbeck's thirteenth shot of the year.
Xavier tacked on single runs in the fourth and fifth innings, pushing their lead to 6-4. After Creighton stranded a pair of runners in the top half of the inning, Rizzie gave Xavier the lead with a two-out RBI single in the bottom of the fourth. Playing some small ball in the fifth inning, Xavier used a sacrifice bunt and sacrifice fly to bring around their sixth run of the game, extending their lead to two runs.
Creighton halves Xavier's lead; Xavier adds insurance
In the seventh inning, the Blue Jays managed to chip away at Xaviers' two-run advantage. Crawford picked up his 3rd RBI in the inning on a single that saw Reagan Fowler beat the throw home, cutting Xavier's lead to 6-5. However, Xavier gave themselves some breathing room in the eighth inning. With Creighton's penchant for ninth-inning comebacks, - they overcame a 5-3 deficit in the ninth in the tournament opener - Xavier knew they couldn't get a lead too big.
Two singles, sandwiched around a stolen base, got the inning off to a good start, and Bannon was credited with a RBI ground out that doubled Xavier's lead. And up next was Creighton's least favorite person in the stadium: Daniel Rizzie. Rizzie smoked a double to left field, expanding Xavier's lead to a game-high three runs. That last run would prove critical when Creighton reached into their bag of ninth-inning magic.
Xavier strands tying run; barely withstands comeback
Gandy sparked some excitement in the Creighton with a big double to left-center to open up the ninth inning. He moved to third on a ground out. Brett Murray singled in Gandy and moved to second on another single. Both runners advanced on a wild pitch. The tying run was in scoring position with just a single out recorded in the inning. Connoly, the owner of Creighton's lone home run in the game, came to plate and launched another long fly ball, but this one stayed in the ball park, becoming just a long sacrifice fly out.
That brought the score to 8-7, with the tying run just 90 feet away. With runners on second and third, Xavier elected to pitch to Creighton's best hitter, Daniel Woodrow. Already 3-5 on the day, Woodrow battled through a six-pitch at-bat before slicing a ground ball to shortstop. Despite his speed, Woodrow was out at first, setting off the Xavier celebration.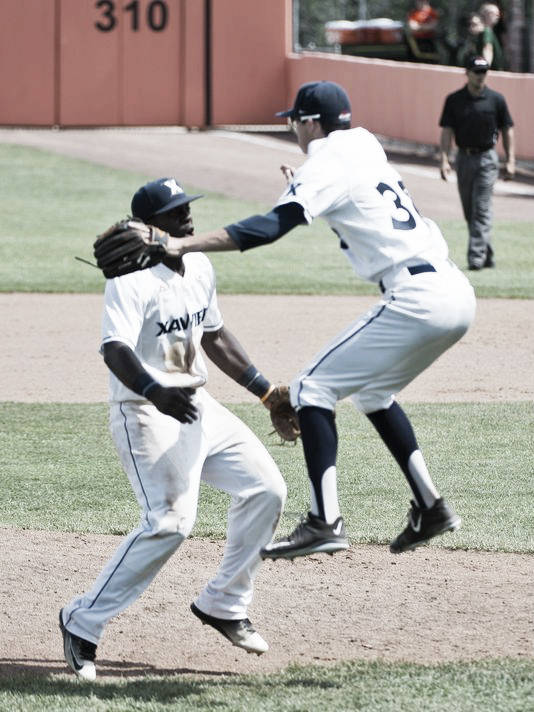 Other Conference Champions
Plenty of other teams cinched their berth to the Big Dance on Sunday. Here are the games that had been completed as of the time of this article.
BIG 10: Ohio State defeats Iowa 8-7
BIG 12: TCU defeats West Virginia 11-10 (10 innings)
Conference USA: Southern Miss defeats Rice 3-2
SEC: Texas A&M defeats Florida 7-5
American Athletic: UConn defeats Houston 7-2
MAC: Western Michigan defeats Kent State 12-7
Southland: Sam Houston State defeats Southeastern Louisiana 7-4
Sun Belt: Louisiana-Lafayette defeats Georgia Southern 5-0
Still Being Decided
ACC (Florida State and Clemson)
Ohio Valley (Southeast Missouri State and Jacksonville State)
Southern (Western Carolina and Mercer)
Colonial (William & Mary and UNC Wilmington)
Big West (Arizona and Hawaii)