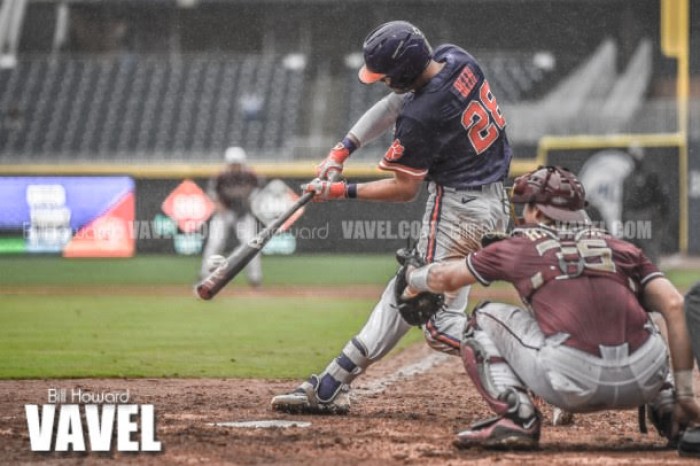 After waiting a decade to win an ACC baseball title, the Clemson Tigers did not care that it took them almost 8 hours to defeat the Florida State Seminoles on Sunday afternoon, clinching their first ACC title since 2006.
Enduring 2 rain delays totaling 4 hours and 35 minutes, plus a 3 hour and 31 minute slugfest against the Seminoles, the Tigers took home their first ACC title since 2006, collecting an 18-13 victory. The game that started at 11am ended at 7:22 pm when the final pitch was thrown.
Clemson poured runs on early
Clemson pounded Florida State early, jumping out to an 18-1 lead and withstanding a furious comeback from the Seminoles. Florida State did not help their cause by making four errors, allowing five of the first six Clemson runs to cross the plate as unearned tallies.
The Tigers tacked on three runs in the first inning, before putting a five-spot on the board in each of the next three frames, turning the highly anticipated matchup into a laugher. The Tigers were led by 4 RBIs apiece from Chase Pinder and Chris Okey.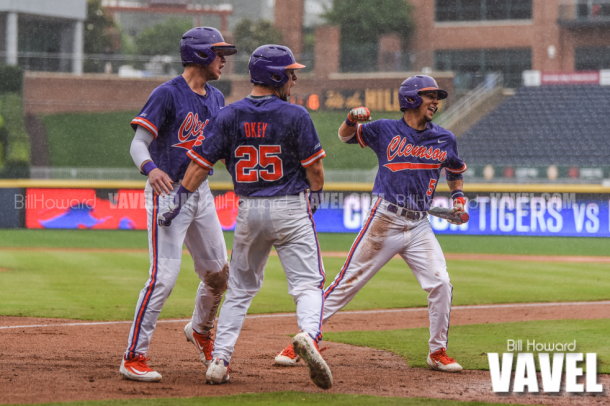 Down 18-1, the Seminoles chipped away with a quartet of runs in the fourth inning, turning the seventeen run deficit into a still astronomical 13-run gap. As the teams traded scoreless innings for three straight complete frames, the game seemed clinched for Clemson.
However, Florida State reached deep into their bag of tricks for one more offensive burst, slapping eight runs on the Clemson bullpen, capped by a home run from the dangerous Dylan Busby, who was the hero in Florida State's walk-off win over Miami. However, any momentum the Seminoles had garnered was quashed by a 2 hour rain delay that took the fire out of the Florida State dugout. Florida State put up a goose egg in the ninth inning, managing just one single in the frame, giving Clemson their title-claiming win.
Pool Play Roundup: Virginia Finally Gets A Win, Louisville Lays an Egg; Wake Forest Makes A Case
The pool play format of the ACC Tournament allows for plenty of upsets and exciting actions. Kicking off the tournament with a pair of play-in games between the seventh, eighth, ninth, and tenth seeds, the tournament spanned six days of thrilling and nail-biting action. In the first day, Wake Forest and Georgia Tech won play-in games to earn them a sure three games. After that, it was pool play, although it was essentially single elimination if you wanted to reach the title game.
Both Clemson and Florida State went 3-0 in pool play to reach the championship. In Pool A, Miami and Florida State, the #1 and #4 seeds, cruised past Georgia Tech and NC State, setting up a Saturday showdown between the two squads, the winner of which would advance to play on Sunday. Florida State won on Busby's walk-off single, giving the Seminoles a shot at repeating their ACC championship.
In Pool B, there were more surprises. Most expected either the 2nd seeded Louisville Cardinals or the defending national champions and 3rd seeded Virginia Cavaliers to represent Pool B in the title game, but instead, it was sixth-seeded Clemson surprising both squads by defeating both of those teams in the first two games of pool play. Clemson then survived Wake Forest in the third game of pool play to seal the berth.
Virginia lost to Clemson, then was shocked by Wake Forest, increasing their ACC tournament losing streak to 5 games. However, the Cavaliers finally used a seven-run fifth inning to top the Cardinals. Virginia should easily make the tournament, but both they and the Cardinals hoped for a little more momentum. Louisville's ugly showing was particularly surprising, as they tend to do well in this tournament, but they lost a pair after edging the Demon Deacons.
Speaking of those Demon Deacons, Wake Forest took advantage of their berth into the ACC Tournament to make a case as to why they should make the NCAA Tournament. The Demon Deacons, after a loss to Louisville, scored an impressive victory over Louisville and played Clemson very tough, dropping a 5-4 victory. After a 2-2 showing in the tournament, Wake Forest will hold their breath during tomorrow's selection show, to see if they did enough to earn a bid.
ACC Tournament Photo Gallery
It was six days of thrilling action, all of which was captured by VAVEL's Bill Howard.