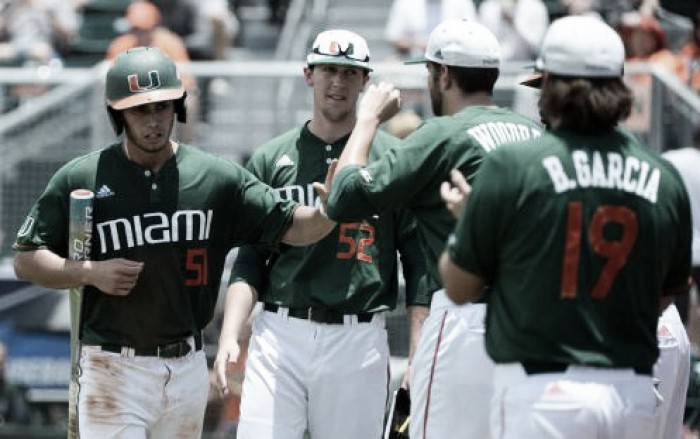 After two weeks of play, it is down to the final eight teams who will play at TD Ameritrade Park in Omaha for the right to be crowned National Champion. The first day features two games, with the second being #3 Miami (FL), and unranked Arizona. Here is a look at how the two teams matchup heading into the game.
About the Hurricanes
The Miami Hurricanes enter the tournament after hosting both the regionals and the Super Regionals. In regional play, they started with a 4-2 win over Stetson, followed by a 4-3 win over Long Beach State in a game that went 11 innings. That advanced them to the Regional Championship, where they faced Long Beach State again, this time escaping with a 9-8 win to send them to the Super Regionals.
In the Super Regionals, they hosted the Boston College Eagles and won the first game rather easily by a final score of 12-7. They dropped the second game 5-3, to set up a third and final game, with the winner advancing to Omaha. They won that final game 9-4 to clinch a spot in the CWS. It is the first time in NCAA history that a school has had their Football team reach a bowl game, both their basketball teams make the NCAA Tournament and have their baseball team advance to the CWS.
About the Wildcats
The Wildcats did not have such an easy time leading up to the tournament, as they not only were on the road for all their games, but their regional came down to a must-win situation for the Wildcats.
They started the Lafayette Regional with a 7-3 win over Sam Houston State. They followed it up with a 10-3 loss to the hosts. After that, they faced Sam Houston State in an elimination game and won 6-5 to set up a rematch with Louisiana-Lafayette. They defeated Lafayette 6-3 to set up one final game, with the winner advancing to the Super Regionals. The Wildcats were able to pull out a 3-1 win to clinch a spot in the next round.
They played their Super Regional against Mississippi State and played two very close games. The first game was a 1-0 Wildcat win, while the second was a 6-5 win in a game that took 11 innings to decide. When it was all said and done, the Wildcats were heading to the CWS for the 17th time.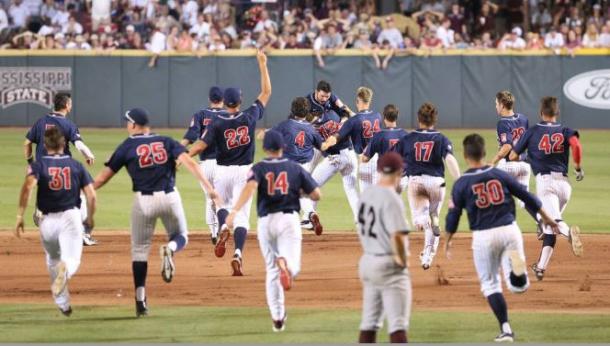 Miami stat leaders
The Hurricanes are led at the plate by Brandon Lopez, who is hitting .385 with 2 home runs and 42 runs batted in. He is followed closely by Zach Collins, who has a .357 average with 15 home runs to lead the team in that category. All said, four Hurricanes are batting over .300 entering the tournament.
Their rotation is led by Jessie Lepore, who has a 9-0 record with a 2.20 ERA. He has struck out 57 batters in 73.2 innings of work this season, with just five home runs allowed. the strikeouts leader in the rotation is Michael Mediavilla, who has 82 strikeouts in 98.1 innings pitched, along with his 11-1 record
In the bullpen, Bryan Garcia is the lead man, as he has a 195 ERA in 37.0 innings pitched. He has struck out 54 batters while allowing just three home runs. The only other reliever with more than 50 strikeouts is Andrew Cabezas, who has 52 strikeouts in 53.0 innings of work.
Arizona stat leaders
The Wildcats are led at the plate by Zach Gibbons, who has a .381 average with 39 runs batted in. They are not a team known for power, as their home run leader is Ryan Aguilar, who has just eight home runs thus far. Cody Ramer is the only other Wildcat to be batting over 300 entering the CWS.
Their rotation is led by Nathan Bannister, who has an 11-2 record, with a 2.71 ERA. In 132.2 innings pitched, he has 98 strikeouts with just 29 walks. He also has thrown three complete games so far. JC Cloney is the only other Wildcat to have thrown more than 90 innings, as he has thrown 94.1 innings with a 6-4 record, a 2.86 ERA, and 53 strikeouts.
Their bullpen has not received much work, as Alfonso Rivas and Robby Medel both have thrown 17.1 innings to lead the bullpen. Rivas has a 3.63 ERA ith 14 strikeouts, while Medel has a 5.71 ERA and 14 strikeouts.