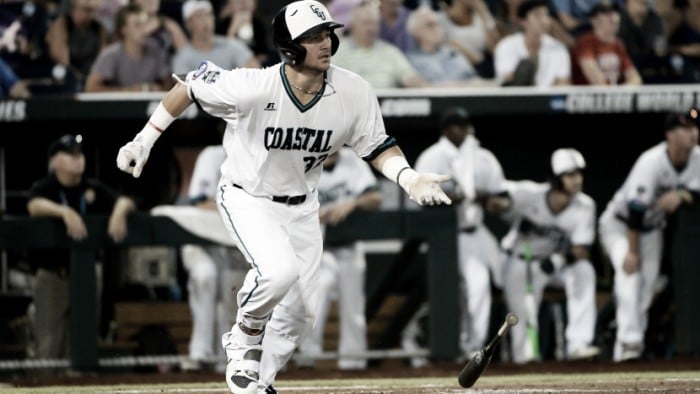 Thus far in the 2016 College World Series, the defining trait of the tournament have been the numerous amount of upsets.
Arizona beat #3 Miami
UC Santa Barbara defeated #3 Miami.
Coastal Carolina defeated #1 Florida.
Texas Tech defeated #1 Florida
Coastal Carolina will hope that trend continues as they take on the #5 Texas Tech Red Raiders in an elimination game on Thursday in the College World Series. Both teams sport 1-1 records in the World Series. The Chanticleers are 6-2 in the tournament overall, while the Red Raiders are 6-3. Both teams lost to TCU but defeated Florida. The stats on the surface all point to a very even game. Let's analyze both sides to see who might have an edge in this critical matchup.
Coastal Carolina needs to jumpstart floundering bats
The offense isn't the only things that win games. Just ask Oklahoma State, who have scored all of two runs in two games but collected two wins. However, if you don't have a shutdown pitching staff, you need to score runs to win, particularly at this level of college baseball.
So far, Coastal Carolina has looked befuddled on offense, scraping just three runs across the plate in two College World Series. That simply isn't enough to complement the pitching staff for the Chanticleers. Coastal is solid on the mound, but not dominant, featuring a 3.50 ERA in the NCAA Tournament. Their offense is certainly capable of putting up runs - they have five starters hitting over .320, but they have simply not come up clutch yet in this World Series.
Until this point, Coastal had been able to produce runs in all facets of their game. Their lineup features four hitters with at least fifteen home runs and four hitters with at least fourteen stolen bases. Connor Owings and Zach Remillard have sixteen and nineteen home runs respectively. Remillard hit .348 while Owings hit to the tune of a .368 average. Those two spark plugs will need to get it going against Texas Tech. So far, they have gone 3-15 in the two games thus far, with Owings posting a horrendous 0-7 mark.
For Coastal Carolina's pitching, they have not announced their starting pitcher for Thursday's game, but the likely hurler for the Chanticleers will be reliever turned starter Andrew Beckwith. Beckwith has alternated with ace Alex Cunningham during the NCAA Tournament and will likely get the nod to take on Texas Tech. Beckwith has made just eight starts this season, along with 16 relief appearances during the season, largely due to the injury of Tyler Poole. Beckwith was outstanding in his last outing, a complete game victory over Florida. He has a 2.02 ERA overall and a sparkling 13-1 record.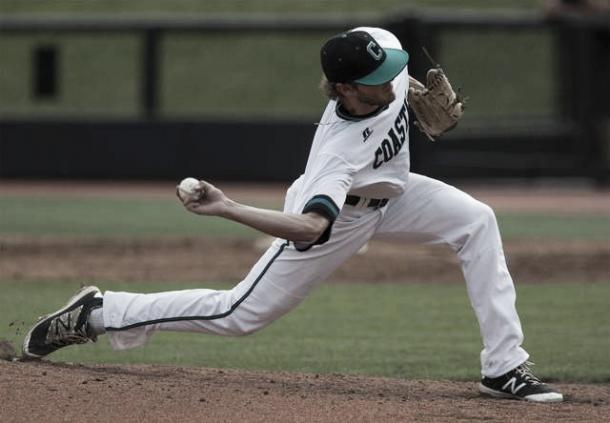 Texas Tech needs more solid pitching
So far in the College World Series, the Red Raiders have been solid on the mound, but rather weak at the plate. They've given up 3.5 runs a game while scoring 3 runs a game. They'll need to pick it up a notch in both facets of their game in order to defeat the Chanticleers.
Likely getting the start for the Red Raiders will be Steven Gingery, who got a no-decision in the College World Series opener. The freshman will likely be on the bump a game after his classmate David Martin dominated the potent lineup of the Florida Gators. The Red Raiders will hope for some more freshman magic, assuming Gingery does get the start. Gingery has only allowed two earned runs in his last two starts, but he has lasted only a combined 9.1 innings. That could be dangerous for a Texas Tech bullpen that has to be getting weary after this long NCAA tournament run. That weariness shone through on Tuesday when Texas Tech gave up two runs in two innings after Martin departed from the game. They also blew the game against TCU, turning a 3-2 ninth-inning lead into a 5-3 defeat.
With a starter that hasn't proven he can go deep lately, the Red Raiders will need their offense to get going to get past that potential handicap. Their offense will be led by Tanner Gardner, a .378 hitter, and one of five Texas Tech starters hitting over .300. Eric Gutierrez is hitting .330 to go with 13 home runs. They'll attempt to jumpstart a rather stagnant Texas Tech offense that needs to get going in order to beat this Coastal Carolina squad.