 The Florida Gators are now 2-0 on the season after bullying their SEC rival Kentucky Wildcats throughout, to win 45-7 in Gainsville.
The Gators have now won the previous 30 head-to-head's between the two teams which is a record for teams who play one another annually.
Callaway's 78-yard TD among big plays as Gators roll early
After both sides went scoreless on their opening possessions of the day, a 15-play drive from Florida second time around was finished off from three yards out by Mark Thompson who stepped his way into the endzone.
Quincy Wilson then pulled off an excellent interception on the touchline to give Florida the ball back, and with the very next play, Luke Del Rio hit Antonio Callaway deep for a 78-yard touchdown which took the Gators out to a 14-0 lead in the first quarter.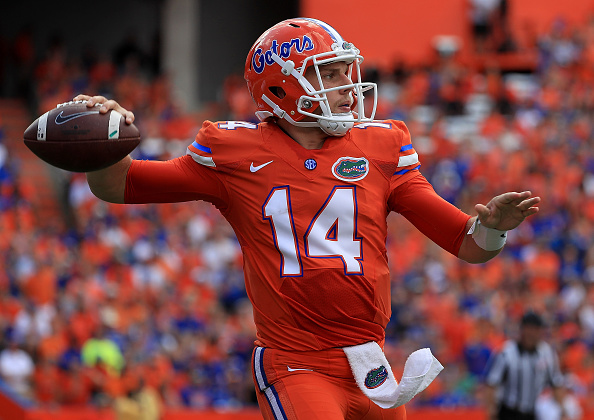 The dominance continued into the second quarter, and after Eddy Pineiro nailed a sensational 53-yard field-goal, Teez (previously Jalen) Tabor became the second player to pick off Drew Barker, setting up the home side deep in Wildcat territory.
With the Gators battery of running-backs continuing to drop in and out of the game, Florida's offence moved its way into the redzone, before Del Rio found Brandon Powell with 0:08seconds left on the first-half clock to give them a 24-0 half-time lead.
Wildcats continue to hand Florida the ball, who prolong winning run in the series to a fourth-decade
The contest at Ben Hill Griffin Stadium continued to be a one-sided affair after half-time, with the Gator defence in particular providing a masterclass.
Marcus Maye was the third, and final, Florida DB to pick off Barker, who finished the game with two completions to his receivers for ten yards, therefore providing the Gators with more catches on a horror night.
The only score of the third quarter came from Freddie Swain, who's lone reception of the day ended up with him rolling into the endzone from 26 yards out as Del Rio continued to impress.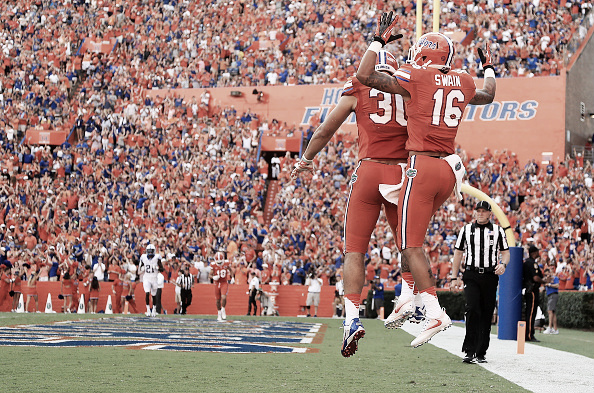 A fourth Wildcat turnover, this time a fumble, was followed by Jordan Scarlett putting up a rushing touchdown, before Lamical Perine became the sixth Gator to score a TD after finishing off a 28- yard screen play from Del Rio.
Jojo Kemp's late rushing touchdown ended Florida's hopes of pitching a shutout, but the score was nothing more than a consolation for a Kentucky team who were well and truly out of their depth for all four quarters.
Kentucky will hope to register their first win of the season in week three when they face New Mexico State, while the victorious Florida team remain at home next week to take on North Texas ahead of their big week four SEC clash with Tennessee.