The Wake Forest Demon Deacons basketball team will look to take another step as the Danny Manning era continues in Winston-Salem. Wake Forest has yet to even be a bubble team with a chance to make the NCAA Tournament under Manning's tutelage, but with another good recruiting class and another year of progression for their young talented players, Wake Forest has the potential to make waves in the ACC this year.
Players lost
Wake Forest will have to play without Devin Thomas and Codi Miller-McIntyre this season. Thomas and Miller-McIntyre were the first and third leading scorers for the Deacons and Thomas also led the team in rebounding. Both players were team leaders and their losses cannot be ignored. Other players will have to fill the void left behind by these seniors.
Bryant Crawford
Bryant Crawford was the most impressive player for the Deacons last season. As a true freshman point guard, he showed a lot of promise with his ability to drive and his three point shot. He will need to limit his turnovers as he led the team in that category, but his talent at the offensive end is unquestioned. Crawford should be able to expand his game and really become a force at the point guard position.
Doral Moore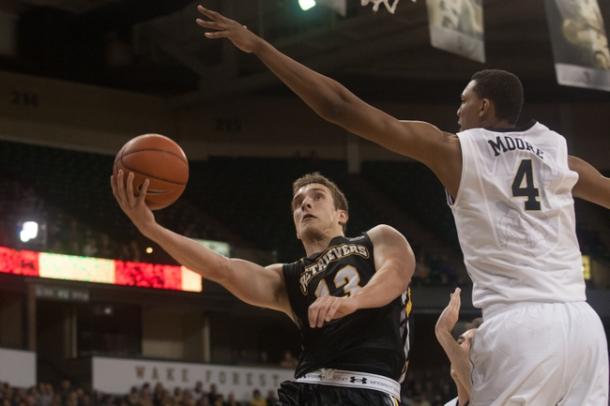 Doral Moore did not get as much playing time as Crawford did earlier in the season because with Devin Thomas in the front court, his presence as a true freshman was not as needed. However, when Thomas got suspended, Moore's playing time increased and he took advantage of his opportunity. In his first start against Boston College, Moore led the Demon Deacons with 19 points and ended their 11 game losing streak. He also had seven rebounds in the game and three blocks. He stands at 7'1" and can jump so opposing teams should be weary of his athleticism.
Non-Conference Slate
The non-conference schedule is shaping up to be advantageous for the Demon Deacons. Their Big Ten-ACC matchup is winnable against Northwestern and their biggest challenges should be closer to conference play against Xavier and LSU just before Christmas.
Wake Forest will need these games to grow as a team and having a good record before the grueling ACC schedule starts is vital to having a chance to make the NCAA Tournament.
Wake Needs To Improve In Conference Play
Wake Forest fell apart last season in ACC play. They lost 11 straight games in conference. If they are to have any chance of making the postseason, they will have to perform better against the teams they play against every year.
Wake needs to have an upset against a Duke, UNC or Virginia and they have to win games against even competition such as Clemson or Florida State. A .500 record in the ACC could lead to a spot in the NCAA Tournament.