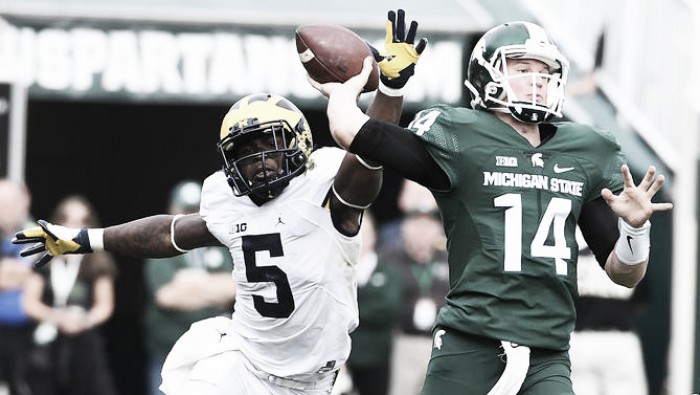 The number two Michigan Wolverines (8-0) remain undefeated this season following a 32-23 victory over the 2-6 Michigan State Spartans.
After a memorable last-second defeat to their state rivals in 2015, the Wolverines got revenge with a dominant performance in East Lansing, which saw Jim Harbaugh's team build a 17-point half time lead.
Michigan remain the team to beat in the Big Ten East, with their offense really starting to show signs in this victory of being a conference winning unit.
Wolverines build big half-time lead despite Spartans starting fast
Having had a disappointing season, the Spartans were a dangerous outfit for an undefeated team to be facing. With nothing to lose, and the opportunity to claim a big scalp against their state rivals, Mark Dantonio's squad started sharply by taking their opening possession to the house.
Behind a powerful running game led by LJ Scott, a 12-play drive which chewed up more than half of the first quarter was capped by Scott pushing his way into the endzone from five yards out for the 7-0 lead.
Like all champion teams, Michigan answered right back, also scoring on their opening drive, making 80 yards in just eight plays. Do-it-all superstar Jabrill Peppers boosted his Heisman chances, sweeping out right to cross for Blue's first touchdown of the afternoon.
On their next possession, Michigan quarterback Wilton Speight hit Jake Butt downfield on a 26-yard pass to take the ball to the one yard line, with De'Veon Smith taking the score to 14-7 just two plays later in the Wolverines favour.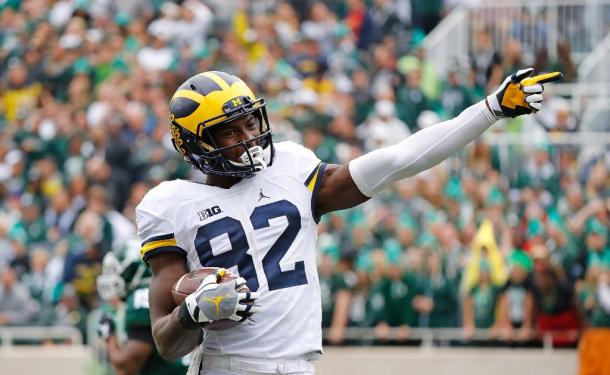 The teams traded field goals, before Michigan grabbed their third touchdown of the half, with Smith forcing his way into the endzone once more after a couple of big catches by Amara Darboh (165 rec yards) and Jehu Chesson set him up on the five.
Inside the final minute of the half, a Jourdan Lewis interception allowed Michigan to add three more points from the boot of Kenny Allen from 23 yards away as they took a 27-10 lead to the half.
Michigan hold off rivals to claim Paul Bunyan Trophy
Coming out of the half, Michigan State needed points quickly and they put themselves in position to do so.
After driving deep into enemy territory, Dantonio attempted to go for it on fourth down.However, they came up short which handed the ball back to the visiting side.
The Wolverine defense managed to hold up their side of the bargain and made sure the third quarter passed without a score as they stayed in control of the contest throughout.
A pair of late touchdowns from Monty Madaris and Donnie Corley helped Sparty to add some garbage time points, yet it was Peppers and Michigan who had the last laugh.
With Michigan State going for two after Corley's touchdown in the final minute, they fumbled and the ball was scooped up by Peppers who returned it to the house for two points as the Wolverines rolled to their eighth straight win in 2016.
Michigan host Maryland next Saturday in a game which they will be favoured heavily, while Michigan State travel to face Illinois.