 Following the mid-season dismissal of Les Miles, the LSU Tigers have found form at just the right time.
Under their new interim head coach Ed Orgeron, and a rejuvenated running game led by Leonard Fournette the Tigers have reeled off three dominant wins and were ranked 13th in this week's College Football Playoff rankings.
Orgeron now faces the toughest task imaginable, with the number one side in the country Alabama Crimson Tide heading to Baton Rouge this Saturday evening. Sitting 8-0, Nick Saban's unit are picking up steam at just the right time and know a win over their rivals sets them up for another crack at the national title.
Orgeron to face first true test as interim HC
After the contentious 18-13 defeat at the hands of the Auburn Tigers in September, the LSU hierarchy moved on from their head coach of 12 seasons in Les Miles and handed the reigns to former USC interim Ed Orgeron.
His three games at the helm so far have seen LSU win big over Missouri, Southern Miss and Ole Miss which has seen confidence rise dramatically in the state of Louisiana.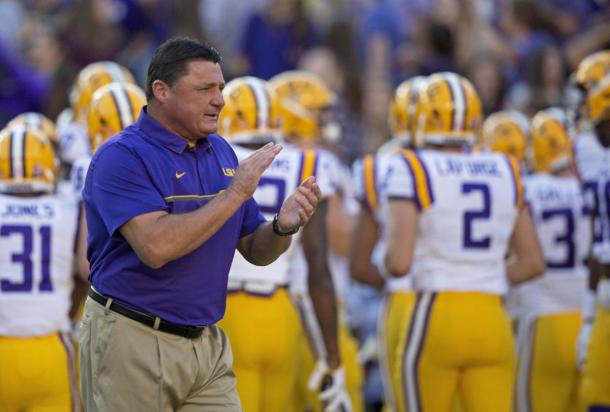 All three of those victories have been built behind a strong running game, with Derrius Guice reeling off 163 and 162 yards against Missouri and Southern Miss before Fournette smashed his way back into the Heisman reckoning with more than 300 yards of total offense (284 on 16 carries) against the Rebels a fortnight ago.
With junior Danny Etling quarterbacking the side, dominance on the ground will be crucial to any victory over Alabama's almightly defence.
21-year-old Fournette is seen as the best running back in the country and having had a whole year to stew over the 31 yards on 19 carries he accumulated in the corresponding game last year, number seven is bound to carry the ball with a vengeance against the revered Crimson Tide front led by Jonathan Allen.
A night game at Death Valley should bring the best out of an LSU team which includes highly touted athletes such as Kendell Beckwith, Tre'Davious White and Jamal Adams who will all be looking to put on a show in front of a large national audience.
The Tide keep rolling under Saban
Going after their sixth straight win over LSU, Alabama look in prime position for another shot at the College Football Playoffs.
Currently 8-0 and having been untroubled during the majority of their victories, Alabama have hit their strides over the past month knocking off Tennessee 49-10 and Texas A&M 33-14 in tough contests on paper.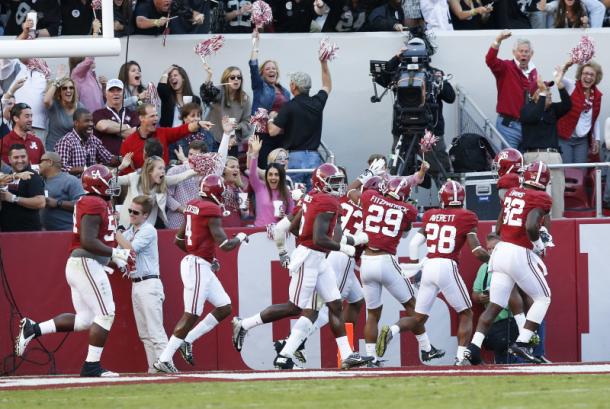 Jalen Hurts has been a revelation at quarterback, especially when using his feet, and his passing game out of the pocket continues to improve week-by-week which can only be a good thing for the offense going forward.
Defensively, Jonathan Allen is garnering serious Heisman buzz, while defensive ends Ryan Anderson and Tim Williams are putting themselves in the shop window ahead of the 2017 Draft with dominant performances off the edge.
The broken leg suffered by star safety Eddie Jackson in the win over the Aggies last time out will be tough to overcome, but there are enough pieces on defence for Fournette to be bottled up once more which will go a long way towards helping Alabma claim their ninth win of the season.