The Kentucky Wildcats came out of the gates of this game using a skill they hadn't shown off in their two games prior to their meeting with Michigan State; shooting. The success they had from the 3-point line was all in thanks to one new face.
New Cat in Town
Freshman Malik Monk scored 23 points against the Spartans, with 21 coming from deep off of 7-11 shooting from the outside. No other Wildcat would hit a three, but Monk put on enough of a shooting exhibition to will his team forward.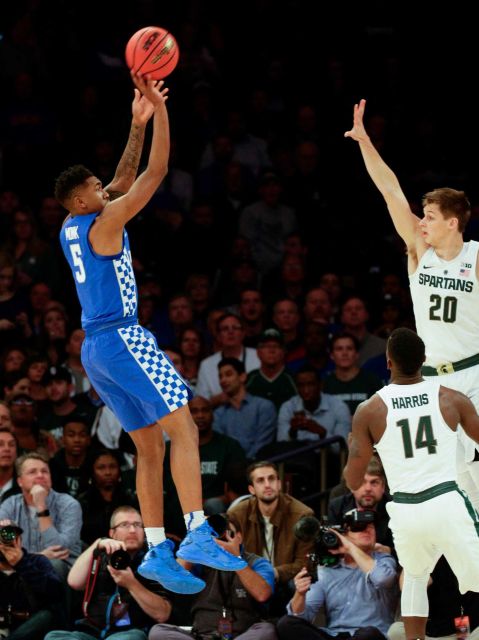 This barrage of threes from Monk was a new sight after his poor shooting in Kentucky's first two games. He came ready to play and provided a spark for this Kentucky offense that needed to spread the floor against a lengthy Michigan State team.
Going into this game, the Spartans had to use Kentucky's inability to shoot against them, and they had to keep from turning the ball over. They did neither of these, allowing one person to hit seven threes, and committing 20 turnovers as a team.
Turnover Prone
Miles Bridges, freshmen phenom, committed nine turnovers in his second game as a Spartan. Bridges is considered one of the best players in the country, but the performance he put on for national television left watchers wanting more.
Kentucky's defense was suffocating, however, as they used the speed and awareness of their guards to stay in the faces of their opponents. It wasn't often Michigan State had open looks, or even found lanes to the basket. A team that looked lost defensively in past games stepped it up to ensure they can compete with high level talent.
Going Forward
Kentucky improves to 3-0 on the season after a hard fought win in Madison Square Garden. Michigan State, however, takes a blow by falling to 0-2 to begin the season.
The Wildcats will use this win to figure out what kind of team they are, and they Spartans will use this loss as a learning experience and a way to improve for their next test.
Player Statistics
Malik Monk - Monk easily wins player of the game due to his performance from the perimeter. Without Monk, Kentucky wouldn't have had a chance against the Spartans. The freshman finished with 23 points and six rebounds on 8-17 shooting.
Isaiah Briscoe - Briscoe had his second game in a row in which he scored 21 points, matching a career high. The sophomore point guard ended with 21 points, five rebounds and one assist.
De'Aaron Fox - Fox didn't stuff his stats but he changed the Kentucky offense when he was on the floor, proving to be the clear facilitator for this young team. Fox finished with 12 points, five assists and two steals.
Kenny Goins - Goins was the leading scorer for the Spartans, and put up a true effort on the defensive end. He had nine points to go with seven rebounds and three blocks.
Next Up
Duquesne at #2 Kentucky 11/20/16
Mississippi Valley State at #13 Michigan State 11/18/16