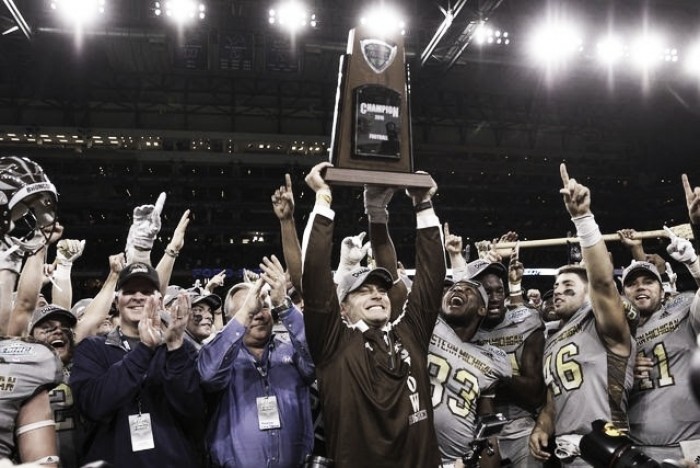 Quarterback Zach Terrell threw for 301 yards and two touchdowns while kicker Butch Hampton kicked five field goals as Western Michigan hung on for a 29-23 win over Ohio in the MAC Championship Game. The Broncos won their first conference title since 1988 to complete a perfect 13-0 regular season.
Western Michigan starts slow, ends first half strong for 16-point halftime lead
A crowd of 45,615 was on hand at Ford Field in Detroit, a MAC Championship Game record and they saw the Broncos command the first half, outgaining Ohio 270-107 in total yards while forcing two Bobcats turnovers. They couldn't turn their superiority into a big lead early on, as each of their first three scoring drives stalled deep in Ohio territory, forcing the Broncos to settle for three Hampton field goals, the first two from 42 and 27 yards, giving WMU a 6-0 lead after the first quarter and again from 21 yards as the Broncos lead was increased to 9-0 in the second period.
Despite being badly outplayed, Ohio's defense kept them in the game and the offense finally responded, putting together a 4 play, 72 yard drive in just 1:22, culminating in an 8 yard touchdown pass from quarterback Greg Windham to receiver Jordan Reid to pull the Bobcats to within 9-7.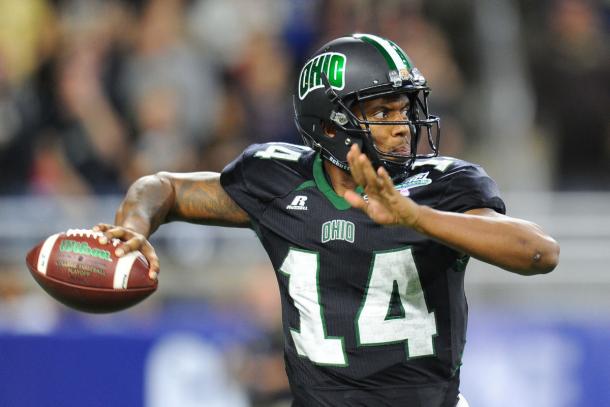 The turning point of the game seemingly came on the next possession as Terrell tossed a 70-yard TD pass to Corey Davis on the first play of the drive to give Western Michigan a 16-7 lead. They would add another score when Terrell threw his second touchdown pass of the game, this one to Carrington Thompson from 8 yards away to give WMU a 23-7 lead, the score heading into halftime.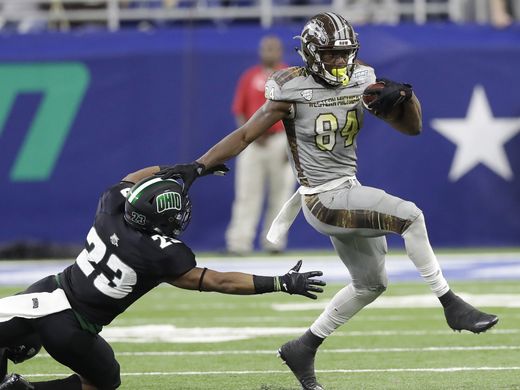 Ohio mounts big rally, falls short in final minute as Western Michigan holds on
Ohio needed a spark coming out of the locker room and they got it immediately as Bradd Ellis intercepted Terrell and returned it to the Western Michigan 5-yard line. Windham hit Reid from 5 yard out, their second hookup of the game to pull within 23-13. Kicker Louie Zervos missed the extra point.
Hampton hit his fourth field goal of the game from 33 yards to increase the Broncos' lead to 26-13, but Ohio responded Windham fired his third touchdown pass of the game, this one going to Papi White from 31 yards and the Bobcats pulled to 26-20, the score entering the fourth quarter.
The final 15 minutes was a defensive struggle as both teams could only manage a single field goal as Zervos hit from 37 yards with 7:14 left to play to cut the WMU lead to 26-23. Hampton countered with his fifth field goal of the contest from 34 yards out and the Broncos led 29-23 with 1:24 left to play.
Spillane seals game, title and undefeated regular season for Western Michigan
Ohio had one final chance to pull off the upset and started the drive from their own 25 yard line. Windham completed three straight pass to take the Bobcats to the Western Michigan 37 yard line. After an incomplete pass, Windham was intercepted by linebacker Robert Spillane and Ohio's valiant comeback came up just short as Terrell took a couple of knees to end the game and secure Western Michigan's first conference championship in 28 years.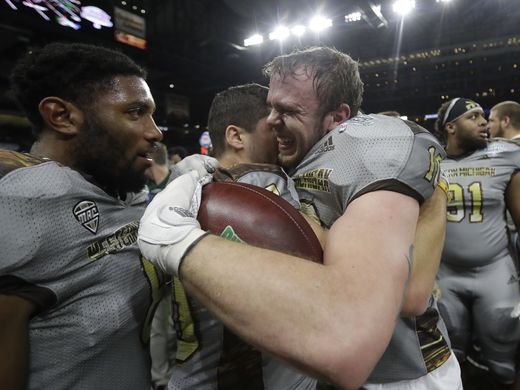 Western Michigan awaits bowl fate, hoping for Cotton Bowl berth
Western Michigan head coach P.J. Fleck made the case for his team to be the top Group of Five squad and earn an automatic berth in the Cotton Bowl: "We deserve to be in the gosh darn Cotton Bowl - write it down," Fleck said. "We are 13-0. We are the best 'Group of Five' team in the country. We didn't lose a game! Whoever they put on our schedule, we beat. There are two undefeated teams in the country - us and Alabama. There is no argument. My TV will be off. We're going to be recruiting tomorrow. I'm going to have cotton shirts. I'm going to have cotton slippers. I'm going to have cotton ear muffs. I'm going to have a cotton jacket. I'm going to wear everything cotton from here on out."
Terrell also weighed in on the possibility of the Broncos heading to Dallas: "Honestly, we've done all we can do," Terrell said. "Whether or not we're in the Cotton Bowl, we can't control that. All we control is winning the games on our schedule, and we've done that."
The Broncos are 17th in the rankings, two spots ahead of Navy, who still have Saturday's American Athletic Conference championship game against Temple and their annual showdown with Army next week to make an impression.
Team leaders
Offensively for Western Michigan, Terrell was 19 of 31 for 301 yards with two touchdown passes and two interceptions. Davis caught eight passes for 144 yards and a score while being named the game's MVP. Jamauri Bogan led the Broncos on the ground with 78 yards on 26 carries.
Ohio was led in the air by Windham, who was 14 of 30 for 190 yards with three touchdowns and an interception. He was also the Bobcats' leading rusher with just 14 yards on three carries. White caught two passes for 98 yards and a touchdown while Sebastian Smith led the way with four receptions.