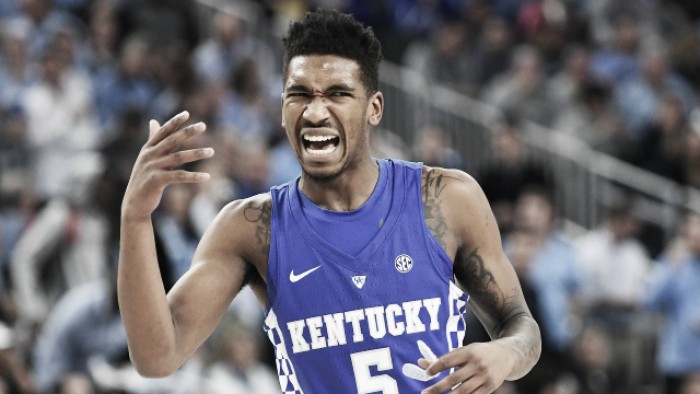 The Kentucky Wildcats look to be back on track after beating an experienced North Carolina team in Las Vegas in an absolute shoot-out.
Freshman Phenom
Malik Monk has become a human highlight reel this season and is the x-factor every time out for Kentucky. Monk has made it clear he loves the big stage, scoring 20+ points in games against Michigan State, UCLA and now North Carolina.
This game out-matches both of his previous performances on national television by a large margin. He surpassed his career high before half time, there was no stopping the hot-handed Monk.
He only made that more obvious in the second half, keeping his scoring at bay until Kentucky really needed him. The Wildcats began to let their lead slide and he made sure to not let the Tar Heels run away with this one.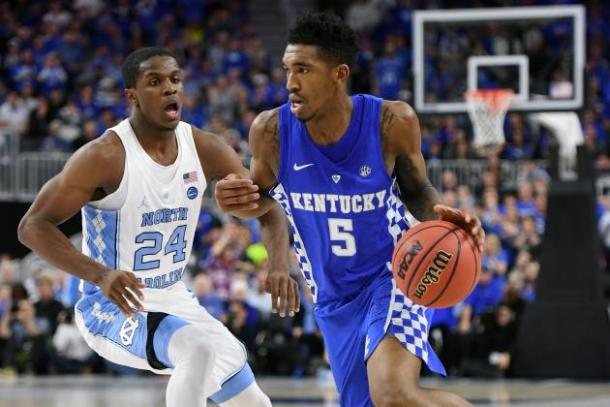 His clutch three with just under a minute left to tie the game after North Carolina's Justin Jackson took a 3-point lead was just the start. Monk then proceeded to nail one more deep shot to give Kentucky a 101-100 with 16 seconds left.
Monk's 47 points are a UK freshmen record, and the most scored by a player in the John Calipari era.
Defense A Thing of the Past
The final score of this game tells the entire story of how fast paced it was. If Kentucky's 97-92 loss to UCLA was an impressive scoring game, then try this one on for size.
Four players scored 20 or more points in this game on either team. Those other performances definitely tend to get lost in the 47-point outing from Monk.
North Carolina's star Jackson had 34 of his own, and had some clutch plays down the stretch to give North Carolina the lead on multiple occasions. Joel Berry II had 23 in his return to action but fouled out in 34 minutes of action.
Kentucky's De'Aaron Fox also got in on the stat stuffing party and got himself a new career high with 24 points. His presence near the end was huge, as Kentucky used him to drive the lane with Berry II in foul trouble.
Game of the Year (So Far)
It's only December, but this has to be the best game in the early season. Two top-10 teams, and definite title contenders come March, clashed in a high-scoring affair.
Very few college basketball games end with one team close to the century mark unless it's a blowout. When a game like this happens, all fans flock to turn their TVs on and see how it will end.
But, even with this game was in Las Vegas, nobody would have bet on this kind of outcome.
Player Statistics
Malik Monk - Providing energy and daggers is Kentucky's lights-out freshman. He had his record-setting 47 points on 8-12 shooting from deep and 18-28 shooting from the field.
Justin Jackson - The projected #1 overall draft pick poured in on the stats sheet with his 34 points on his 4-7 shooting from deep and 10-17 overall. The future NBA star also added five rebounds and three assists in his effort.
De'Aaron Fox - Fox is on pace to break some records at Kentucky with the way he passes the ball. Not only did he score a career-high 24 points, but he added 10 assists for the double-double.
Joel Berry II - Berry II decided he was ready to return, and what return he had against the Wildcats. His 23 points, five rebounds and seven assists provided a big lift for UNC.
Next Games
#6 Kentucky at #11 Louisville
Northern Iowa at #7 North Carolina