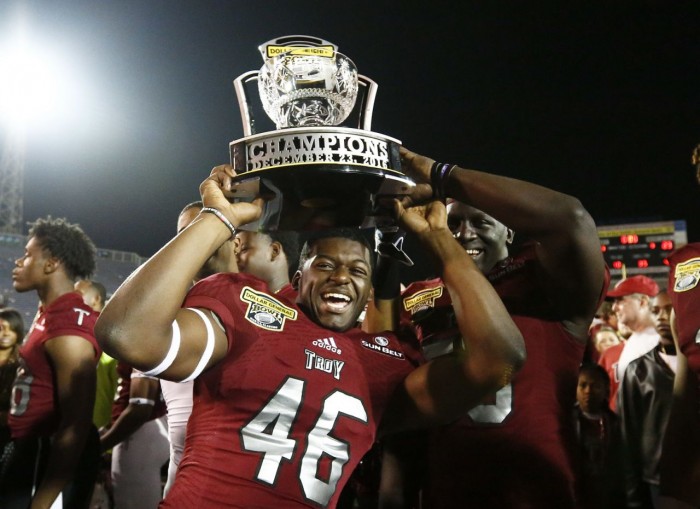 In the midst of their finest season as a member of the FBS, the Troy Trojans capped it off in style as their ball-hawking defense continued that trend.
Three short touchdown runs by Jordan Chunn and four interceptions and a fumble recovery powered the Trojans past Ohio Bobcats 28-23 in the Dollar General Bowl.
Troy finishes off first 10-win season in fifteen years with opportunistic play
The win gave Troy (10-3) their first 10-win season as an FBS member and their first overall since 2001. Their outstanding defense stopped Ohio three times in key fourth quarter situations. As the first Sun Belt team to feature in the Top 25, the Trojans defense continued a trend that carried over from the regular season as they forced 18 turnovers in their final five regular season games.
Tonight in a lot of ways was a microcosm of our season", coach Neal Brown said. "We're sitting here 10-3 and quite honestly it wasn't always pretty.. We've won a bunch of different ways".
Ohio offense stalls in the fourth quarter, Troy harasses quarterback Windham
Under duress, Ohio signal caller Greg Windham was forced into mistakes, throwing four interceptions as the Bobcats were forced to attempt two field goals in the final period, one converted by kicker Louie Zervos from 37 yards away, the other missed by Zervos from 46 yards.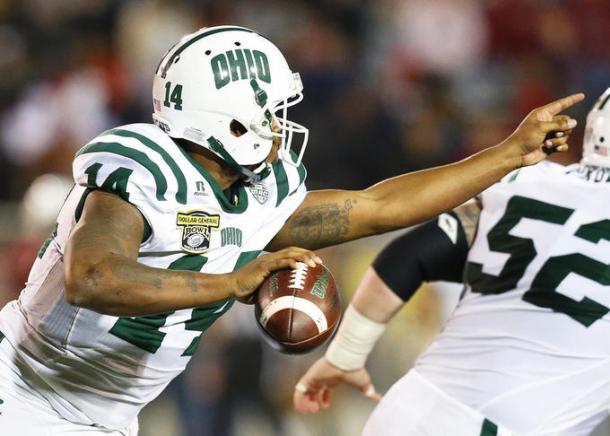 After Ohio's defense forced Troy to punt, they got one final opportunity to win the game, beginning at their own 15 yard line with 2:20 left to play. After picking up a first down, Windham couldn't pick up another as he was again under pressure.
Bobcats coach Frank Solich stuck with Windham due to his average gain per completion. Solich also wasn't quick to blame the turnovers completely on his quarterback: "All those turnovers we had weren't his fault, said Solich, whose career bowl record dropped to 4-9. "Obviously, he'd like to have few plays back. It's kind of a tough was to go. I thought Greg showed great toughness and I felt like he gave us our best chance of winning.
Solich was also unclear as to what prompted a personal foul penalty against lineman Jake Pruehs moments before Zervos' kick cut the Troy lead to 28-23: "I'm anxious to take a look at that play on film, he said. "It was obviously a huge call in the game. I'm going to study that quick and hard".
Chunn excels in short yardage situations, earns game MVP honors
Despite only 56 yards on 20 carries against the nation's sixth-ranked rushing defense, Chunn scored from 1, 3 and 4 yards out to power the Trojans' offense. Receiver Deondre Douglas complemented Chunn with six receptions for 113 yards. Jordan Reid paced Ohio with 12 grabs for 162 yards.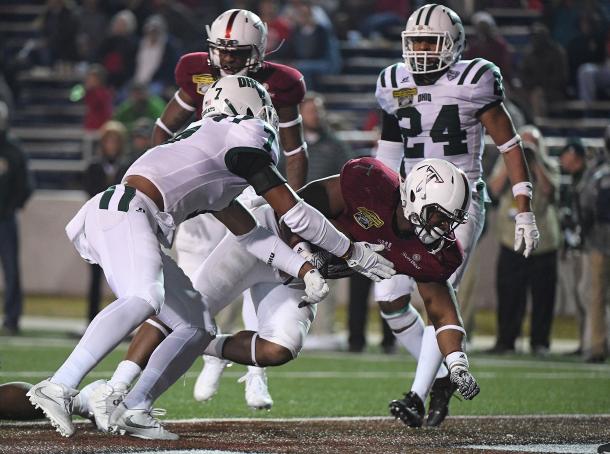 Chunn's third touchdown run gave Troy a 28-17 lead and came after Trevon Sanders recorded Troy's fourth interception of Windham.
Dillard, Lucas earn game honors for smothering Troy defense
Rashad Dillard and Justin Lucas were Troy's defensive MVP's as Lucas posted the third interception of Windham, pressuring the Ohio signal-caller and picking him off as the ball came right to him. Dillard had three pressures and was the game's defensive MVP.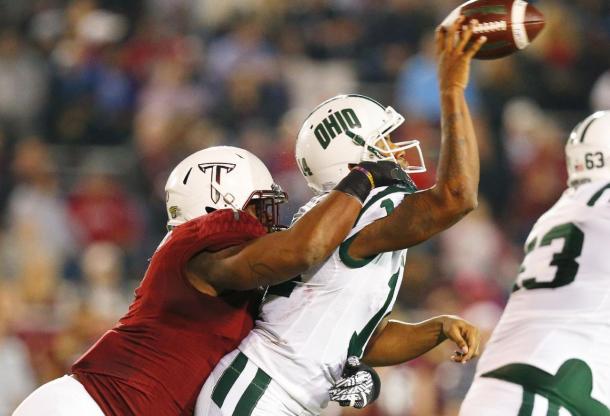 After the game, Dillard made sure his defense got the attention it deserved: "Going into the week, everybody kept talking about Ohio's defense, how good they were, Dillard said. "Our offense versus their defense, We knew that we were just as good if not better".