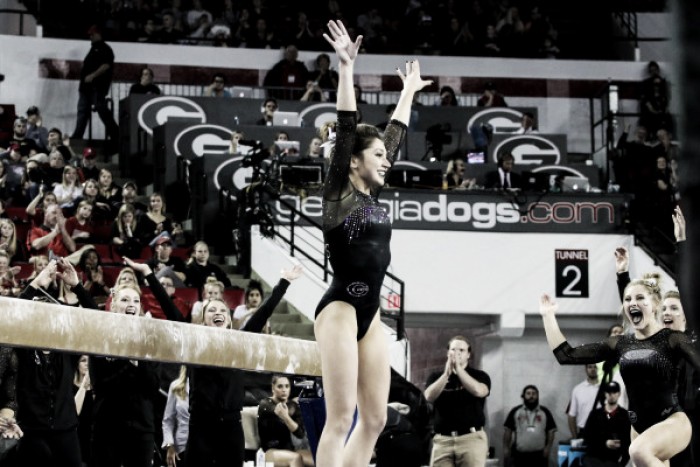 After a rough opening to their season in a program-low loss to LSU, the #16 Georgia Gymdogs have been a team on a mission of late, looking confident and consistent in a third straight win over #23 Arkansas. Danna Durante's Gymdogs kept up their impressive form of late, scoring a solid 196.225 to improve their record to 3-1, defeating Arkansas, who finished with a 195.025.
Georgia shines on vault while Arkansas solid on bars
Senior Ashlyn Broussard began the competition for Georgia on vault with a solid 9.775. Morgan Reynolds followed for the Gymdogs on vault with another good score of 9.825, before Rachel Dickson put up a respectable 9.850 for Georgia. Lauren Johnson kept up the solid vaulting with an impressive 9.875 before Gigi Marino put up a respectable 9.800. Senior Sydney Snead rounded out the lineup with her high-flying Yurchenko one and a half to score a very impressive 9.900, putting the Gymdog's total at 49.250 heading to uneven bars.
Arkansas began on the uneven bars with Makenzie Anderson, posting a decent 9.650. Jessica Yamzon followed with a solid 9.700 for the Gymbacks before Braie Speed scored a 9.750. Leah MacMoyle kept up the solid routines for Arkansas with a 9.625, with anchor Michaela Burton closing out the lineup with a 9.700, sending Arkansas' total to a 48.425 after the conclusion of rotation one.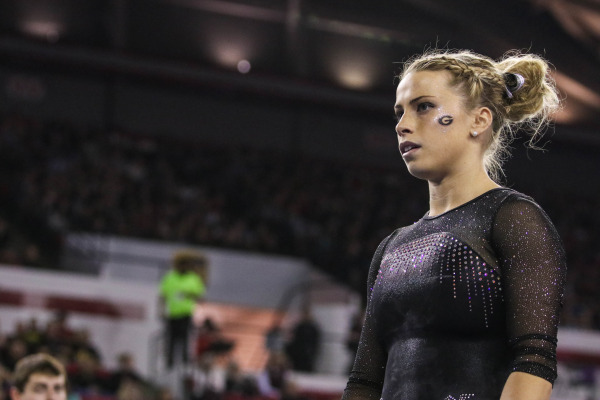 Georgia keeps flying on bars while Arkansas improves on vault
Haley Sanders led off the uneven bars lineup for Danna Durante's squad, scoring a solid 9.725. Athens native Morgan Reynolds kept the ball rolling for the Gymdogs with a respectable 9.750 before Lauren Johnson posted a 9.675. Rachel Dickson followed for Georgia, putting up an impressive 9.850 before Rachel Schick showcased her impressive bars routine for a solid 9.825. Sydney Snead closed out the rotation again, scoring another 9.825 to bring the Gymdogs total to a 98.225.
Arkansas' vault lineup began with Jessica Yamzon's 9.750, followed by Makenzie Anderson putting up a decent 9.675. Leah MacMoyle scored another 9.675 for Arkansas before Braie Speed posted a 9.825. Sydney McGlone kept up the solid vaulting for Arkansas with a 9.875 before Kirby Rathjen closed out the vault lineup with a low 9.525, brining Arkansas' total to a 97.225, a full point behind Georgia heading into floor.
Georgia fights through fall on beam while Arkansas struggles on floor
The Gymdogs' beam lineup was led off by 2011 world team gold medalist Sabrina Vega, scoring an impressive 9.800 to begin the rotation. Hayley Sanders followed for Georgia, posting another solid score of 9.825 before Sydney Snead put up a lower 9.575 due to some wobbles. Ashlyn Broussard struggled on her routine, falling in the midst of her routine, resulting in a low 8.825, a score Georgia would hope to drop. With the pressure on following a fall, Vivi Babalis fought hard, working her way to a decent 9.675. Anchor Rachel Schick kept up the fighting spirit, working hard to stay on the beam to round out the rotation with a solid 9.850, bringing the Gymdogs' overall score to a 146.950 going into the final rotation on floor exercise.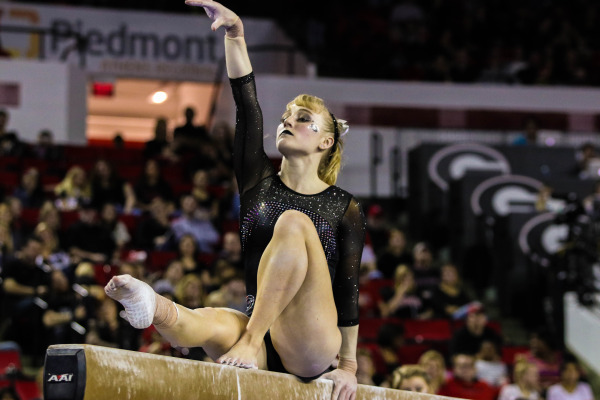 For Arkansas, the Gymbacks traveled to floor exercise, with Samantha Nelson leading off with a solid 9.800. Up next for the Razorbacks was Mia Bargiacchi, who put up another respectable score of 9.725 before a fall on her final tumbling pass gave Jessica Yamzon a low score of 8.950. Heather Elswick scored a 9.750 for the Gymbacks before Sydney McGlone posted another good score of 9.825. Makenzie Anderson rounded out the rotation with another solid score of 9.700, bringing Arkansas' total to a 146.025 going into the final rotation.
Georgia lights up floor exercise, Arkansas finishes strong
Georgia looked to finish strongly on the floor exercise, with Morgan Reynolds leading off the rotation for the Gymdogs with a solid 9.825. Beth Roberts struggled towards the end of her routine, falling on a tumbling pass, resulting in a lower 9.150 before Vivi Babalis came up big to respond well with a good 9.850. Georgia freshman standout Sabrina Vega light up the Stegeman Coliseum crowd with her 9.875 on floor, before Sydney Snead kept up the momentum with another respectable 9.825. Gigi Marino capped off another consistent meet with a very impressive 9.900, bringing Georgia's final score to a 196.225, giving Georgia their third win of the season.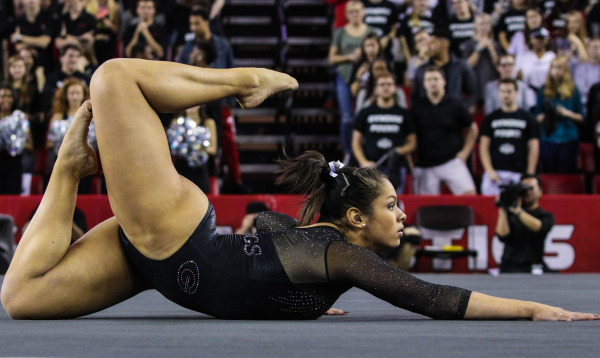 Arkansas rounded out their competition on the balance beam, with Jessica Yamzon leading off the Gymbacks with a solid score of 9.750. Mia Bargiacchi fought through her routine for a decent 9.675 before Samantha Nelson scored a very respectable 9.800 for Arkansas. Sydney McGlone kept up the momentum for the Razorbacks, posting an impressive 9.900 before Michaela Burton received a solid 9.700. Kirby Rathjen rounded out a strong finish for the Razorbacks with a very respectable 9.825, bringing Arkansas' final score to a 195.025.