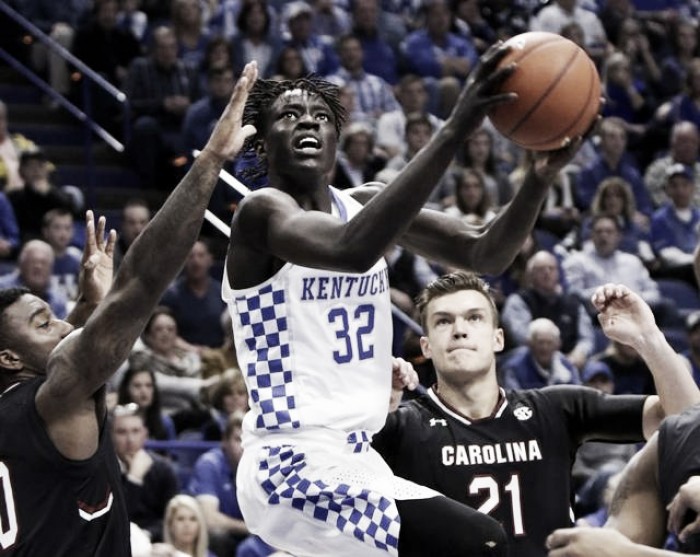 A top tier offense versus a top tier defense always makes for a fun match up, especially when each team lacks on the other side of the ball.
Top of Their Class
Kentucky puts up nearly 90 points every game, while South Carolina has only surpassed the 90-point mark twice this season.
But, what the Gamecocks lack for on offense, they make up for on their suffocating defense. They use a multitude of man-to-man and zone defenses to confuse and rattle their opponents into committing costly turnovers.
Until this game, South Carolina had only allowed one team to score 75+ points on them all season long, with that game going all the way back on Nov. 11 against Louisiana Tech.
Kentucky's offense however, proved too much for this Gamecocks defense, as they used series of passes to keep the pressure unsure of who to guard.
The Wildcats were also knocking down shots, keeping the zone from being able to sag off of shooters. The Kentucky big men also did a good job of getting in the middle and breaking down the interior defense.
To think, Kentucky did all of that with their starting point guard sidelined with an ankle injury that looked more serious than it initially appeared to be.
Fox's Foot
De'Aaron Fox, Kentucky's star-studded point guard who tends to get them out of tough situations game in and game out, left early in the first half with a sprained right ankle.
Fox drove the lane and landed awkwardly on the ankle, causing it to turn pretty severely. The freshmen returned to the game for a few plays after wrapping his ankle, but went to the locker room following a timeout.
After being ruled out before the second half began, Fox came out of the locker room supporting a right ankle boot. This worries some Kentucky fans, due to their road game against Tennessee on Jan. 24, and hosting #2 Kansas on Jan. 28.
Fox has been known to get Kentucky out of tough situations on the road, icing the games against Vanderbilt and Mississippi State with his ability to get to the basket.
Swept Under the Rug
South Carolina's Sindarius Thornwell had a career game, going off for 34 points in the Gamecocks defeat.
The senior looked unstoppable against the Kentucky defense, getting virtually anything he wanted at any time. His ability to get to the rim against a quick Kentucky team was phenomenal.
But, he was the only Gamecock who did so. The only teammate to come close to his scoring total was TeMarcus Blanton with 12. South Carolina looked like they wanted to do nothing but give the ball to Thornwell and get out of his way.
That was the issue, despite his career-high, he missed 14 shots that could've been points for another player on the team had they been more involved.
Instead, South Carolina's offense was give the ball to Thornwell and move, or toss up a 25-foot three and hope it went in.
Shots Falling
Kentucky is finally get someone not named Malik Monk to hit some deep shots.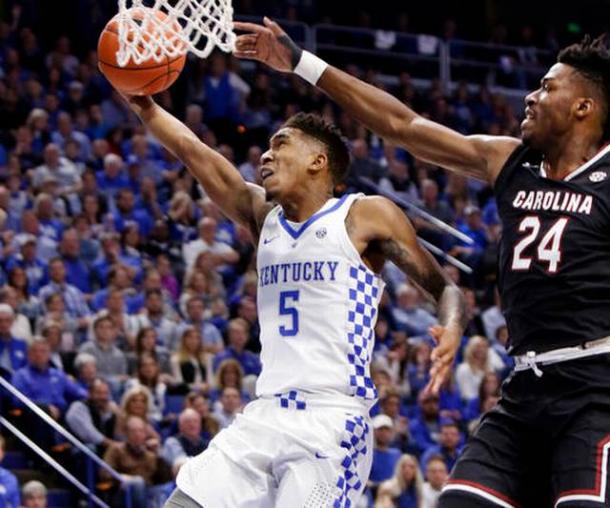 Kentucky's Wenyen Gabriel has improved his outside shot, becoming one of the Wildcats' more reliable shooters in SEC play. Gabriel has also made his presence felt on the boards.
Derek Willis proved to everyone that he can still be that x-factor Kentucky needed as he showed a new side of himself in this one.
Instead of shooting the ball from deep, Willis looked to go inside, even posterizing a poor South Carolina player emphatically in the second half.
If Kentucky's wing players continue to play like this, very few teams in the country can defeat the Cats.
Kentucky's Preparation
Kentucky still has a tough schedule ahead of them and a game against a highly ranked defense will prove that they can score 80+ on just about anybody.
Still to play Florida twice and the Jayhawks at home, Kentucky will need plenty of preparation for ranked opponents that will give the Wildcats a run for their money.