With LSU sitting at two wins from two meets, Texas Woman's came to try and put an end to the winning streak. LSU brought out a new member of their team Ruby Harrold, the British Olympian who competed for Great Britain in Rio 2016.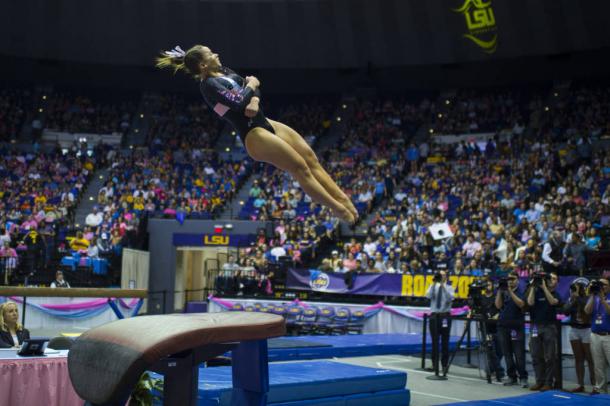 Vault
For LSU Sarah Finnegan once again led the way, competing on each of the four apparatus. Grabbing an impressive score of 9.850 Finnegan had the third highest score on this piece. Ashleigh Gnat once again showed how good she is on the vault taking the apparatus by the scruff of the neck. Gnat secured the highest score of 9.900 as LSU took charge.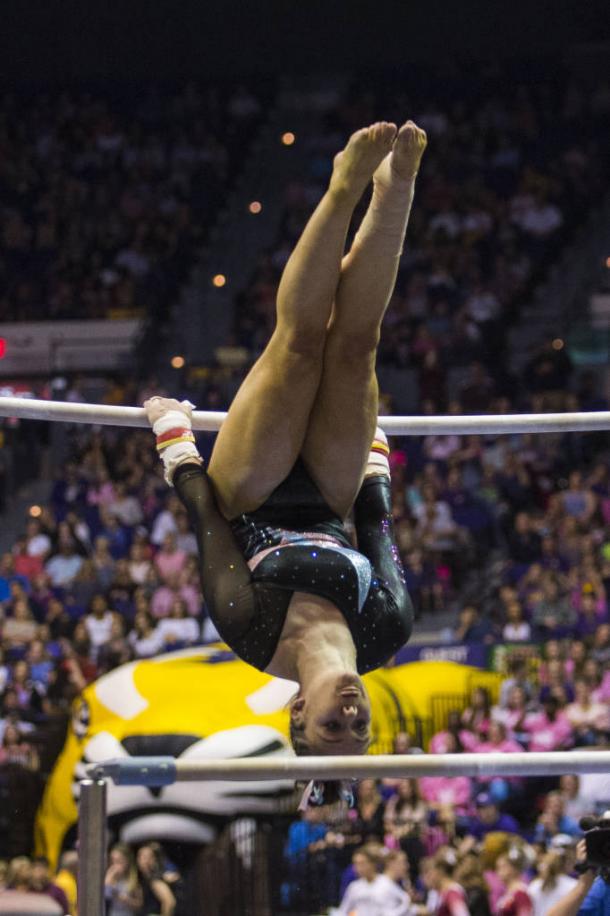 Uneven Bars
Finnegan being the LSU representative in the All around again scored well. In fact topped the scoring with 9.925. Harrold, in her first competition for LSU was impressive with the routine. Including her signature Zuchold-Schleudern move. The Brit, who received a full athletic scholarship to major in Kinesiology, was undermarked in the routine. Having watched the actual routine, there was very little wrong within it, slightly too out on the Jaeger but nothing else. There was a step on landing which would also have produced a very small reduction. The 9.875 does not, in this authors viewpoint, reflect the overall excellent performance. There is no doubt, however, that this performance helped to further the gap between Texas Woman's.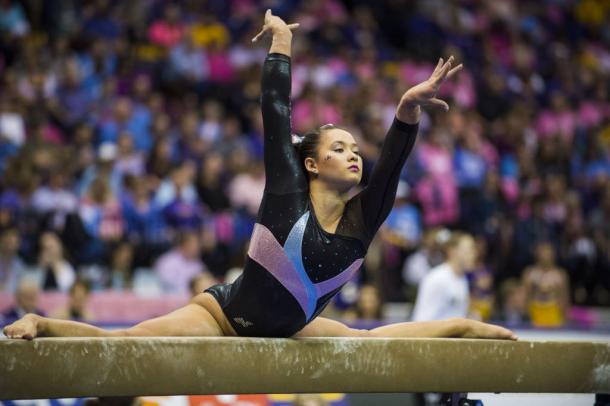 Balance Beam
Arguably the most difficult apparatus for any female gymnast (the men don't have this apparatus). Finnegan and Gnat proved that it can be tamed, scoring an impressive 9.925 each. Others were not so fortunate, Katie Simpson for Texas Woman's had an awful beam routine scoring a lowely 8.875. LSU had an practically unassailable lead by now. It would take a disaster for Texas Woman's to over-haul LSU and prevent Louisiana going 3-0.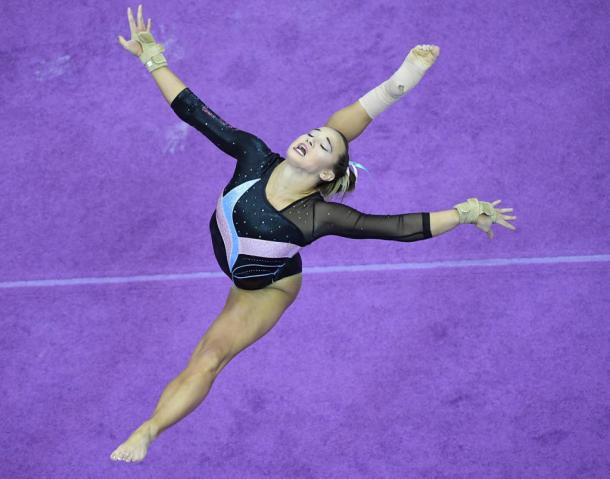 Floor
Having cemented the five point lead LSU only needed to score consistently to decimate the total of Texas Woman's. Gnat was supreme on the floor posting the highest score of the night on the apparatus with a 9.925. Shae Zamardi, Sydney Ewing and Harrold all posted great score. Harrold posted 9.850 just slightly lower than the bars which is her better event. Texas Woman's were unable to get anywhere close to posting the scores needed, which would have needed to be perfect tens, thereby being unable to prevent LSU from winning again.
Going into the next meet, LSU will be full of confidence, and currently seem to be unstoppable.