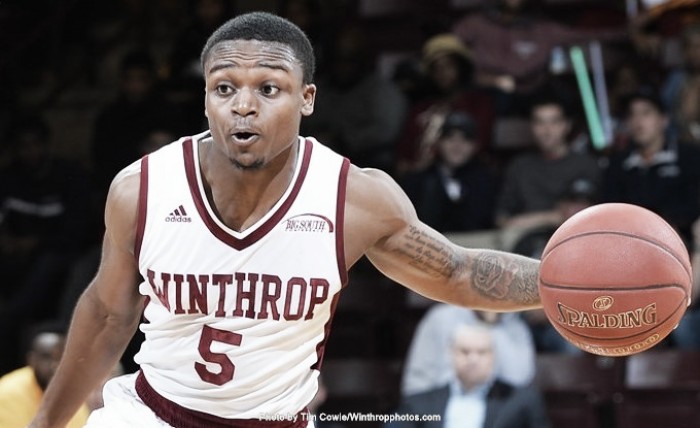 The Big South Conference tournament kicks off tonight with two first round games involving the seventh to tenth place teams. The top six teams, including regular season co-champions Winthrop and N.C.-Asheville, received byes into the quarterfinals and will get started in two days' time.
When: February 28 (first round), March 2 (quarterfinals), March 3 (semifinals), March 5 (final)
Where: First round games are at the higher seed, the quarterfinals and semifinals are at regular-season champion Winthrop and the final is at the highest remaining seed.
Matchups:
First round (Tuesday):
#10 Presbyterian at #7 Campbell, 7 ET.
#9 Longwood at #8 Charleston Southern, 7 ET.
Quarterfinals (Thursday):
Presbyterian/Campbell vs #2 N.C.-Asheville, 1 ET.
#6 Radford vs #3 Liberty, 3 ET.
Longwood/Charleston Southern vs #1 Winthrop, 7 ET.
#5 High Point vs #4 Gardner-Webb, 9 ET.
Semifinals (Friday):
Semifinal #1, 6 ET.
Semifinal #2, 8 ET.
Final (Sunday):
At the highest remaining seed, 1 ET.
Winthrop, Asheville favorites after gripping regular season race
The Eagles and Bulldogs went toe-to-toe all year and wound up sharing the regular-season crown. It was Winthrop (15-3, 23-6) who earned the top seed by virtue of a tiebreaker. Led by Big South Player of the Year Keon Johnson, 10th in the country in scoring (21.8 ppg), first in three point field goals per game (3.04) and three-point field goal percentage (39.4) and third in free throw percentage (86.8) and Xavier Cooks, also first team all-conference, the Eagles took their second straight regular season title.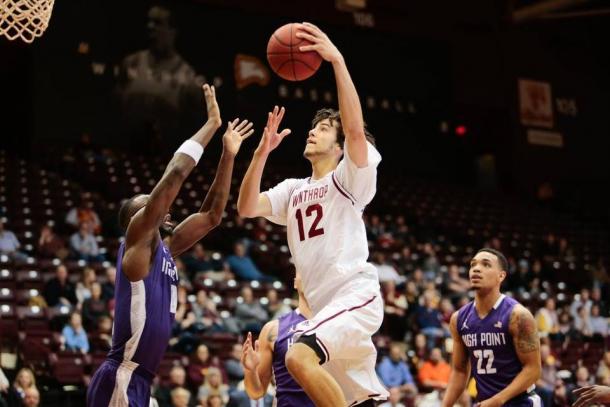 N.C.-Asheville (15-3, 23-8) was right there with Winthrop, splitting the two regular season contests with the Eagles. The Bulldogs also placed two players on the Big South first team in junior Ahmad Thomas, also the conference Defensive Player of the Year and Freshman of the Year MaCio Teague. Thomas finished tied for first in steals (91) in the conference and is the fourth player in Big South history with back-to-back 70 steal seasons. Teague is seventh in the conference with 15.5 points per game, ranks second in free throw proficiency (88.0 percent), fifth in field goal percentage (44.7 percent), seventh in 3-pointers per game (2.06), and eighth with 2.8 assists.
Liberty leads chasing pack
The Liberty Flames (14-4, 19-12) were in a three-way tie with Winthrop and UNCA over the final weeks of the season, but lost out on a piece of the regular-season title with a loss at Asheville in the regular season finale. Boasting a quartet of excellent players in redshirt junior Ryan Kemrite (13.6 ppg, 2.8 rpg, 84.4% free throws), redshirt senior John Dawson (8.7 ppg, 4.3 rpg, 2.5 apg) and all-freshman duo Georgie Pacheco-Ortiz 8.2 ppg, 3.1 rpg, 2.5 apg) and Myo Baxter-Bell (7.6 ppg, 3.5 rpg), the Flames could cause the top two problems despite losing all four matchups to them this season.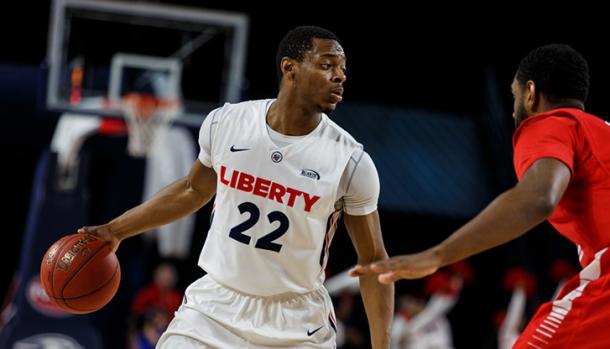 Gardner-Webb (11-7, 18-13) finished fourth and are paced by sophomore guard LaQuincy Rideau and senior forward Tyrell Nelson. It was GWU's 81-76 victory over N.C.-Asheville four days ago that cost the Bulldogs the top seed in the conference tournament as the third tiebreaker (record against the fourth placed team) came into effect.
After losing one of the best players in Big South history in John Brown, High Point (9-9, 15-15) slipped to fifth. Redshirt senior Miles Bowman (13.9 ppg, 8.0 rpg, 89.9% free throws) is the Panthers go-to guy and will hope to lead HPU to their first NCAA bid in program history.
Radford (8-10, 13-17) was sixth and turns to sophomore forward Ed Polite Jr, nearly averaging a double-double. (11.7 ppg, 9.7 rpg). The Highlanders will square off with Liberty to begin their quest for their third NCAA berth in school history.
Campbell leads bottom four
If one team can go on a Cinderella run through the conference tournament, it's Campbell (7-11, 14-16). The reason for that is Chris Clemons. The sophomore was the only member of the Big South all-first team not on Winthrop or N.C.-Asheville. Averaging 23.1 points per game, 4.4 rebounds and a team-leading 2.6 assists a game, Clemons is the type of player that can take over an entire tournament by himself.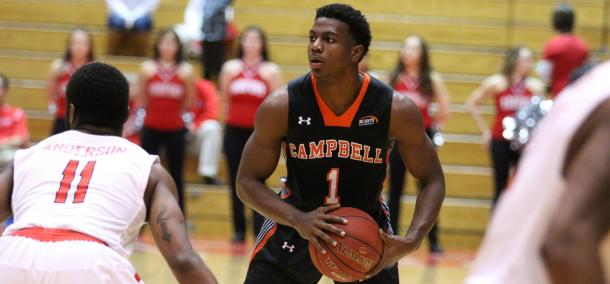 Charleston Southern (7-11, 11-18) finished tied with Campbell for seventh, but lost the head-to-head tiebreaker to receive the eighth seed. All-freshman guard Christian Keeling (16.9 ppg, 6.8 rpg) and senior Patrick Wallace will hope to cause a few surprises and the Buccaneers could face Winthrop in the quarterfinals if they knock off Longwood in the first round.
The Lancers (3-15, 6-23) were ninth, but do boast second team all-Big South forward Khris Lane (16.8 ppg, 7.2 rpg, 53.2 field goal percentage) and guard Darrion Allen (14.5 ppg, 3.8 rpg, 83.8 free throws), both seniors. Rounding out the conference was Presbyterian (1-17, 5-24). The Blue Hose, led by freshman guard Jo'Vontae Millner (10.8 ppg, 5.6 rpg), posted their lone conference victory over Longwood 71-62 on January 28th.
Who will go dancing?
Winthrop has lost the last three Big South championship games, including to N.C.-Asheville last year. With the conference changing formats for the conference tournament (until this year, the Big South held the conference tournament at one site at a member school), earning the top seed and home-court advantage throughout was critical in such a close race.
The Eagles and Bulldogs are head and shoulders the class of the conference and should square off for the third time Sunday afternoon in Rock Hill. After reaching the NCAA Tournament eight times in ten years from 1999-2008, Winthrop has only made the Big Dance once in the last eight (2010). Expect that to change this weekend as the Eagles will nip UNCA in a classic.
Prediction: Winthrop defeats N.C.-Asheville in the final.