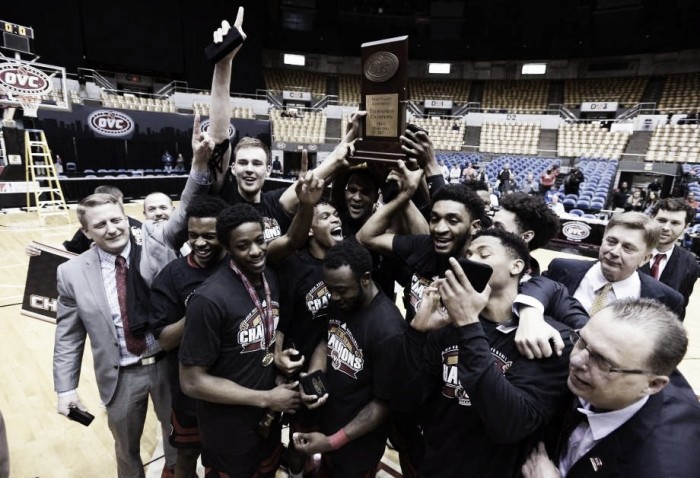 Erik Durham scored 17 points, leading three players in double figures, as Jacksonville State defeated Tennessee State 66-55 in the Ohio Valley tournament championship game. The Gamecocks, seeded fourth in the eight-team tournament, advanced to the NCAA Tournament for the first time in program history.
Slow start for both teams
Both teams were seeking their first NCAA bid in program history and nerves showed. After Durham hit a three for Jacksonville State's first basket of the game, the Gamecocks scored just three points in the next 5:41.
Fortunately for them, Tennessee-Martin wasn't faring much better. Jacolby Mobley, held to 18 points on 5-14 shooting from the field, nailed a triple and Javier Martinez made a layup, but the Skyhawks themselves went 5:06 without a point.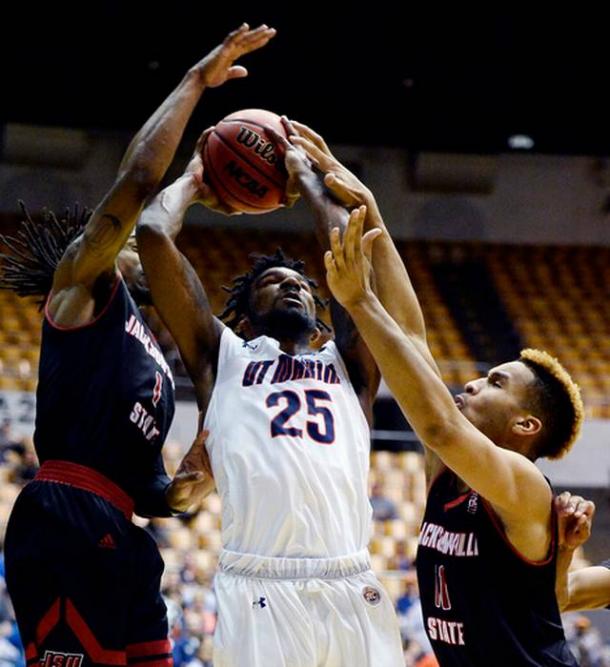 JSU takes control seven minutes into first half, never relinquishes lead
It was Greg Tucker, with 14 points on the night, who scored five straight to give Jacksonville State an 11-7 lead. After two Christian Cunningham free throws increased the lead to 13-7, the two teams traded baskets before Malcolm Drumwright and Durham scored buckets to stretch the lead 20-11.
Martinez sparked a 6-0 UTM run, cutting the lead to 20-17, but JSU would reclaim the momentum with 12-5 run of their own, keyed by six in a row from Tucker. Jacksonville State took a 36-23 lead into halftime, holding the Skyhawks to just nine made baskets from the floor.
Jacksonville State maintains double-digit lead, cruises to OVC championship, first NCAA bid
Coming out of the locker room, Tennessee-Martin appeared to get themselves back into the game, cutting the Jacksonville State lead to 37-31 on a Kahari Beaufort jumper with 14:25 to play, but another long scoring drought, just two points over the next 4:51, all but sealed UTM's fate.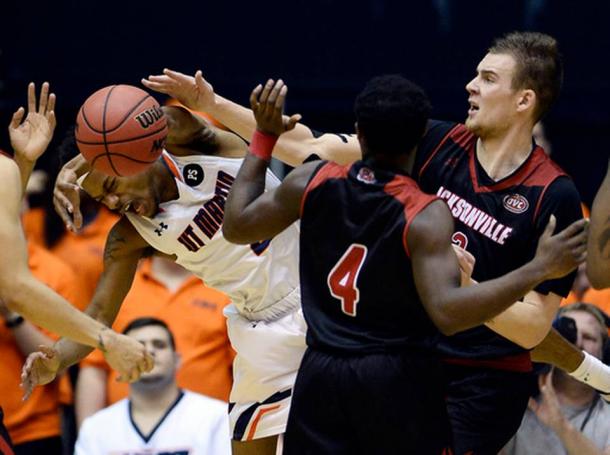 Jacksonville State's lead would be as much as 13 when Jacara Cross' layup gave the Gamecocks a 50-37 lead with 7:10 to go. It would again grow to that number after Norbertas Giga completed a three-point play for a 56-43 advantage.
Tennessee-Martin would outscore Jacksonville State by two points the rest of the game, but by then, the outcome was no longer in doubt and six years after their last conference tournament appearance, JSU was headed to the NCAA Tournament after three wins in three days in Nashville.
Harper delighted with victory, Stewart understandably disappointed with defeat
For coach Ray Harper, in his first year at Jacksonville State, the win signaled the beginning of something he hopes will last a long time at the Alabama school: "We're trying to build something at Jacksonville State," said Harper, whose team held Tennessee-Martin to 35.2% from the field. "You've got to walk before you can run, but we decided to run a little quicker than anyone thought".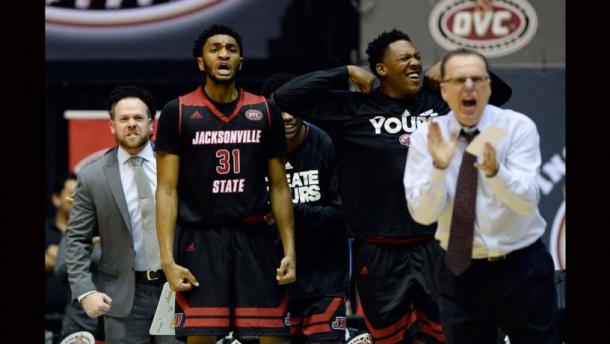 Tucker added: "It's just a great feeling to be honest," said the senior guard, who scored 14 points. "I mean, really I can't explain it. We're just all happy that we all got the job done."
Tennessee-Martin head coach Anthony Stewart, also in his first year, was lamenting his team's contraction of the flu: "We've had four guys that had a virus right before we came up here, so they were out, down for the count," Stewart, whose team lost in the OVC final for the second straight year, said. "And the day we get up here, (leading scorer Jacolby Mobley) tests positive for the flu, so we had four starters battling."
The Skyhawks graduate four seniors, but do return junior Matthew Butler, who summed up his feelings: "To lose two in a row, I don't know how it feels," he remarked. "If it was me, I'd be devastated."
Butler scored 17 points for UTM while Martinez added 13 points and 11 rebounds.