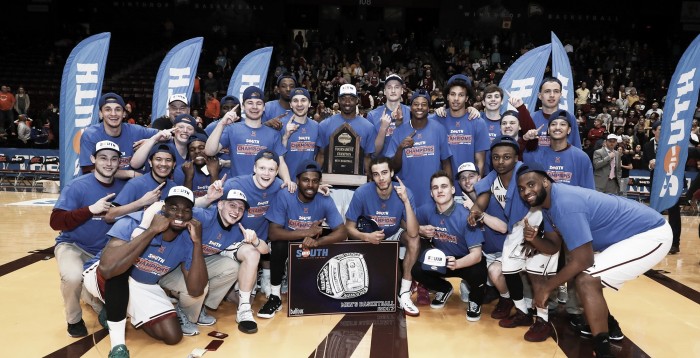 The fourth time was finally the charm.
Keon Johnson scored 26 points and Xavier Cooks added 17 points and 14 rebounds as Winthrop clinched the Big South title with a convincing 76-59 victory over Campbell to reach the NCAA Tournament for the first time since 2010. Having lost three straight Big South championship games, the Eagles finally broke through to end their seven year absence from March Madness.
"It's the biggest of the big time," said coach Pat Kelsey, who is one win away from his 100th victory at the school. "I'm so excited these kids will get to experience that."
After coming up short his prior three attempts, Kelsey knew his players were ready to seize the moment. Because there's all those banners there is a lot of pressure.
And we didn't talk about the pressure. I didn't and they didn't but it was there. It was real," said Winthrop's fourth-year head man. "You can have a great season like we've had, but the reality in the outside world, it probably would have been considered — failure might be a bad word — but it was like 'championship and NCAA tournament or bust.'"
"I knew when I walked into the locker room today this was a determined bunch that wasn't going to be denied," he said.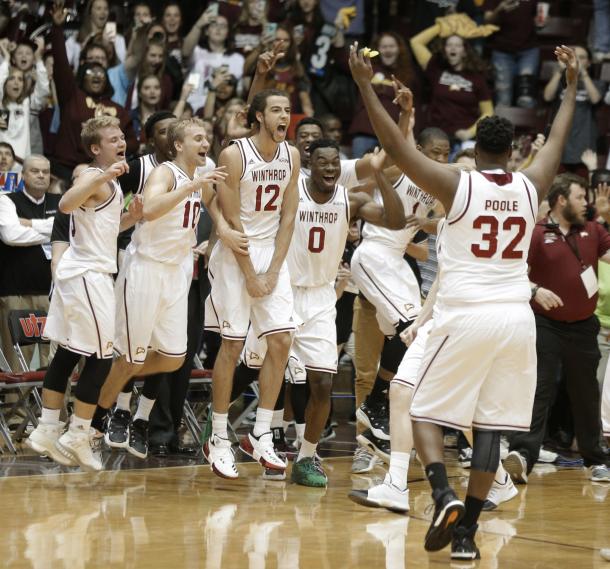 Johnson, Cooks dominate
It was an efficient and effortless display from Winthrop's two best players as the senior guard and junior from Australia combined for 43 points on 12/23 from the field and 14/17 from the free throw line.
After jumping out to a quick 12-2 lead, Winthrop saw the seventh-seeded Fighting Camels, playing their fourth game in five days, battle back to tie the game at 21, but a late first-half surge gave Winthrop a 41-34 halftime lead.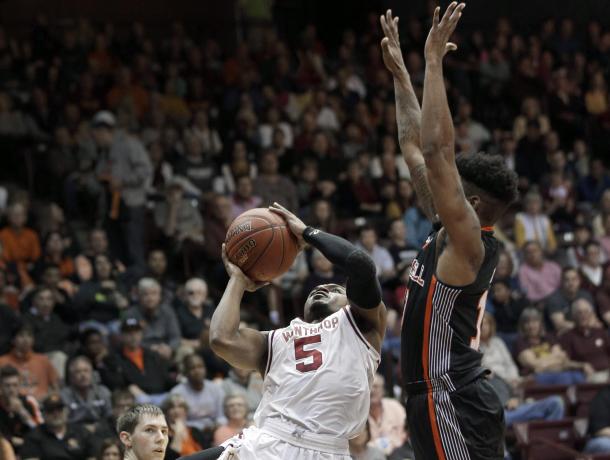 Johnson came out and nailed back-to-back threes to give the Eagles a 47-34 lead and Campbell, in the final for the fifth time in school history, never got closer than 11 points the rest of the way. The senior asked Kelsey to address the team prior to tip-off: "Protect your brothers at all costs," was his message. "I just wanted to pour that into them."
Containing Clemons a key
While Johnson was named Tournament MVP by scoring 88 points in three games, it was Campbell's Chris Clemons who was the hottest player in the event, scoring 111 points in the Fighting Camels' three wins, including a Big South record 51 in Campbell's quarterfinal upset of second seed N.C.-Asheville.
After missing his first three shots from the field, the sophomore guard then made back-to-back threes early in the half, but he went cold and missed his last seven field-goal attempts and finished with 10 first-half points. He finished with a game-high 29 points on 9 of 27 from the field.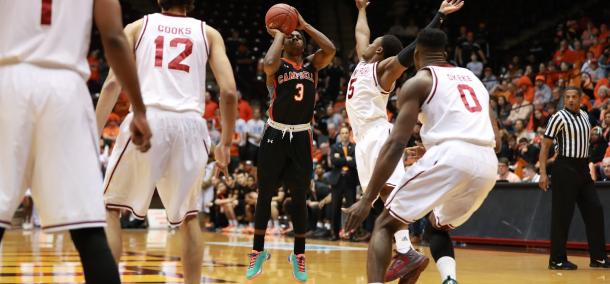 Following the game, Clemons was upset over his own performance in the title game, despite setting the Big South tournament record with 140 points: "I'm disappointed I didn't play as well as I hoped to. I didn't shoot very well," said Clemons, who made six threes in the championship game. "Our guys play hard and fight for one another. I'm happy to be a part of that."