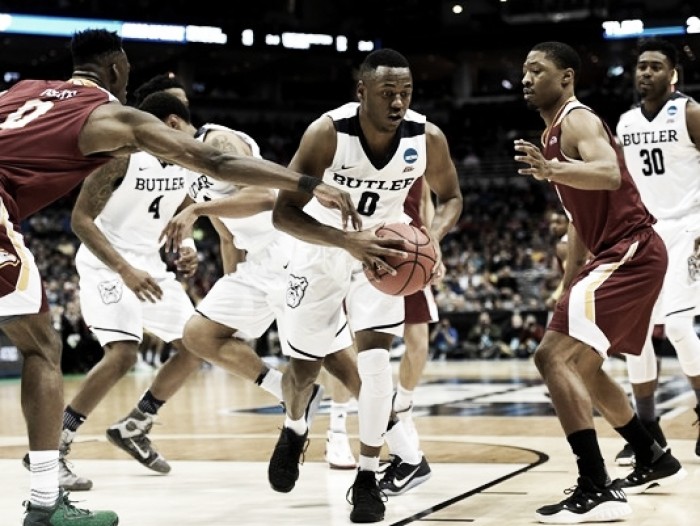 Avery Woodson scored 18 points, including a career-tying six three-point field goals to lead fourth seed Butler past 13th seed Winthrop 76-64. The Bulldogs, who never trailed, held the Eagles to 40.3 percent from the field to advance to a second round matchup with 12th seed Middle Tennessee State.
Quick start for Butler
It was a quickfire beginning for the only team in the country to beat overall number one seed Villanova twice, Woodson connecting on a pair of threes to give Butler a 10-5 lead. A third three in the first four and a half minutes increased the Bulldogs lead to 15-7.
A 6-0 run by Winthrop, five of those scored by Big South Player of the Year Keon Johnson, cut the Butler lead to 15-13. That was followed by a quick 8-0 run to re-establish a working margin, giving the fourth seed a 23-13 lead.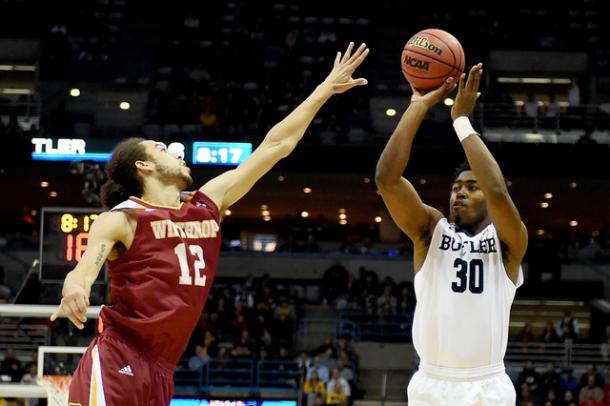 Winthrop would get no closer than five points the rest of the half and the lead eventually grew to 15 on a Tyler Wideman free throw, giving Butler a 35-20 advantage. Four more free throws pushed the lead out to 19 before and Butler would take a 41-27 halftime lead.
Butler stays consistent to close out win, advance
Woodson and Wideman combined to score Butler's first five points as the Bulldogs took a 46-31 lead. One more Winthrop push, a 7-0 run with all seven points scored by Johnson, cut the fourth seed's lead to 48-41. Butler responded with a 14-2 run, capped by a Wideman dunk with 7:21 left, to give the Bulldogs a 62-43 lead.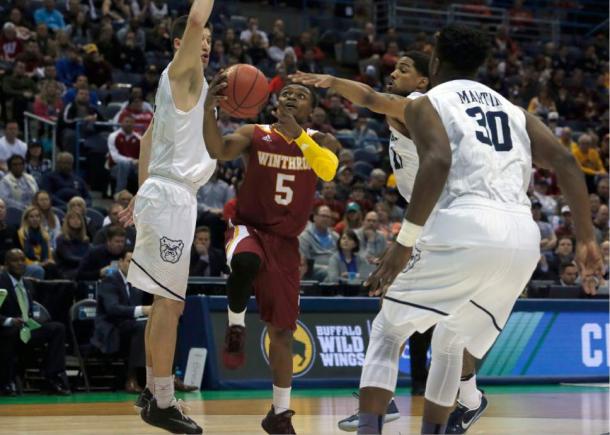 The two teams would essentially trade baskets the remainder of the game as Butler cruised to victory. Andrew Chrabascz scored 12 points for the Bulldogs and Kellan Martin added 10 points and eight rebounds. Johnson scored 17 points, but was only 7-19 from the field, including 3-10 from three point range. Xavier Cooks led the Eagles with 23 points and six rebounds.
Bench points, rebounding keys for Butler
Butler did an excellent job on the glass, outrebounding Winthrop 42-27 while also outscoring the Eagles 28-9 off the bench. After the game, Winthrop coach Pat Kelsey remarked about his team's poor defense: "We got lost a couple times in rotation," the Eagles sixth-year head man said. "It let the Woodson kid get a couple open looks, and he's already a very, very good three-point shooter. When you give him three, four steps where he can kind of lick his fingers and measure the wind and shoot it, he's going to make 80% of those."
Kelsey also spoke about Butler's defense on Johnson: "I think they got physical with Keon," Kelsey said. "Bigger, longer, stronger defenders, try to limit his touches, you know. They ran at him off ball screens and tried to get the ball out of his hands, and, you know, it worked out for them. I think they're going to really make a dent in this tournament going forward".