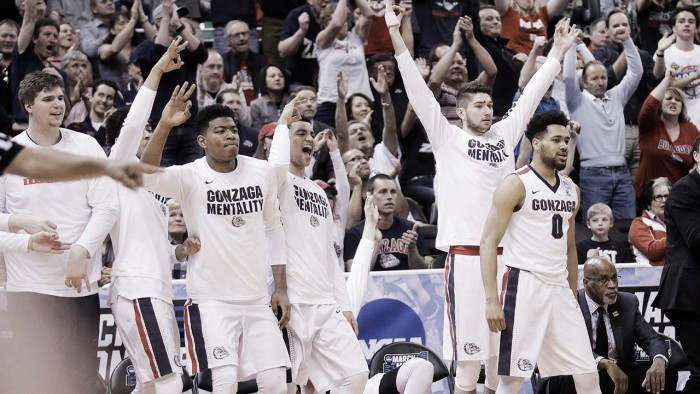 For top seed Gonzaga, it's not how you start, but how you finish. The top-seeded Bulldogs trailed 16th seed South Dakota State for the first 17 minutes of their first-round NCAA Tournament game, but pulled away in the second half to post a 66-46 win and advance to a second round matchup with eighth seed Northwestern.
South Dakota State leads most of the first half
It was a fast start for the underdogs from Sioux Falls, taking a quick 8-2 lead. Stunned by the opening punch they took, Gonzaga quickly went on a 10-4 run to level the score at 12 on Zach Collins' three-pointer.
Mike Daum was named Summit League Player of the Year, having scored 51 points in a game this season and pouring in 37 points and 13 rebounds in the conference tournament final, but he was nowhere to be found early on. Undeterred, the Jackrabbits re-took the lead on an Ian Thiesen triple.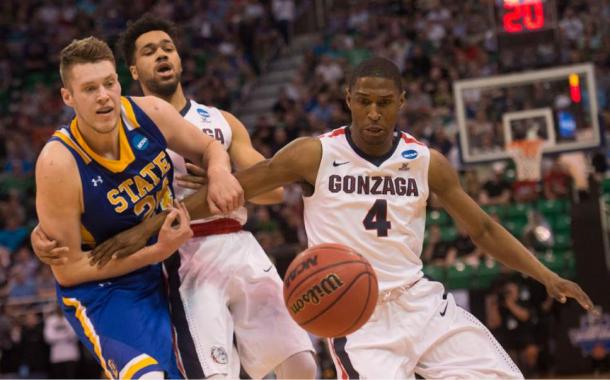 Daum's first contribution came with 7:48 left, a jumper to give SDSU a 19-17 lead. Another long drought, this one spanning over three minutes, was ended when Jordan Mathews, who led Gonzaga with 16 points, tied the game with two free throws.
A Daum triple gave South Dakota State a 22-19 lead. That would prove to be SDSU's final lead of the game as Gonzaga closed the half on a 7-0 run, all seven points scored by Collins and Mathews.
Gonzaga dominates second half to advance
Perhaps awoken by the closeness of the first half, the Bulldogs started strong in the second half, making six of their first eight shots to take their largest lead of the game at 40-28, the run extending to 21-6 dating back to the first half.
The top seed's defense was beginning to take its toll on the Jackrabbits as they scored just two points over a six-minute span that saw Gonzaga build a 48-33 lead, Silas Melson nailing a triple with 10:04 left to play.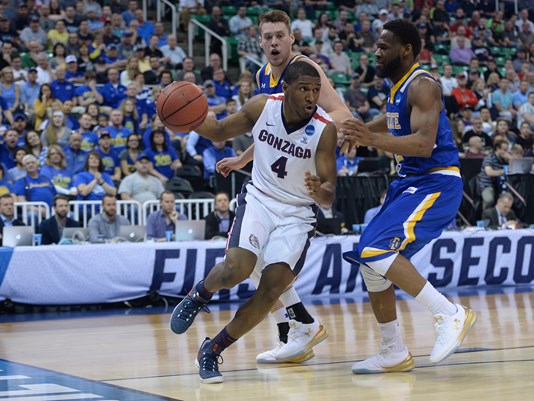 The rest of the game was a mere formality as the Bulldogs coasted home, outscoring South Dakota State 40-24 in the second half. Collins, Przemek Karnowski and Josh Perkins chipped in with 10 points apiece to assist Mathews' 16 points. Daum led the Jackrabbits with 17 points and was the only player on SDSU in double figures while shooting 7 of 16 from the field. Gonzaga held a major advantage in rebounding, taking a 50-29 edge on the glass while holding the 16th seed to 31.8 percent from the floor while forcing 13 SDSU turnovers.