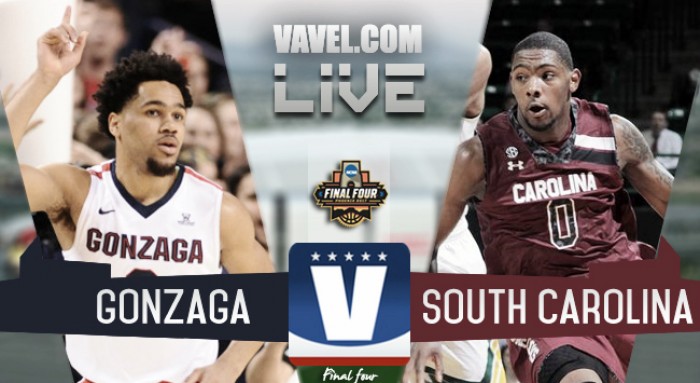 0.0: Gonzaga will fight for their first national championship in school history, final score, 77-73 Gonzaga.
3.5: Thornwell heads to the line, makes first, intentionally misses second, foul GU's Tillie. Makes his first, 76-73. Makes his second, 77-73 Gonzaga.
3.5: Perkins fouls Thornwell, puts him to the line, 75-72 GU.
12.7: Gonzaga calls timeout.
12.7: SC throws ball off Zags, Gamecocks have one last hope, down by three.
Final Minute of the game
1:35: Collins fouled, GU in the bonus, hits first and misses second. 75-72 GU.
1:45: Dozier driving, loses the ball, referees questioning who the ball was off of last. Looks like Williams-Goss was last to touch it.
2:09: Karnowski fouls Silva, picks up his 4th, misses first, hits his second, 74-72 GU.
2:35: Dozier hunts for the offensive board, corrals, and puts it in, 74-71 GU.
3:22: Thornwell with a dime of a move, scores two of a drop step spin, 74-69 GU.
3:43: Collins called for offensive foul, his fourth foul.
Nigel Williams-Goss earns Capital One Player of the Game for his dominate performance in the first half.
3:54: TV Timeout, 72-67 GU.
4:44: Karnowski leads a 7-0 run for the Bulldogs, grab your popcorn kids, this game is just starting to heat up, timeout SC.
5:09: Silva fouls Karnowksi.
6:02: Karnowski bullies his way into the paint for a monster slam, 70-67 GU.
6:37: Collins catches a break, hits big three for Gonzaga. 68-67 GU.
7:06: Felder drives and is fouled, Zags are still scoreless on the 14-0 SC run, Felder hits both, 67-65 SC.
7:41: Dozier gets his own rebound and hits easy lay in to tie game at 65, we have ourselves a ball game folks!
8:29: Williams picks up third foul, Chris Silva goes to the line, hits both, two point game, 65-63 GU.
8:40: Felder fouled by Melson, Zags in the bonus, one and one, misses but off Williams and out of bounds.
8:59: Thornwell draws charge for SC.
9:11: Dozier hits elbow jumper for SC, 65-61 GU.
9:37: Thornwell drops a huge three and the Gamecocks are not out of the fight. 65-59 GU.
10:00: Dozier hits elbow jumper, brings it to within 10, 65-56 GU.
10:39: Silva converts and one, fouled by Collins, his third, replaced by Karnowski. 65-54 GU.
10:55: Goss completes traditional three pointer, 65-41 GU.
10:55: Williams-Goss drives, puts it in and is fouled, and one! Gonzaga pulling away. 62-51 GU.
11:30: Williams-Goss hits another three, Zags making it rain. 62-51 GU.
12:06: Collins makes huge block on Kotsar, leads to easy lay in, 59-48 GU.
13:01: Dozier fouled, makes one of two free throws, Karnowski's eye remains a problem, taken out, 46-56 GU.
13:36: Dozier makes nice back door cut, leads to jam. 56-45, GU.
13:57: Duane Notice drives and scores for SC, 54-43 GU.
15:08: Williams-Goss misses three, rebound off Silva, out of bounds, Zags ball.
15:51: Gonzaga calls timeout, Matthews was trapped in the corner.
16:47: Williams fouled by SC, two shots, hits both, 41-52 GU.
17:39: Williams-Goss hits three pointer, breaking way, 39-50 GU.
18:21: Karnowski dives for loose ball, fouls Thornwell.
19:30: Karnowski hauls in offensive rebound for easy lay in, 47-37 GU.
19:44: Perkins fouls SC's Dozier, hits one of two free throws, 45-37 GU.
20:00: Karnowski returns to start the 2nd half.
0.0: First half ends, Melson a fraction of a second late from extending the lead by three, 45-36 Gonzaga, end of the first half.
44.0: Jordan Matthews is feasting, hits another three pointer in transition. 45-36 GU.
2:00: Gonzaga sends big man Karnowski to the locker room for examination. (Likely to return)
2:00: Zach Collins grabs offensive board and puts it in for two, 40-36 GU.
2:45: Williams-Goss hits layup, 38-34 GU.
3:25: Williams-Goss hits fadeaway jumper, 36-31 GU.
5:00: Matthews hits high arcing three to point the Zag's back on top. Dozier travels for SC, 34-31, GU.
5:26: Chris Silva hits tough layup and stuffs Karnowski goes down, Silva hit him in the face on the follow through, 31-31.
6:05: Jordan Matthews hits big three 29-26 GU.
6:25: Perkins reaches in on Thornwell, SC is in the bonus sending him to the line, makes both, 26-26.
7:20: Williams-Goss hits floater in traffic, 26-21 GU.
8:20: Melson makes huge block on Felder which starts the break leading to a foul, Williams-Goss hits both, 24-19 GU.
8:53: Chris Silva hits one of two free throws, 19-22, GU.
9:10: Karnowski hits reverse lay up off of in bounds pass, 22-18 GU.
11:10: Contact lay in for SC's Felder, 18-20 GU.
12:21: Zach Collins goes up and under for easy post lay up, 14-17 GU.
13:00: Karnowski dominates the post, hits a tough lay in over the left shoulder of Chris Silva, 12-15 GU.
13:56: Silas Melson hits deep three for Gonzaga, 10-13 GU.
15:25: PJ Dozier hits big three pointer but followed up by a nice move from Zag's Collins, 10-10.
16:28: Zach Collins throws down big dunk off of a nice pass from Karnowski, 7-8 GU.
17:33: Duane Notice knocks down three pointer, 7-6 SC.
18:53: Chris Silva at the line makes both free throws, 2-2.
19:40: Williams-Goss FG good, left side elbow jumper, 2-0 GU.
20:00: Tip-off between Gonzaga's Jonathan Williams and Sindarius Thornwell won by Williams.
6:00 PM: 10 minutes till tip-off, South Carolina's star player Sindarius Thornwell is 100% after dealing with flu like symptoms throughout the week.
5:40 PM: 30 minutes till tip-off
5:30 PM: Both team's fans are starting to pile into University of Phoenix Stadium.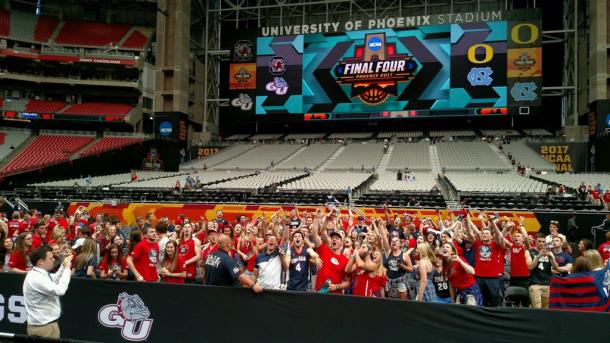 12:00 PM: The Gonzaga Bulldogs and South Carolina Gamecocks are set to battle for a spot in the national championship. Both team's star players, Nigel Williams-Goss and Sindarius Thornwell will look to lead their team's to their first national championship appearance in school history.
South Carolina's road to the final four has been an amazing story involving multiple big upsets. They kicked off their tournament by beating No. 10 seed Marquette pretty easily, next they faced the heavy favorites, Duke in the round of 32. Although Duke lead for a good portion of the game, South Carolina took off in the last quarter to win the game. Following their massive upset, they faced No. 3 seed Baylor, another team that was expected to blow out South Carolina. Once again, the Gamecocks would prove themselves to be legit, beating the Baylor Bears in the sweet sixteen and advance to the elite eight where they faced No. 4 Florida. South Carolina would punch their ticket to Phoenix in another big win over heavily favored Florida. They look to ride their unstoppable wave of momentum all the way to the championship with only two teams left in their path.
As for Gonzaga, the No. 1 seed, they have played well in all of their games thus far. The only close matchup came in the elite eight where they faced No. 4 seed West Virginia, the game came down to the finally possession and ultimately, it was the Bulldog's stingy defense that came through and won them the game. To reach the final four, the Zags had a tough matchup against an unlikely opponent, No. 11 seed Xavier. Gonzaga was able to control the tempo for most of the game and ultimately win, securing the team's first final four appearance in school history.