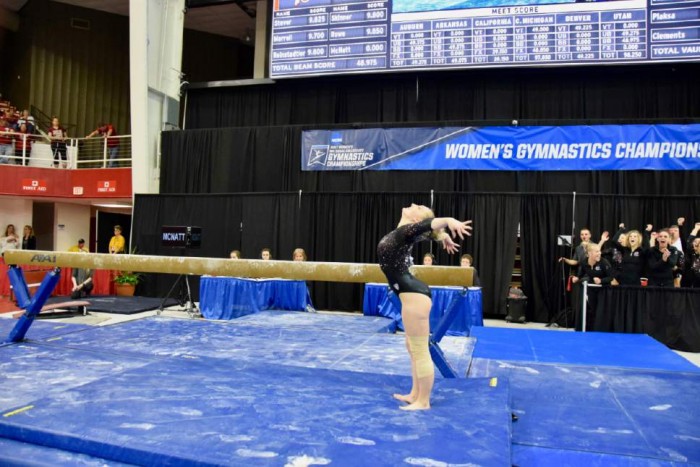 The battle for the Arkansas Regional came down to the wire, and it was a former Olympic hopeful that made the difference.
The fourth ranked Utah Utes bested the second ranked Denver Pioneers by a mere tenth of a point to punch their ticket to the NCAA Championships for a record 42nd consecutive year. Utah's effort was lead by MyKayla Sknner, a former world champion and alternate for the 2016 US Olympic Team in Rio. Skinner won the all round competition with a score of 39.525.
The battle between Utah and Denver persisted throughout the day. At the midway point of the competition, Denver lead Utah by 0.125 points, but a massive display for the Utes on the floor vaulted Utah past Denver by a tenth of a point, which turned out to be the final margin. One of Utah's head coaches, Tom Farden, credited Skinner for boosting her team mates, as well as delivering an expert routine.
"She was in her element," Farden said. "She looked good out there and was determined. Her competitive drive helps the others go out there and attack it."
Utah's victory was even more impressive given the squad they had to use in the competition. With members of their team down with injuries, Utah turned to Shannon McNatt a sophomore who barely saw action in her two years at Utah. Competing on beam for the first time, McNatt was the top point scorer in the event, becoming the first gymnast from Utah to win a regional title in her debut.
"We were so proud of Shannon," said junior Maddy Stover. "She has persevered for two years not getting to compete much and she never quit. When she stuck that dismount, we were almost brought to tears."
With their second place finish in the Regionals, Denver also qualifies for the NCAA Championships. Auburn and Arkansas finished tied for third in the regional, with Cal and Central Michigan rounding out the field.
Utah will be seeking their 11th National Championship, and first since 1995. MyKayla Skinner will be looking to become the fifth Utah gymnast to win the all-around title at the NCAA Championship. If Utah were to win, they would win their first National Championship without longtime coach Greg Marsden, who retired at the end of 2015 after 40 years with the program.