Just as LSU were the clear favourites in the Lincoln regional, Oklahoma Sooners went into this meet as the favourites. The second place would be a hard fought battle between Washington Huskies & Kentucky Wildcats.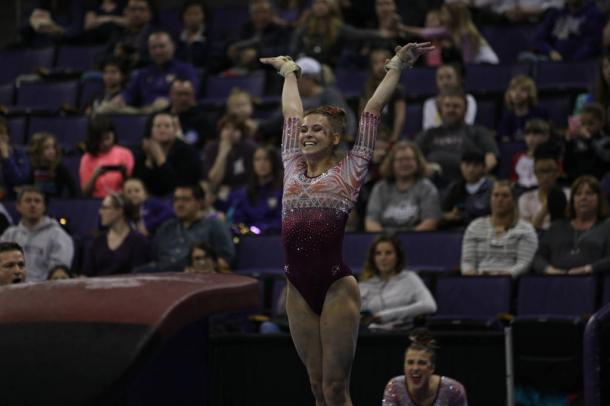 Vault
To say Oklahoma were favourites for this meet would be an understatement. As the top ranked team the sooners had very little to fear. On this aparatus the Sooners ruled, with six of the top 10 from Oklahoma. The best performance of the night came from Maggie Nichols & AJ Jackson, who couldn't be split and both landed impressive 9.950. A small tweak here, a spot landing there and both could easily have scored the perfect 10.
Brenna Dowell 9.925 and Chayse Capps 9.900 secured the other top spots giving the Sooners a clean sweep. By contrast the top scorer on vault for the Huskies was Alexandra Yacalis in a tie for seventh spot, scoring 9.850. The vault was not a good aparatus for Washington here, they will need to polish up performances if they want to progress at the nationals.
Bars
The Huskies star on the bars was without doubt Kaitlyn Duranczyk. Her routine scored a very impressive 9.950. Duranczyk was not able to spring a lead however, as McKenzie Wofford scored the same for the Sooners. In fact, after Wofford, the next four spots all went to the sooners, with Stefani Catour, Nichols, Nicole Lehrmann & Dowell following up their team mate.
Oklahoma do not have a particular weak aparatus,which was borne out here with solid performances. Washington are better on the bars than the vault, as placing four gymnasts in the top 13 proved. Unfortunately for the huskies, the Sooners managed five and all but one were higher than Washingon.
Balance Beam
Another group of solid performances on the beam saw the Sooners extending their overall lead. Nicols and Capps lead the way again both scoring 9.950. Hailey Burleson was the highest of the Huskies with 9.900 tied with Natalie Brown. Sadly for Janae Janik a fall from the beam ended her hopes of a good routine, it also put her second from last on the aparatus. Not a score the huskies needed.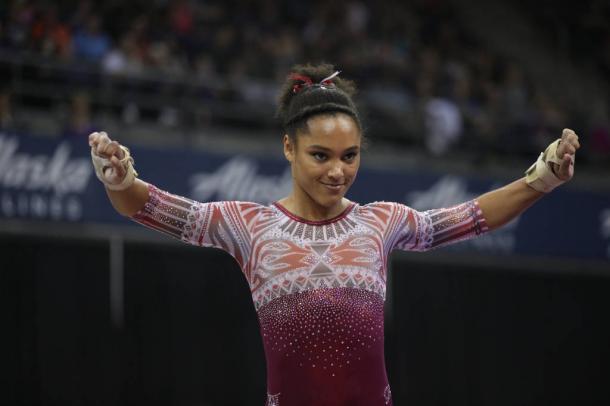 Floor
This is without doubt the best aparatus for the Huskies. Placing closer to the Sooners on this event helped to push Washington ahead of the Wildcats. Nicols and Chapps perfomed the best with 9.950 and 9.900 respectively. Yacalis was the top husky with a 9.900 score. Sandwiched between Sooners as Dowell and Charity Jones finished behind her with 9.875.
Nicole Turner will want to forget her floor routine with a disasterous 9.600. Even with this poor score, it was irrelevant by this time as the sooners had such a lead that they couldn't be stopped.
When the nationals take place, its going to be a very close compeition between the sooners and LSU. On the perfomances at the regionals, I believe that the Sooners will finish first and LSU second, but as to the scores, that I cannot call