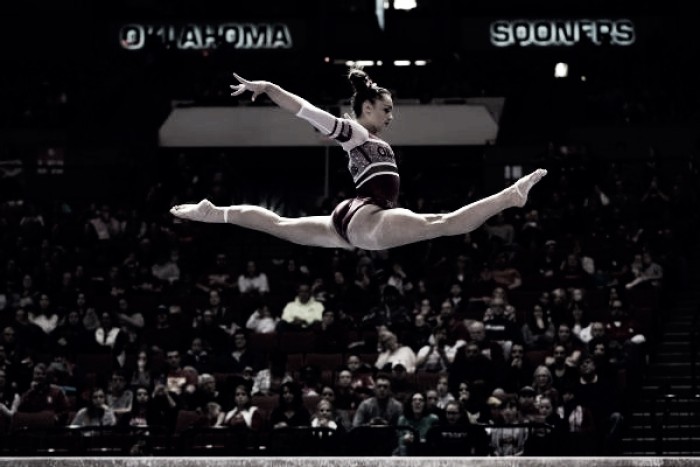 The Oklahoma Sooners finished the season on the top of their game, winning the National Championship behind strong performances from all of their members.
Maggie Nichols lead the way with a perfect 10 on balance beam while putting up no lower than a remarkable 9.95 on any event, but everyone on the team (Natalie Brown, Chayse Capps, Stefani Catour, Jade Degouveia, Brenna Dowell, AJ Jackson, Charity Jones, Nicole Lehrmann, Alex Marks and McKenzie Wofford) had an extremely good night.
Oklahoma led practically from the second rotation (had a bye in the first) and never let up. The Florida Gators were pretty set in second place for a large majority of the meet in part due to a fabulous effort once again from Alex McMurtry, but the LSU Tigers and UCLA Bruins led by Sarah Finnegan and Madison Kocian respectfully came in third and fourth. The Utah Utes would finish in fifth, despite a fantastic effort from MyKayla Skinner. They just couldn't keep up with the big scores from the top four and fell a bit behind, not able to make up any ground on the consistently dominant Sooners. Finally, the Alabama Crimson Tide were hurt by having to count a fall on beam in the first rotation and never recovered, finishing in sixth.
Individual standouts
There were several phenomenal individual performances, but the most impressive were easily Maggie Nichols (Oklahoma) and Peng-Peng Lee (UCLA) who both had perfect 10's on beam, while Alex McMurtry (Florida) had a perfect 10 on uneven bars.
Sarah Finnegan (LSU), Chayse Capps (Oklahoma), Madison Kocian (UCLA), Kyla Ross (UCLA), MyKayla Skinner (Utah) and Stefani Catour (Oklahoma) were some of the more notable names who all had big nights to their names.
Other great nights came in from Kennedi Edney (LSU), Kiana Winston (Alabama), Aja Sims (Alabama), Katelyn Ohashi (UCLA), AJ Jackson (Oklahoma), Ashleigh Gnat (LSU), and Lexie Priessman (LSU).
Where each squad should look to improve next season
Each squad had at least one area that they could look to improve upon to capture next season's National Championship, or in Oklahoma's case defend it.
Oklahoma- While the Sooners had one of the best season's they could've imagined topped off with a remarkable final performance, it's not likely they'll be able to expect a 9.95 or higher on every apparatus from Maggie Nichols next time around. The key to Oklahoma's success next year will depend on whether they are able to maintain a high average from everyone. The lowest score they received was a still very solid 9.8375 from Jade Degouveia on vault. All their other scores finished at 9.85 or higher. If they can repeat that, they should have a solid chance to repeat as champions, even without an other-worldly performance from Maggie Nichols. Oklahoma finished with a final score of 198.3875.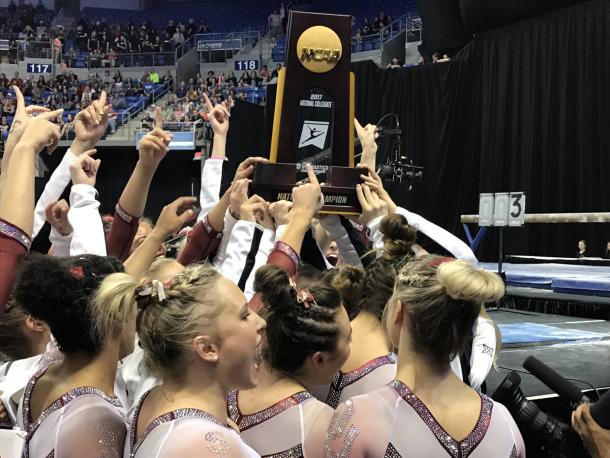 LSU- The Tigers had a very impressive night, but they fell just behind in every event except beam compared to Oklahoma. If LSU can get all their scores in the 9.8's and add a few more hundredths to get some scores up to the 9.9 range, they should be able to pose a solid competition for Oklahoma next season. LSU finished with a score of 197.7375.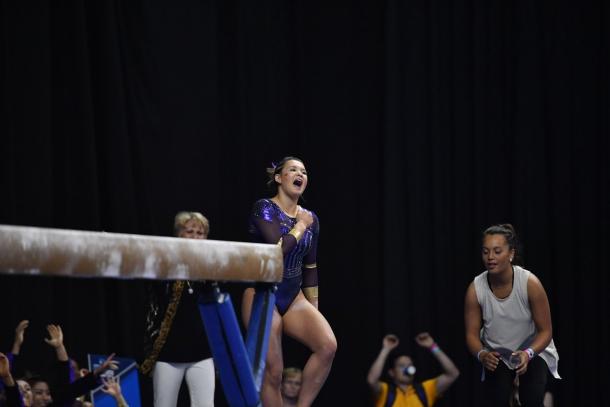 Florida- The Gators had a very incredible season led by Alex McMurtry, but they just couldn't outpace Oklahoma and LSU's impressive nights. While they definitely had a great performance all around, if there's anywhere they could look to improve, in particular, it would be balance beam as they lost about four tenths there alone and had only two scores above 9.85. Florida finished with a score of 197.7.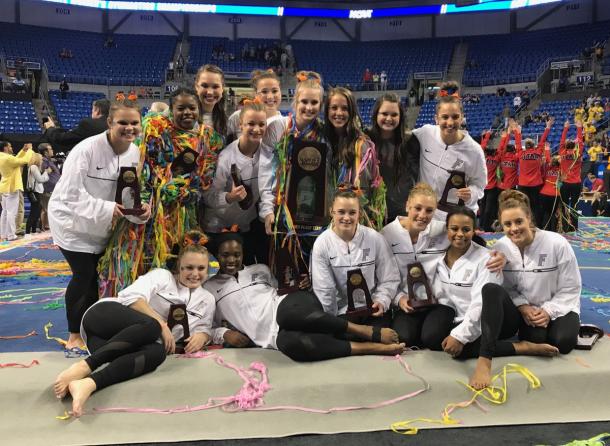 UCLA- The Bruins also had a fabulous season and topped it off with a solid night. They just couldn't catch Oklahoma on their tear in the season finale. The one thing that the Bruins could work on heading into next year is earning those extra tenths and hundredths on each individual performance to get to that next level. They have the talent to put up numbers in the 9.9's with several big contributors in Kocian, Ohashi, Ross and Lee, but it the Bruins ended up getting scores in the 9.8's and 9.7's while Oklahoma was consistently in the 9.9's to win it. UCLA is definitely a team to watch heading into next season. UCLA finished with a score of 197.2625.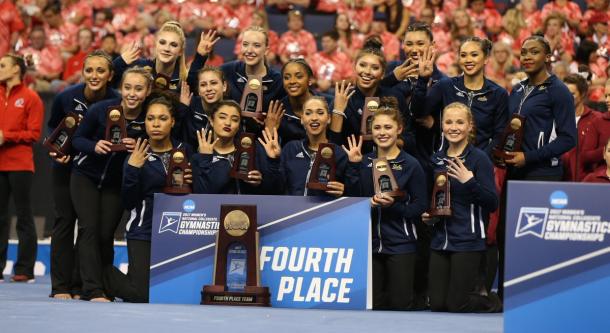 Alabama- The Crimson Tide just had a rough night tonight, having to count a fall on beam and not being able to recover. If they can just limit their mistakes next time around with some great talent of their own in Aja Sims and Kiana Winston amongst others, they could finish much closer to the top next season. Alabama finished with a score of 196.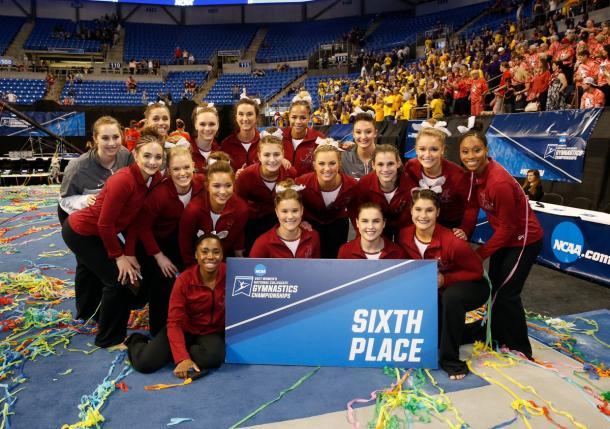 Utah- The Utes just didn't have the high scores to compete this time around, having only two total scores (Skinner on floor and Baely Rowe on uneven bars) to match up with the big time scores that Oklahoma and the other top teams were putting up. They definitely earned the right to make it to nationals behind strong performances from Skinner, but they just couldn't match up in the finale. Utah finished with a final score of 196.5875.