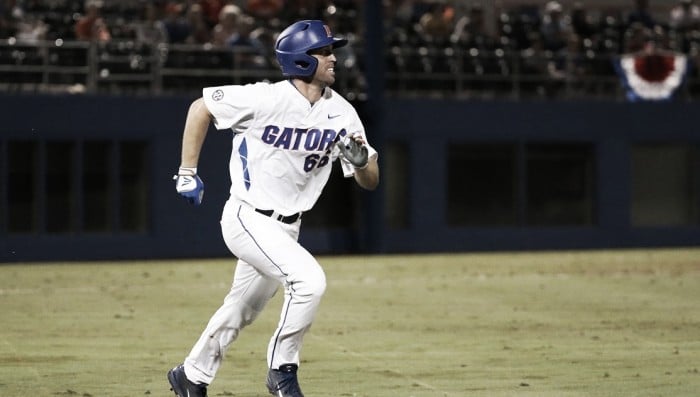 The Florida Gators took Game 1 of their best-of-3 Super Regional series against the Wake Forest Deamon Deacons with a 2-1, 11 inning victory. The game was delayed for nearly four hours due to rain with Florida ahead 1-0 in the fourth inning.
Wake Forest managed to tie the game in the ninth inning before Ryan Larson's game-winning single with the bases loaded ended the game in the 11th.
Florida scores first run of the game before rain hits
Both teams had their chances to pile on runs. Larson reached second on a double in the bottom of the second, but Florida failed to drive him in.
In the top of the third, the Demon Deacons had bases load and failed to score as well. Florida opened the scoring before the weather delay, taking a 1-0 lead in the bottom of the third inning.
Mike Rivera led off the inning with a single up the middle and Deacon Liput followed with a walk to put runners on first and second with no one out.

After Jonathan India's sacrifice bunt advanced both runners, Rivera scored from third on Dalton Guthrie's RBI groundout to first base.
Gators change pitchers after delay, Deamon Deacons stick with starter
Florida starter Alex Faedo struck out nine over four innings and allowed just four hits. Following the delay, Faedo was lifted for Brady Singer, who pitched four terrific innings, striking out seven while only allowing two hits.
Wake Forest stuck with Parker Dunshee until the bottom of the ninth and he allowed just one run off three hits while striking out eight.
Wake Forest ties it in the ninth before Larson wins it in the 11th
In the top of the ninth, Deamon Deacons catcher Ben Breazeale crushed a home run off of Gators closer Michael Byrne to tie the game.
In the top of the 11th, Wake Forest loaded the bases, but Byrne got out of the inning with a strikeout. The Demon Deacons turned to Griffin Roberts in the bottom of the 11th.
He immediately walked India, then JJ Schwarz and Nelson Maldonado to load up the bases, before Larson singled home India to win the game.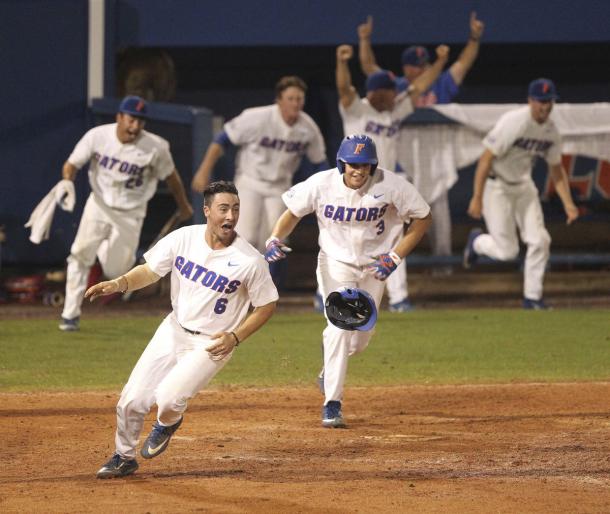 Other results
Texas A&M defeated Davidson 12-6 to win their Super Regional and advance to the College World Series. Louisville swept Kentucky to advance to Omaha while Oregon State brushed aside Vanderbilt to join the Cardinals and Deamon Deacons in the CWS.
Florida State won their opener against Sam Houston State as did LSU, 4-3 against SEC rival Mississippi State while Cal State Fullerton shut out Long Beach State 12-0 to force a third and deciding game.