 The Florida State Seminoles routed the Sam Houston State Bearcats 19-0 on Sunday evening to advance to the 2017 College World Series. They were led by Taylor Walls, who went 3-3 with five runs scored and four runs batted in. Their pitching staff also stepped up, as they threw a combined shutout on the evening.
Florida State scores early and often

The Seminoles got to the Bearcats right away in the first inning when Walls led off with a home run to right field. After a flyout and a walk to Jackson Lueck, Quincy Nieporte was hit by a pitch to put runners on first and second for Cal Raleigh, who doubled to right-center field to score Lueck and advance Nieporte to third base. After Drew Mendoza struck out swinging, Matt Henderson doubled down the left-field line to score Raleigh and Nieporte to make it a 4-0 game.

They added four more in the second inning, starting with a one-out walk to Walls. Dylan Busby followed by being hit by a pitch, which was followed by a single from Lueck to score Walls. Nieporte followed with a home run to left field to bring in three more and make it an 8-0 game. Mendoza doubled to left-center with two outs but was stranded when JC Flowers grounded out to end the inning.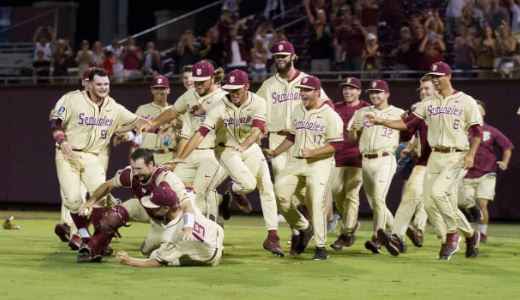 The Seminoles only added one more in the third, and it came off a leadoff home run from Walls to make it a 9-0 game. They exploded again in the fourth inning when they put up six runs, including three errors by the Bearcats defense. They were also aided by a wild pitch in the inning.

In the fifth inning, the Seminoles scored another run when Walls hit a two-out single to center field. He advanced to second when Busby singled, advanced to third when Lueck drew a walk and scored when Nieporte was hit by a pitch to make it a 16-0 game.
That was the end of the line for Seminoles starter Drew Parrish, who went five innings, giving up just two hits and no runs while recording nine strikeouts. His bullpen equaled his performance, as they combined to go four innings, giving up two hits and recording six strikeouts. The majority of that was done by Cole Sands, who threw three innings on the night.
Seminoles finish the rout

The Seminoles added two runs in the sixth and one run in the eighth inning to take a 19-0 win and advance to next week's College World Series in Omaha, Neb. They are the sixth team to clinch a bid, with just two spots left up for grabs. The pairings for the CWS will be released once all eight teams qualify for the tournament.