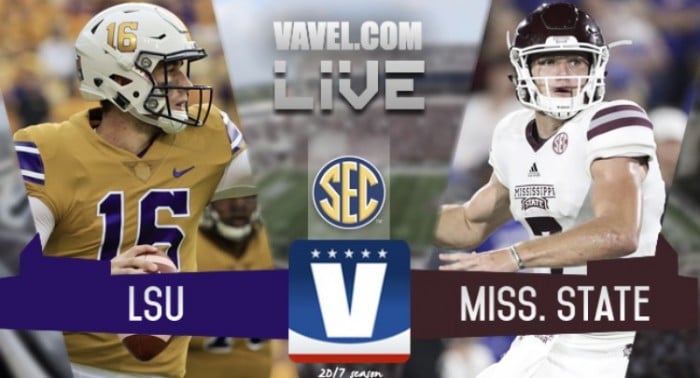 Thank you for following along here on VAVEL. The recap of the game will be up shortly. This is Thomas Cluck saying so long!
Mississippi State takes a knee and the clock runs out as the Bulldogs physically dominate LSU, thrashing the Tigers 37-7 in front of a raucous Starkville crowd.
Make that seven straight drives with a score for the Bulldogs as Nick Fitzgerald's arm refuses to cool down, lighting up an incredibly weak LSU defense to go up 37-7 after a successful PAT.
The scoring streak for Mississippi State continues at the Bulldogs make it six straight possessions with a score, a field goal brining Dan Mullen's team to a dominant 30-7 lead over LSU.
This LSU defense really has been far less dominating than usual. Absolutely no depth up front with Arden Key, returning, the only starter on the Tigers' defensive line. Very concerning in SEC play and getting beat up in the trenches by Mississippi State.
Mississippi State quarterback Nick Fitzgerald is on fire with six straight completions and a wide-open touchdown pass to go up a staggering 27-7 on LSU after the PAT is good.
Mississippi State continues their ride of offensive success with a field goal to go up 20-7 on LSU.
The second half gets off to a poor start from LSU as one of the Tigers' premier defensive players, Donnie Alexander, is ejected from the game due to a roughing the passer targeting penalty as flags continue to kill Ed Orgeron's squad here in Starkville.
A brilliant drive through the air from Mississippi State as quarterback Nick Fitzgerald lights up LSU for another touchdown to close out the first half 17-7 after a successful PAT.
Some more careless penalties cost LSU as Mississippi State ends up driving down the field and get a short field goal to re-take the lead 10-7.
Despite the earlier penalty, it ends up being void as the Tigers' runningback Darrell Williams drills it in for a touchdown. The PAT is good and its now 7-7 here in Starkville.
Another penalty costs LSU, their 24th so far early this season, costs the Tigers a Dillon rushing touchdown. Still 7-0 Mississippi State.
Touchdown Mississippi State as a brilliant drive from Bulldogs quarterback Nick Fitzgerald ends with a QB rush for six points. The PAT is good to put the home team up 7-0.
Neither team having gotten much going on offense so far. LSU with a major missed opportunity on the penalty costing them an early touchdown.
That's the end of the first quarter live here from Starkville, with LSU and Mississippi State tied at 0-0.
LSU struggling so far with penalties, something they've had a tough time with all season. 0-0 early here in Starkville.
An early LSU receiving touchdown by DJ Chark called back due to a penalty for the Tigers. Still 0-0.
The kick is off and this SEC divisional game is underway.
Mississippi State won the toss and deferred to the second half. LSU will receive the ball first here in Starkville.
LSU and Mississippi State walk onto the field here at Davis Wade Stadium.
It is confirmed, LSU defensive end Arden Key, one of the best defensive players in college football, will make his return from shoulder surgery for the Tigers tonight in Starkville. Key is participating fully in pre-game warm ups.
Check back here before game time for pre-game updates, news and notes, warm ups, more live from Starkville.
This intriguing division battle, one of the most compelling matchups this weekend, could play a critical role in determining the SEC West standings, and both teams will be eager to win. After a near collapse by LSU against the Bulldogs on their home turf last year in Baton Rouge, this game could prove to be one of the most fun games of the weekend.
As for the home team Mississippi State Bulldogs, Dan Mullen's team will look to prove themselves as a long-shot pick to win the SEC West with their impressive defense and the running and passing threat of quarterback Nick Fitzgerald. On the defensive side of the ball, the unranked Bulldogs will need to stop LSU star running back Derrius Guice with a strong line of scrimage prescence. On offense, Mississippi State will be especially dangerous if Fitzgerald's multiple options with the ball begin to burn through a very inexperienced and young Tigers defense.
For LSU, the biggest question marks surrounding the Tigers is how will their relatively new and untested offense fare against one of the most underrated defenses in the SEC in Mississippi State. Offensive coordinator Matt Canada's new offense hasn't been tested much yet in blowout wins over BYU and Chattanooga, but Ed Oregon's squad will be eager to send a message to the rest of the SEC that they're a force to be reckoned with despite their relatively young and new presence on the roster.
Kickoff will be at 7:00 pm ET on Saturday, September 16th. There will be coverage pregame, during the game, and postgame from Davis Wade Stadium in Starkville, Mississippi.
This couldn't be any truer for LSU and Mississippi State, who come into this SEC West game with much to learn and to prove on both sides. LSU looks to really debut the new offensive scheme of first year offensive coordinator Matt Canada against by far the best defense the Tigers have faced so far all season. For the Bulldogs, they look to show their defense as a force to be reckoned with and standout quarterback Nick Fitzgearald looks to cement his name firmly on the map at home in Starkville.
As the still fledgling college football season moves into week three, separation and survival begin to take place across the country. With conference play largely getting underway this weekend, many teams have gotten the early missteps out of the way and are ready to make their mark on this season.
Welcome to live coverage of the SEC Football! My name is Thomas Cluck, and I am happy to be bringing you play-by-play coverage of LSU vs. Mississippi State here on VAVEL. From now until the game begins at 7:00 pm ET, news and notes will be above to get you up to speed. Be sure to return at game time for play-by-play updates!