Thank you for following along here on VAVEL. The recap of the game will be up shortly. This is Thomas Cluck saying so long!
50-43 Texas A&M: The Aggies comeback and win again! An Austin Allen pass is intercepted in the end zone by Armani Watts and A&M takes the Southwest Classic 50-43 in overtime, extending their winning streak to seven straight games over Arkansas.
50-43 Texas A&M: Some luck goes the Aggies way as a pass interference call on third down goes their way before a strong touchdown pass to Christian Kirk gives Kevin Sumlin's team the lead here in overtime after a good PAT.
43-43: Arkansas won the overtime toss and chose the go on defense first. Texas A&M will get the ball first.
43-43: The fourth quarter ends and so does regulation as this Southwest Classic will move into overtime here at AT&T Stadium.
43-43: Some incredibly poor time management from Texas A&M head coach Kevin Sumlin costs the Aggies as they have to settle for the field goal, tying the game with four seconds remaining.
43-40 Arkansas: Now the Razorbacks respond with a strong running touchdown in the red zone to put the Hogs back up three points in a shootout of a Southwest Classic with three minutes remaining.
40-36 Texas A&M: The Aggies respond immediately with a lightning-fast kick return touchdown from wide receiver Christian Kirk, putting A&M back up four point after a successful PAT.
36-33 Arkansas: The shootout in Arlington continues as its the Razorbacks' turn with a huge deep shot for a passing touchdown and then a successful two-point conversion puts Bielema's squad up three points with only a few minutes left in the fourth quarter.
33-28 Texas A&M: It's another explosive running touchdown from the Aggies as Keith Ford takes it but an unsuccessful two-point conversion attempt keeps it to a five-point lead for Kevin Sumlin's team.
28-27 Arkansas: Texas A&M brings the margin to just one point as they tag in a field goal to put the pressure on the Arkansas offense to respond.
28-24 Arkansas: The third quarter comes to a close with the Hogs leading by four points. As it always seems, this Southwest Classic rivalry will come down to the fourth quarter.
28-24 Arkansas: The Razorbacks strike back, with Austin Allen putting together a brilliant drive capped off by a running touchdown from Williams and a successful PAT putting Bielema's team back up.
24-21 Texas A&M: Quarterback Austin Allen is also showing frustration, having been sacked the last drive and struggling for yards the last two quarters.
24-21 Texas A&M: Arkansas' offense seems to have really stalled out ever since that explosive first quarter. The Razorbacks will be without one of their best offensive weapons as wide receiver Jared Cornelius will not return to the game due to a left ankle injury.
24-21 Texas A&M: The Aggies lead for the first time as an explosive run from running back Keith Ford and a successful PAT put Kevin Sumlin's team up three here in the third quarter in this competitive Southwest Classic.
21-17 Arkansas: That's the end of the first half here from AT&T Stadium with Arkansas leading by four, but the momentum heading into the locker room is with the Aggies. The Razorbacks will receive the ball first after halftime.
21-17 Arkansas: Texas A&M continues to dominate the second half, scoring a touchdown and moving within four points as the second half winds down.
21-10 Arkansas: An awfully bad break for Texas A&M off an official error turns seven points into three as the Aggies cannot make it back into the end zone and have to settle for a 27-yard field goal.
21-7 Arkansas: A huge play from the Aggies quarterback as Kellen Mond breaks free, taking it all the way for a touchdown but an error by the referee, calling him out of bounds at the 10-yard-line and calling the play dead causes a hugely poor break for Kevin Sumlin's team.
21-7 Arkansas: The Razorbacks make A&M pay for that turnover, pounding the ball down the middle for a rushing touchdown by Chase Hayden to go up by double digits following the PAT.
14-7 Arkansas: Deep in his own territory on 3rd & 17, true freshmen Kellen Mond throws an interception, giving the Hogs the ball at the 30-yard-line.
14-7 Arkansas: Austin Allen finds running back David Williams in the end zone with an easy pass to put the Razorbacks up after a good PAT.
7-7: That's the end of the first quarter, with both teams having shown flashes of brilliance through the air.
7-7: Texas A&M responds with a brilliant pass of their own, as freshmen Kellen Bond finds a wide-open Christian Kirk to level after a successful PAT from the Aggies.
7-0 Arkansas: The Razorbacks passing game pays dividends, as Austin Allen finds his favorite target, Jared Cornelius, for a redzone touchdown. The PAT is good and Arkansas scores first.
After video review, targeting is called and Texas A&M's Travon Fuller is ejected from the game. 15-yard penalty on the Aggies.
After having to punt, Texas A&M, one of the least penalized teams in the country, runs into punt receiver Jared Cornelius and a 15-yard kick-catch interference is called, with targeting being reviewed.
The kickoff is off and the 2017 Southwest Classic is underway.
Arkansas won the toss and deferred the ball to the second half.
Arkansas and Texas A&M have taken the field here in Arlington.
10:30. The kickoff is in 30 minutes live from Arlington. Make sure to be back here by game time for our live coverage of the 2017 Southwest Classic.
Update: Texas A&M will start freshmen Kellen Mond as Jake Hubenak is still injured and unable to play.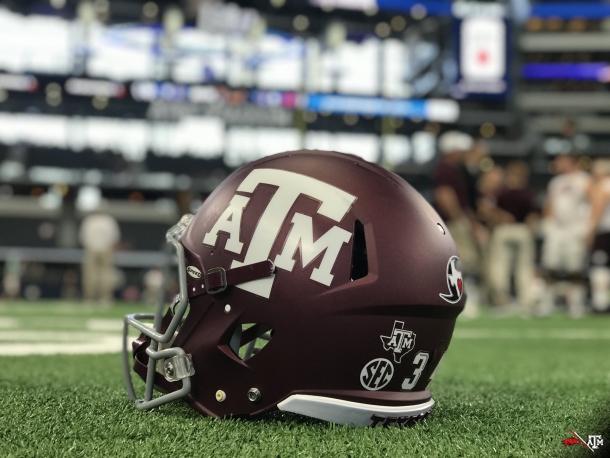 Despite probably having been the less impressive of the two teams this season, Texas A&M comes into this game as just over six point favorites, with this one predicted to be a high-scoring affair. It will be tough for Arkansas to cover that line, but the Razorbacks will be very hungry to end their losing five-game losing streak to the Aggies and Kevin Sumlin.
Another interesting factor in this game is the natural site location of AT&T Stadium, the home of the Dallas Cowboys. The Cowboys' owner Jerry Jones was an all-American for Arkansas, and with Dallas being only around three hours from the campus of Texas A&M, the split crowd will be loud on both sides. In honor of Jones, the Razorbacks are wearing Cowboys style uniforms for this Southwest Classic.
We're live here at AT&T Stadium in Arlington, Texas, where pre-game warmups are underway for both teams. For Arkansas, the Razorbacks wide receivers are undergoing drills, with Austin Allen's favorite target, Jared Cornelius, looking fast and healthy on the field an hour before kickoff. For A&M, the Aggies defense is warming-up, with their superstitious "turnover trashcan," possessing many dents as John Chavis' defensive squad actually leads the nation in turnover margin.
In a few moments, we will share the initial lineups of Arkansas Razorbacks vs. Texas A&M Aggies live score, in addition to the latest information that surges from the AT&T Stadium. Do not miss a detail of the game with the live updates and commentaries on VAVEL.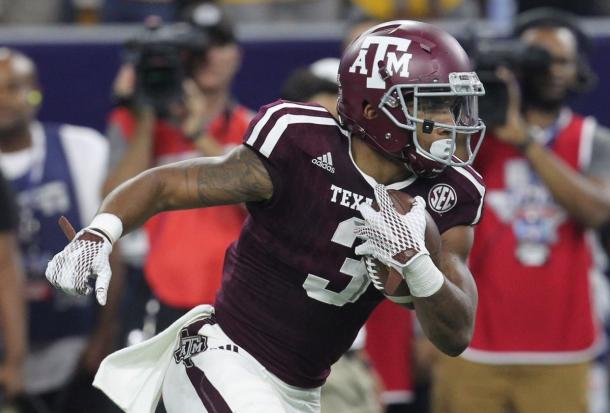 The Aggies offense will also hope to finally get moving, with some instability in the quarterback position holding them back early this season. Starting senior quarterback Jake Hubenak has been battling injuries all year and his backup, freshmen Kellen Mond, struggled against an average UCLA defense in week one. If Sumlin's team can find the right formula on offense and get their quarterback going, the passing game will be key for the Aggies with their best weapon, wide receiver Christian Kirk, still waiting for his breakout game this season.
On the A&M side of things, it will come down to their organization and discipline on defense. In all three of the Aggies' games so far this season, they have been giving up way too many points and free yards and against a dangerous passing game like Arkansas, that trend will need to stop. John Chavis, Texas A&M defensive coordinator, has been very successful in his prior meetings with the Razorbacks, keeping the Hog offense to under 25 points in 2015 and 2016, and that type of defensive efficiency will be needed if the Aggies hope to extend their winning streak to six straight games.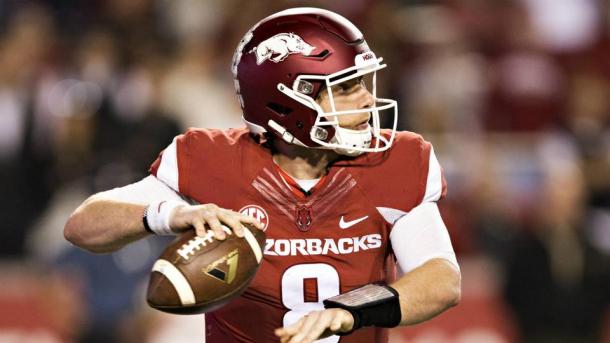 The Hogs' quarterback, fifth-year senior Austin Allen, has struggled so far this season, but he's proven himself against SEC defenses previously, with a good arm and solid passing game. If Arkansas hopes to get its first win against Texas A&M in more than five years, they'll need to give Allen plenty of time to set up passes to a talented group of wide receivers for the Razorbacks.
For Arkansas, the biggest challenge will be how will they match up with A&M in the trenches. In their most recent game two weeks ago against TCU, the Razorbacks, a team that prides themselves on being physical with a strong offensive line, was crushed at the line of scrimmage by the Horned Frogs. If Bielema's squad wants to finally get some production on offense, an increased blocking presence will be needed against a strong defensive line from the Aggies.
Kickoff will be at 12:00 pm ET on Saturday, September 23rd. There will be coverage pregame, during the game, and postgame live from AT&T Stadium in Arlington, Texas.
For both Bielema and Sumlin, this game will have a significant impact on their job status, with the Razorbacks 0-4 against rival A&M under Bielema and Sumlin already under pressure from key donors as to his job security.
A coach even more on the hot seat is Texas A&M's Kevin Sumlin, who is 2-1 to start the season with that loss being a humiliating 45-44 loss to UCLA after leading by 34 points in the second half. The Aggies also looked in disarray the last two weeks, avoiding shocking upsets to Nichols State and Louisiana-Lafayette at home.
This weekend's rivalry matchup pits two programs in very similar positions, a 1-1 Arkansas team led by fifth-year head coach Bret Bielema, who's somewhat on the hot seat after a disappointing 28-7 loss to TCU two weeks ago.
After the initial three weeks of non-conference games, the 2017 college football season really begins this weekend with conference rivals going face to face as September draws to a close. This couldn't be more evident than in one of this weekend's premier rivalries: the Southwest Classic between the Arkansas Razorbacks and Texas A&M Aggies. Both teams will look to move past tough non-conference losses earlier this month and settle into the 2017 season with a good SEC West rivalry win.
Welcome to live coverage of the 2017 Southwest Classic! My name is Thomas Cluck, and I am happy to be bringing you play-by-play coverage of Arkansas vs. Texas A&M here on VAVEL. From now until the game begins at 12:00 pm ET, news, and notes will be above to get you up to speed. Be sure to return before game time for play-by-play updates!