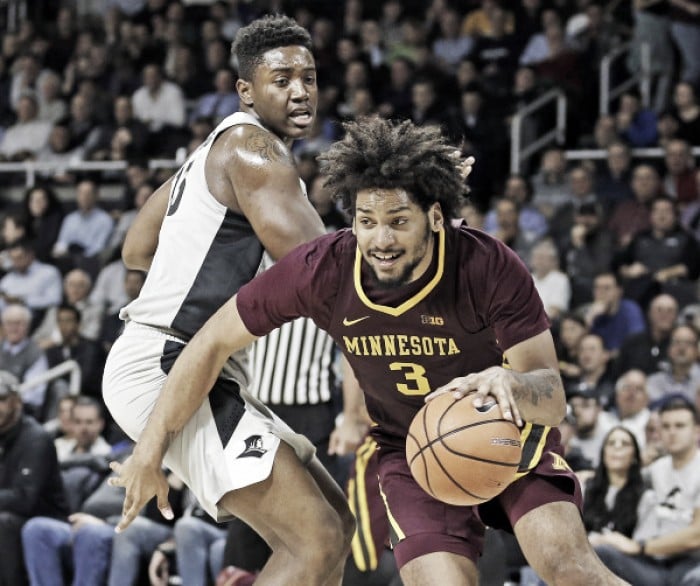 The 14th-ranked Minnesota Golden Gophers earned a quality early-season road win, defeating the Providence Friars 86-74 at the Dunkin Donuts Center in the opening game of the Gavitt Tipoff Games.
Jordan Murphy recorded a double-double for Minnesota, finishing with 23 points and 14 rebounds. Nate Mason added 17 points and Amir Coffey finished with 15. Kyron Cartwright and Nate Watson led the Friars with 12 points apiece.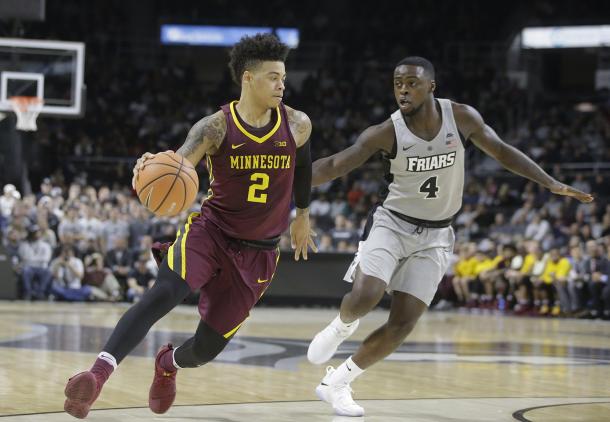 Fast start for Minnesota, big end for Providence
The Golden Gophers started fast, quickly taking a 12-2 lead, making six of their first nine shots and prompting Friars coach Ed Cooley to call an early timeout. Providence stayed close, going 5 for 9 from the 3-point line, Isaiah Jackson's triple giving the home team a 36-33 lead, their first advantage since the opening basket of the game and getting 16 points from their reserves in the first half.
Providence took advantage of Minnesota's cold shooting from beyond the arc, the Golden Gophers going just 1 for 10, going more than five minutes without a field goal. That enabled the Friars to close the half on an 11-6 run, taking a 39-36 lead into halftime.
Murphy carries Golden Gophers in the second half
After having just eight points in the first half, Murphy broke out and scored 15 in the second half as the game went back and forth. With the game tied 55-55 with 11:26 left, Minnesota used a 23-11 run to take control.
Murphy felt the Providence challenge brought out the best in him and his team: "I definitely like the resistance. It's definitely something that makes you stay on your toughness," the senior forward said. "That's to their credit, they brought that out of us and we played like a team and we were tough together. We're hard to stop when that happens."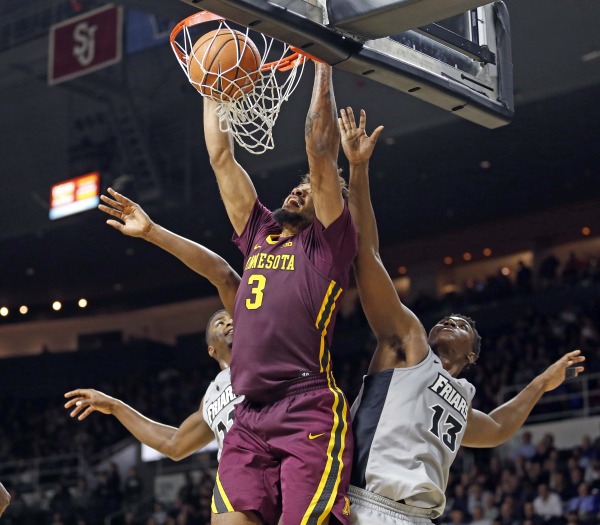 Cooley knew Murphy dominated his team in the second half: "I can remember five baskets where it just was him and nobody in the gym. He went through us, over us, around us, and-ones ... he's a pretty special talent."
Dominance on the glass, down low make up for poor long-range shooting, few assists
To make up for their disappointing night from three-point range (Minnesota was just 5 for 17 on the night), the Golden Gophers outrebounded the Friars 38-31 and dominated points in the paint, holding a 40-26 edge.
Despite just six assists on 30 baskets, Minnesota forced Providence into 13 turnovers, converting those into 17 points. Afterwards, Cooley was incredulous about his team's defense after limiting the Golden Gophers to such a paltry number of assists: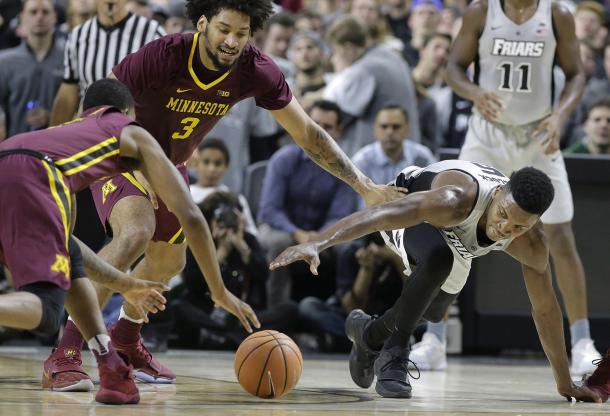 "Six assists on 30 baskets. That's look yourself in the eye. That means whoever had the ball went right by you."
Mason felt the Friars would get tired of guarding his squad: "We knew it they'd eventually get tired of guarding. That's what they did in the second half and we took advantage of it."
Homecoming for Pitino
A 2005 graduate of Providence, Golden Gophers coach Richard Pitino was heckled by the student body with chants of "Who's your daddy?" several times during the game. Pitino's father, Rick Pitino, was fired by the University of Louisville after 16 seasons last month after the school acknowledged it was being investigated in the federal probe.
"Yeah, what the hell was that about — I'm a graduate," he said with a smile about the mixed reception he got from the Friars' fans. "It's cool to win, certainly. Fans are fans. That doesn't bother me."
He was also pleased to leave with a win after a good test by his alma mater: "To get out of here with a win was terrific. We just showed great poise in a very, very tough environment, and that's what good teams do.