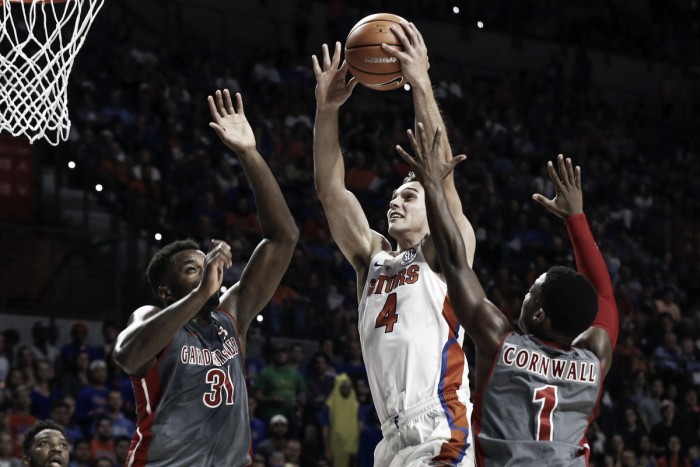 The eighth-ranked Florida Gators began their season with a convincing 116-74 win over the Gardner-Webb Runnin' Bulldogs. Egor Kouchelov led Florida with 34 points, breaking the school record for most points in a debut, previously held by Tom Baxley in 1962. D.J. Laster led Gardner-Webb with 19 points and 10 rebounds.
Kouchelov shines in team debut
The transfer from Rice, nicknamed "Three-gor" finished 11 of 17 from the field, including six of nine from beyond the arc. With a quick release and a smooth stroke, he might be the missing piece Florida needs after finishing one game short of reaching last year's Final Four.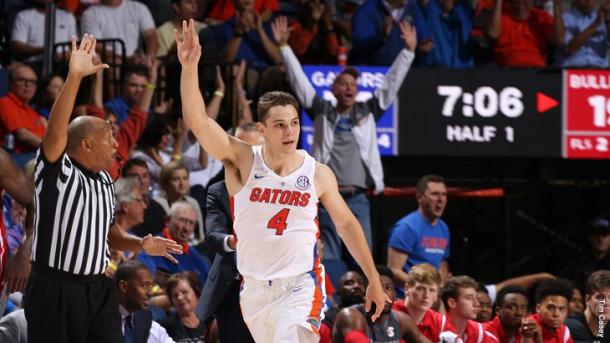 "You've got to know where he is at all times," said Gators coach Mike White. "He's a really good shooter. Can we count on him going 6 of 9 every night? Probably not. He did some other good things as well."
"I'm happy this day kind of came," said Kouchelov, who also recorded five rebounds, five assists and two steals to go along with his 34 points. "I've been waiting for this since I decided to come here. It's a great environment, a great program. It's a lot of fun, especially when you win."
Easy win for eighth-ranked Gators
Florida finished with 15 3-pointers and its most points in a season opener. The Gators hit 10 treys in the first half, including five by Koulechov. He drained consecutive 3s from the corner to put the Gators up 34-19 early and had 23 points -- and a bunch of new fans -- at the break.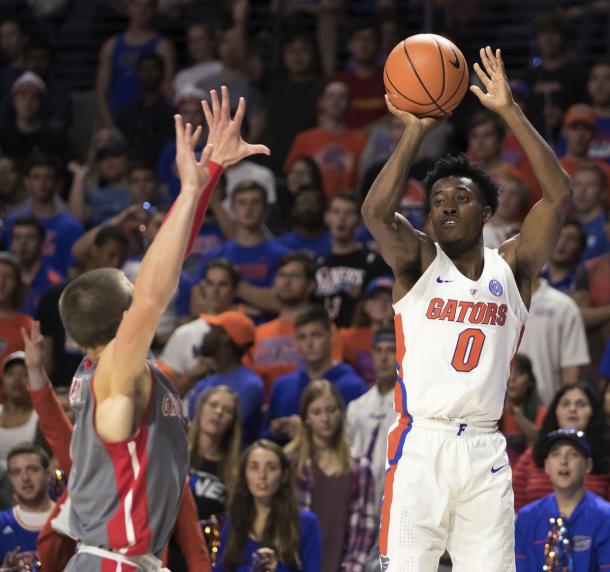 The Gators dominated every aspect of the game and opened up a 40-point lead midway through the second half. They coasted from there to win its 27th consecutive opener. Jalen Hudson, another transfer from Virginia Tech, chipped in with 16 points while Mike Okauru finished with 13.
Overwhelmed, Gardner-Webb coach talks about Florida's style of play
Never really in the ballgame, Runnin' Bulldogs coach Tim Craft was both impressed and amazed at the Gators' offensive style: "In 17 years of college basketball, I don't think I've seen a team attack that quickly in transition. The speed at which they play is going to be hard to compete with."
Koulechov agreed: "The way we play, we have a system. What's working, we go back to it. Today, it was me. The next time, it could be KeVaughn (Allen) or Jalen or someone else."
D.J. Laster led Gardner-Webb with 19 points and 10 rebounds, who were outrebounded 43-29, recorded only nine assists as compared to 14 turnovers and had eight of their shots blocked.