 "I stayed at Duke because, like most college students, I still have some growing up to do — and because there's nowhere else I'd rather do it. I'm back at Duke because I never left." That is a snippet from Grayson Allen's post, Duke, on The Player's Tribune.
Allen was right. There was still plenty of growing up that he had to do. Flashback to February 8, 2016, Allen intentionally tripped Raymond Spalding of Louisville. 17 days later, he tripped Xavier Rathan-Mayes during Duke's win over Florida State and was reprimanded from the ACC.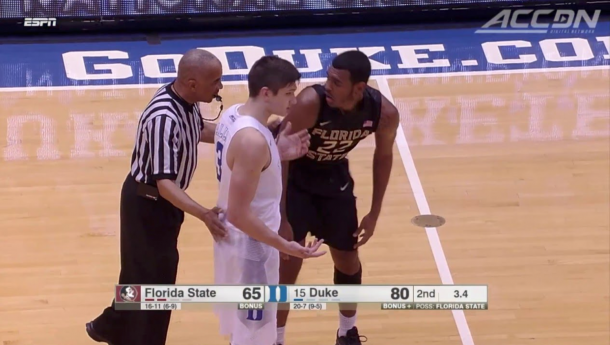 Now on to his junior year, the 22-year-old tripped Steven Santa Ana of Elon. After that, he was suspended indefinitely by head coach Mike Krzyzewski and was stripped of his captaincy. But we move forward to last night vs number two Michigan State.
No Bagley, No Problem
Duke superstar freshman Marvin Bagley III went out in the first half after he was inadvertently poked in the eye by teammate Javin DeLaurier. Bagley was dominating in those first 10 minutes, scoring 4 points and grabbing 6 rebounds, but that poke left his right eye swollen shut as he sat out the rest of the game.
The senior was marvelous last night going 11-20 from the field (7-11 from three) for 37 points while playing all 40 minutes. The Jacksonville native made big shot after big shot, some with the defense all over him. Allen showed his emotional side, but the captain played his role as a leader even more. Whenever Duke needed the bucket or to make a play, the senior was more than likely involved last night.
In a battle of National Player of the Year contenders, Allen outshone Miles Bridges, who was passive for the first half before stepping up in the second.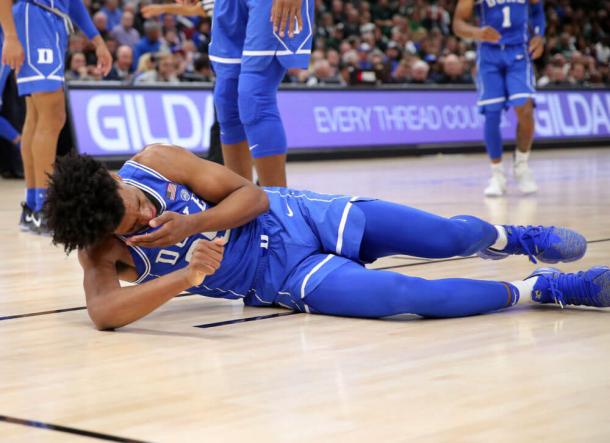 Stepping Up As A Leader
The team looked a bit lost as soon as Bagley went off, the Spartans clawed their way back from 10 down to tie it up and even took the lead, but the captain steered the ship back in the right direction (pun very much intended). The top-ranked Blue Devils took it home 88-81 over the second-ranked Spartans and during his post-game interview with ESPN's Maria Taylor, Allen was first to thank his teammates.
Taylor asked Allen what was working for him tonight, and he immediately cued to freshman point guard Trevon Duval who quietly had a brilliant night himself with 17 points, 10 assists, and 6 steals. He talked about how Duval helped him get open looks which allows him to shoot with more confidence throughout the game.
He then talked about the impact DeLaurier had without Bagley with the captain mentioning it was, "Next man up" during the halftime team talk after they found out Bagley was out for the game.
Finally, he said that he loved to talk and would love to lose his voice during the game, showing his vocal leadership. In his piece on The Player's Tribune, Allen attested that when he was a freshman, Quinn Cook, would be the one to help him break out of his shell. At the time, Cook was the captain and the lone senior on the team. Now, Allen holds that role and finished off his post-game interview with Taylor saying he hopes to do Quinn proud.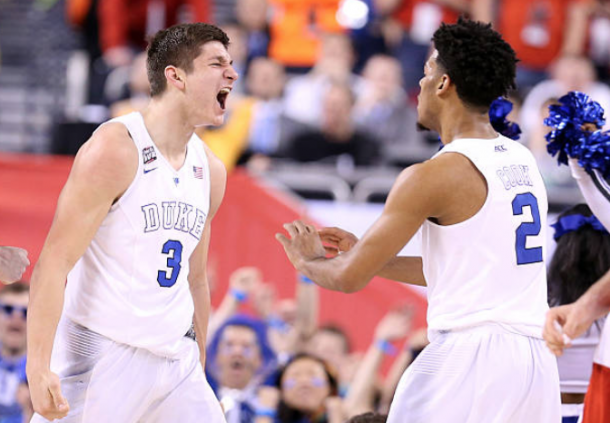 Something that went quietly unnoticed this summer was the fact that the 22-year-old played hurt last year and had surgery on his ankle. The senior spent three months away from basketball which looks to have done him a world of good. He's matured and looks like the elite player he was back during his sophomore year.
After his tripping incidents, ESPN asked if Allen is the "next hated Duke white player", with an overwhelming majority saying yes. You can hate him for his tripping incidents, and you can hate him because he plays for Duke. Now you can hate him even more because he's a leader, and he's that good at what he does.