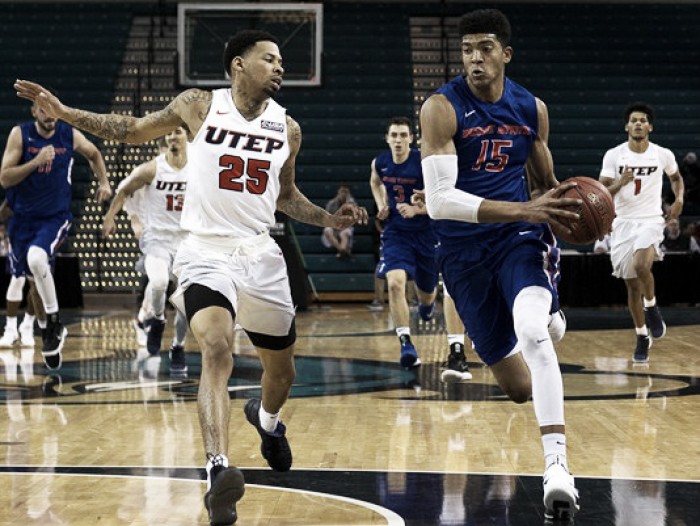 Boise State ended their Puerto Rico Tip-Off quarterfinal against UTEP on a 7-0 run to claim a 58-56 victory and advance to the semifinals.
The Broncos led by nine at halftime despite their star Chandler Hutchison shooting just 1 of 12 from the floor, but he scored the final five points of the game to lift the Broncos.
Marcus Dickinson led Boise State with 13 points while Hutchison and Alex Hobbs added 10 for the Broncos. Keith Frazier led the Miners with 22 points and 10 rebounds while Matt Willms chipped in with 11 points, eight rebounds and five blocks.
Excellent first half for Boise State, UTEP rallies in second half
After going the first 4:48 of the game without scoring a point, Boise State took control of the game, using a 19-9 run capped off by Dickinson's three-pointer to give the Broncos a ten-point lead with 9:17 left in the half.
They lead by as many as 13 points in the opening 20 minutes before UTEP closed to within 31-22 at halftime. The Miners continued their run into the second half, tying the game at 40 on a Frazier triple.
They took their first lead since the opening minute when Frazier canned another three for a 43-40 Miners lead. Three separate times, they built a seven-point lead, the last at 54-47. Down 56-51, Hutchison took control.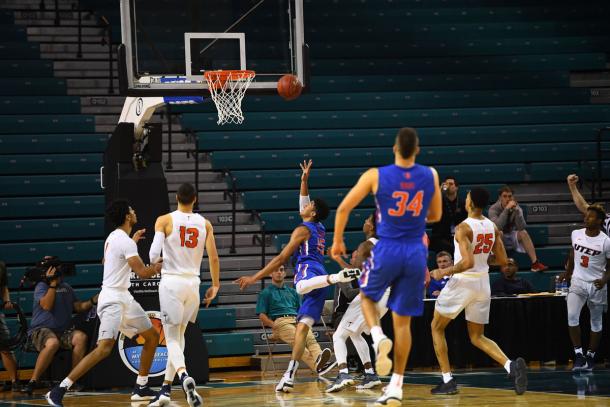 Hutchison keys closing 7-0 to win the game for Boise State
Down 56-53, Hutchison scored on a thunderous dunk to bring the Broncos to within a point. Frazier missed the front end of a 1-and-1 with 9.8 seconds left, Hutchison raced downcourt for a layup while being fouled.
Hutchison's free throw made it 58-56, and Boise State survived when Frazier's final heave hit the backboard and then the rim before falling away at the horn.
"Lucky he missed the free throw there at the end and we got the rebound and I just did what I do best and tried to score in transition," Hutchison said.
"It's going to be a desperation type thing so either draw a foul or take what the defense gives you.
"I had a rough night, but I knew I had to focus on the next play and all I saw was the basket and I tried to go make a play."
Postgame quotes from both coaches
"I was really proud of our guys and the fact that that's what good teams do, they kind of hang in there and find a way to get it done when things aren't going right," Boise State coach Leon Rice said. "And things went about as wrong as you can have it go.
"This is a great learning lesson and the great thing is they showed some great qualities being able to win that one."
"He could have let the wheels come off, but great players and great teams show they can respond and be there in the end and maybe miss 12 straight but hit the big one," Rice said of Hutchison's heroics down the stretch."He really flipped the page and regrouped for the end of that game.
"There are some nights when the ball just bounces bad for you. Being a competitive animal and being able to fight through it is what we want our guys to be able to do."
"It's a big challenge, and you get one walk-through basically to prepare, so we have to do what we do," Rice continued. "The nice thing is you don't have to play Frank Martin in a consolation game when his team is angry. You get to play in the semifinals. We're obviously going to have to play a lot better."
"We obviously are sick about the outcome of the ballgame," UTEP coach Tim Floyd said."I'm really proud of our kids and how hard they played. We are much better defensively than we were this time last year. We played a very good Boise State team and had our opportunities.
"We missed a free throw here, we missed a finish there, getting the ball inbounded safely on the sideline out-of bounds, all of those things contributed and we had a defensive breakdown late."
"We had our opportunities and didn't handle game situations well late," Floyd continued. "I'll take responsibility for us not getting the ball inbounded safely.
"That's something we should be able to do but it's something that happened. All we had to do was get it inbounded, although you've got to make the free throws as well."

"We have to make better decisions in terms of trying to get ourselves to the foul line," Floyd said.
"There's a reason why they didn't have many fouls with under a minute to go and had to foul quickly four times because we didn't get the ball to the rim enough. It's early in the season and we will get better on those things.
"Give Boise State credit. They made a couple of plays late, and their great players stepped up and made plays."