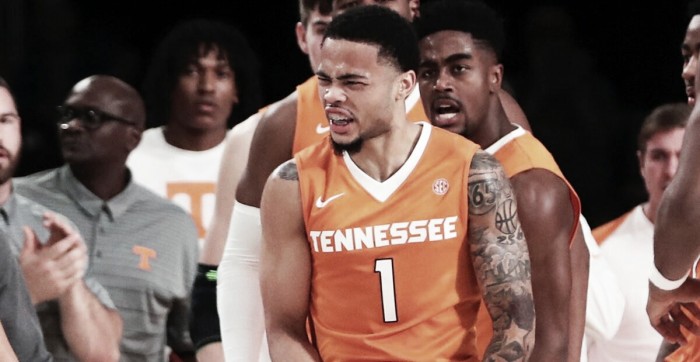 The Tennessee Volunteers pulled off an upset in the quarterfinals of the Battle 4 Atlantis, defeating the 18th-ranked Purdue Boilermakers 78-75 in overtime.
Grant Williams scored all 22 of his points after halftime and hit the go-ahead shot with 14.5 seconds left in overtime to send the Volunteers to a semifinal matchup with fifth-ranked Villanova.
Volunteers with a huge rebounding advantage
Facing a bigger, taller team, Tennessee managed to outrebound Purdue 50-41, including 20 on the offensive glass which led to 21 second-chance points.
Kyle Williams led the Volunteers with 11 rebounds while the Boilermakers two 7-footers Isaac Haas and Matt Haarms were held to seven rebounds combined.
Tennessee fights back all game
After trailing by 11 with 5:29 left in the first half, Tennessee fought back to tie the game at halftime, 31-31, sparked by Lamonte Turner, who scored nine of his 17 points in that stretch.
The Volunteers went on a 16-0 run at the end of the first half and the beginning of the second half.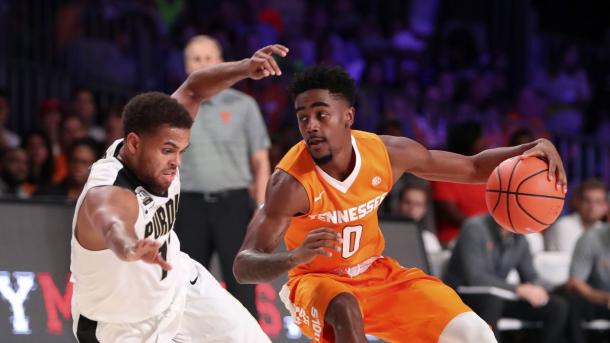 After the game went back-and-forth in the second twenty minutes, Tennessee trailed 63-60 with 5.1 seconds left before Turner drilled a three to tie the game and force overtime.
Purdue blows another lead in overtime
Trailing 73-68 with 2:45 left in overtime, Williams hit back-to back baskets to draw the Volunteers within one, Purdue turned the ball over, Tennessee found Williams, he worked his way down low and following a double team, passed off to Alexander in the paint for a wide-open dunk to take a 74-73 lead.

A basket from Haas put the Boilermakers back in front, but Williams responded with another score with 14 seconds left to put the Vols up for good.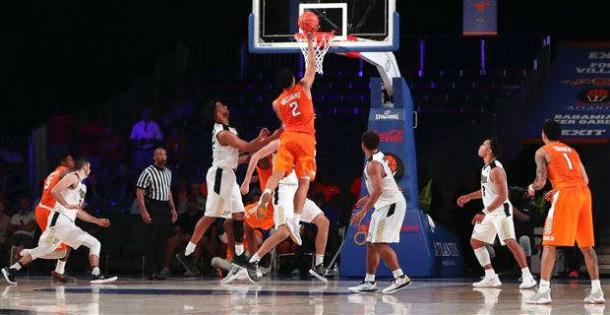 Purdue got one final look with fewer than 10 seconds remaining, but the shot bounced off the rim and was chased down by Admiral Schofield. James Daniell III then went to the foul line and made two free throws to seal the victory.
Coaches talk following the game
Following their first 3-0 start since the 2010-11 season, Tennessee coach Rick Barnes was proud of how his team fought back: "I thought we really showed the toughness we've been looking for from them," he said."I thought our guys just kept finding ways to fight back."
Purdue coach Matt Painter felt his team gave the game away: "We have a skilled team, but we've got to win the possession wars. We've got to outrebound our opponent. We have to have fewer turnovers. When you do, now that skill is really going to help you. I thought tonight we gave Tennessee a lot of help."