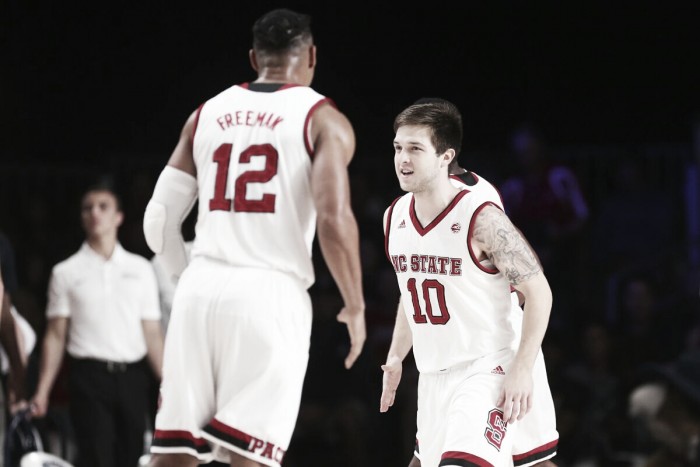 Freshman Braxton Beverly scored a season-high 20 points and sparked the decisive late run as N.C. State stunned second-ranked Arizona 90-84 in the quarterfinals of the Battle 4 Atlantis. The Wolfpack shot 49.1 percent from the field while the Wildcats shot just 2 for 17 from three-point range.
Allerik Freeman led the Wolfpack with 24 points as they advance to the semifinals against Northern Iowa. Freshman sensation DeAndre Ayton scored 27 points and grabbed 14 rebounds as the Wildcats will face SMU in a consolation game.
Sloppy start for Arizona
Arizona turned the ball over three times within the first five minutes, two by Allonzo Trier, and N.C. State converted them into five points. The Wolfpack also hit three of their first six 3-pointers to take a 15-6 lead with 13:42 left.
The Wildcats later pulled within three points when Ayton heated up. Ayton brought UA within 25-22 with a 3-pointer from the top of the key while later cutting the Wolfpack's lead to 27-25 on a 3-point play.
Game tied at halftime
But N.C. State stayed on top almost to the end of the half thanks to its 3-point shooting. Torin Dorn hit two straight 3s to give N.C. State a 35-28 lead with 3:57 to go until the Wildcats pulled close in the final minutes.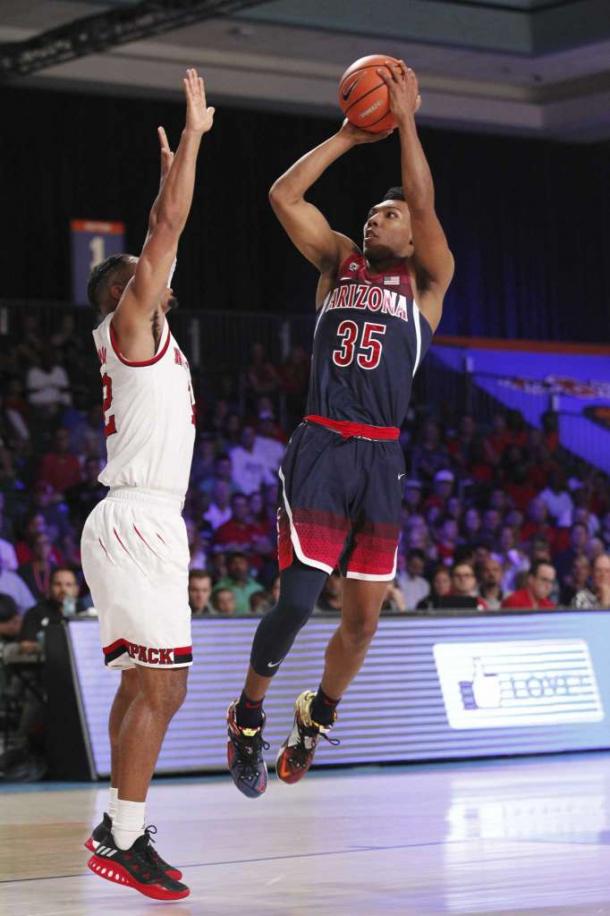 Arizona tied the game at 35 as Dušan Ristić hit two free throws and again at 37 with 1:03 to go. Ayton had 16 of his 27 in the first half and six of his 14 boards in the opening period as the Wildcats rallied to tie the game 40-40 at halftime.
Game goes back-and-forth in second half before N.C. State hangs on late
N.C. State took early leads of up to nine points in the first five minutes of the second half before Trier rattled off eight points in a span of just 1:04 to pull the Wildcats into a brief lead.
Parker Jackson-Cartwright hit Trier for a layup to cut the Wolfpack's lead to 62-58 while a steal by Brandon Randolph led to a dunk by Trier to make it 62-60 and then Trier came back again for another dunk to tie the game at 62 with 9:42 to go, then hit two free throws 25 seconds later to give Arizona a 64-62 lead.
The teams traded leads several times the rest of the way, while Ayton hit a charging Keanu Pinder for a fast-break dunk to give the Wildcats a 75-73 lead with 5:08 left.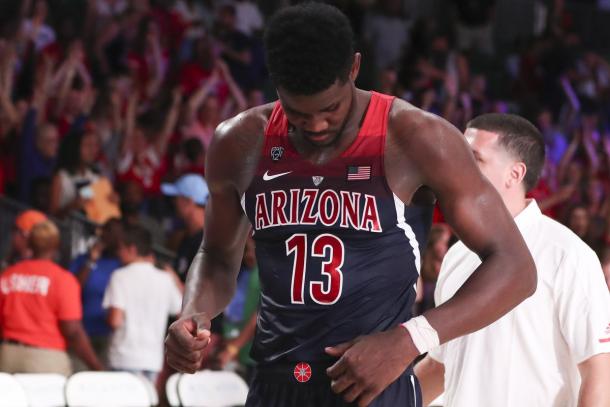 But N.C. State pulled ahead in the final minutes and a turnover on a perimeter handoff pass from Alex Parcello to Jackson-Cartwright all but sealed Arizona's fate.
We had plenty of offense but our defense was really, really bad," Wildcats coach Sean Miller said following the game. "Until we get that corrected, we're going to win a few and lose a few. You can't win on a neutral court allowing them 90 points and to be as efficient as they were."
Wolfpack coach Kevin Keatts: "We're trying to build a culture here," he said."Obviously, when I took over the program I wanted to change a couple things and put in our system. The debate that always happens, when you're a first-year coach at a different program, do you try to put in your system or do you play to the guys you already have in the program?
"I felt like at UNC Wilmington it worked right away, and I could put the system in, and these guys are making me look good five games into the season."
Beverly comes up huge in key moments
Beverly, who missed the first two games in an NCAA eligibility dispute tied to his attending summer courses at Ohio State before coming to N.C. State — who led the way in the critical moments, hit the go-ahead 3-pointer with 4:19 left, part of a 13-1 run that put the Wolfpack up 86-76 with 1:48 left.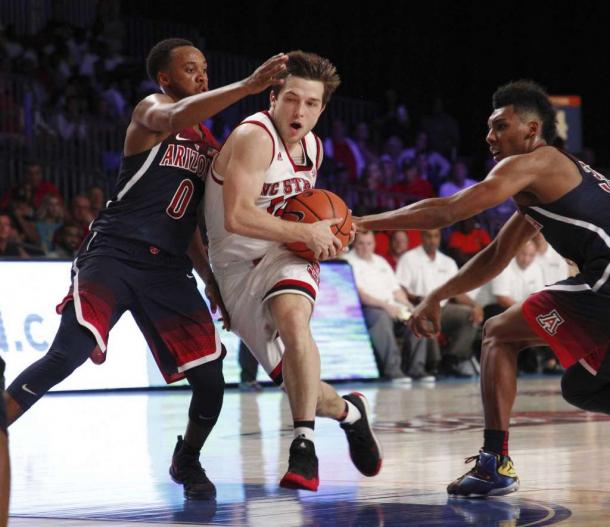 He also hit six free throws and assisted on another basket during the spurt. "I've watched this tournament the last two or three years straight, and I've always thought, 'Man, I'd love to be down there,' " he said after the game."It's something I'm definitely going to remember for the rest of my life. It's amazing."