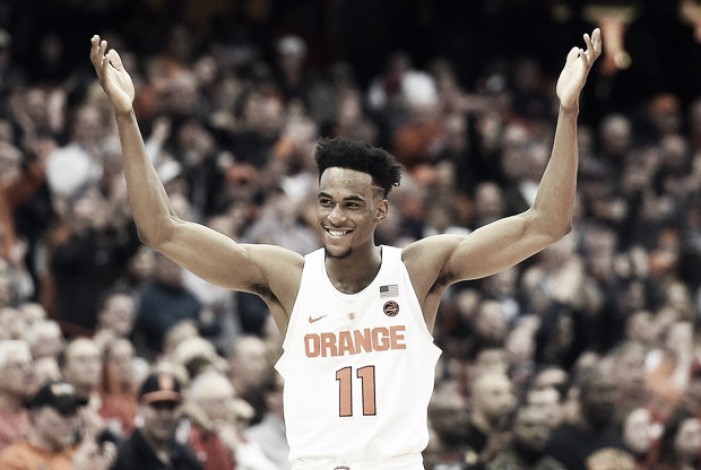 The Big Ten-ACC Challenge got off to a rousing start as Syracuse held off Maryland 72-70 to give the ACC a 1-0 lead. The Orange (6-0) got 18 points from Tyus Battle, 15 points, ten assists and seven steals from Frank Howard.
Oshae Brissett had 15 points and 13 rebounds, his second straight double-double and third of the season. Marek Dolezaj had 10 points and seven boards.
Kevin Huerter had 23 points to lead the Terrapins (6-2), including seven of nine from long range. Bruno Fernando had 13 points and Anthony Cowan chipped in with 11.
Sloppy play marks close first half
Both teams took turns leading in a tight but error-filled first half, which featured 19 combined turnovers. The Orange had the biggest spurt, using an 8-0 run late in the period, a tip-in by Brissett giving Syracuse their largest lead at 32-25 with 5:12 left.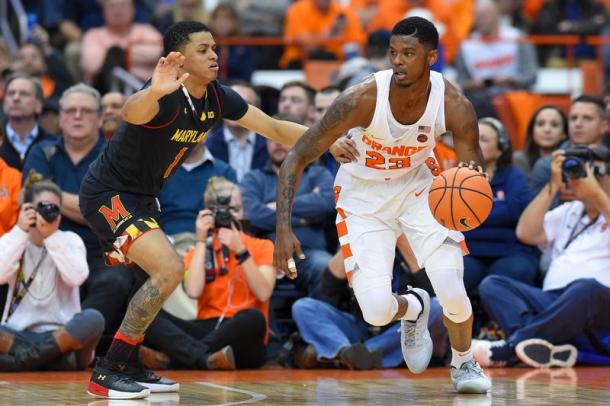 Huerter hit a pair of triples to give the Terps the lead before Howard lofted a pretty lob over a defender to Pascal Chukwu for an easy lay-in and Dolezaj hit a layup at the shot-clock buzzer in the final minute to give the Orange a 36-35 halftime lead.
Exciting second half comes down to the final minute
Syracuse had the biggest lead in the second half, 56-52 with 8:59 to play, and, fittingly in a game between two evenly matched teams, it came down to the final seconds.
Brissett's second three-point play of the game gave the Orange a 63-61 lead with 4:33 left, and when Fernando made only 1 of 2 free throws, Syracuse maintained their slim lead.
Battle then hit a runner in the lane before Huerter drained his sixth three-pointer of the game, hitting again from the top of the key to give Maryland a 66-65 lead with 1:43 left.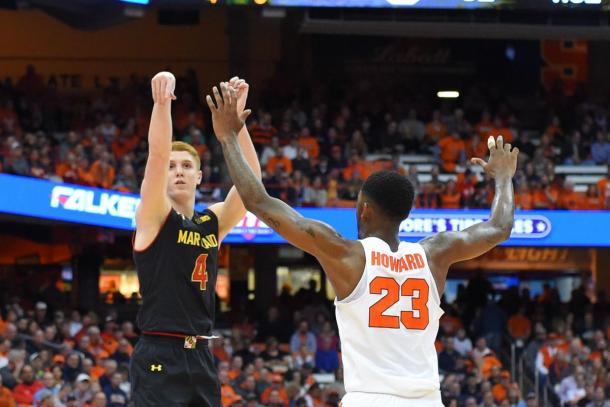 Battle answered by draining a 3 from the left corner, the Orange's first and only make of the half, to give Syracuse the lead back with 59 seconds left.
Maryland then committed two turnovers in the final seconds, and the Orange barely escaped after Huerter sank his seventh triple of the game with 7.2 seconds left.
Hurting Battle comes up huge for Syracuse
After suffering a bruise to his back in a win over Toledo last Wednesday, Battle told Orange coach Jim Boeheim he could play and that's all Boeheim needed to hear.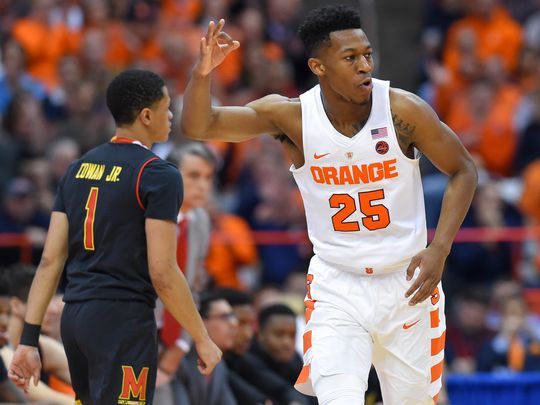 "He (Battle) said he could play. He didn't look right, but when a player says he can play I'm going to play him. He's our best player. He's got to be in the game if he's able to play."
Playing 37 minutes, he scored 13 of his 18 points in the second half, including a key three-pointer late that gave Syracuse the lead for good at 68-66.
Rebounding, turnovers hurt Maryland
The Terrapins had outrebounded every team it had played and entered the game with a plus-14.7 rebounding margin to rank third in the country, but Syracuse held a 39-33 advantage on the glass, including 19-13 on the offensive boards.
Turnovers were also a key factor as the Terrapins gave the ball away 11 times in the first half, 18 in total, which led to 22 points for the Orange. This is a trend as they came into the game with a minus 5.6 turnover margin.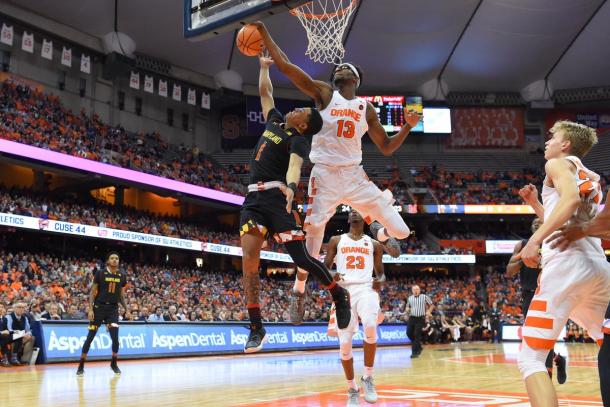 "We had the lead, we missed some free throws late, had a couple of turnovers late," Maryland coach Mark Turgeon said. The Terrapins also were the victim of 12 Syracuse steals.
Terps happy with effort, disappointed with result
Despite assisting on 22 of their 23 baskets, it wasn't enough for Maryland to overcome the continuing turnover that has plagued the Terrapins all season.
Turgeon was pleased with the performance, but understandably upset with the result: "I thought we played with poise. They're really good. They're long and quick, they get hands on the balls and they make it difficult. I thought our guys battled, but right now we're just not making enough plays at the end."
Huerter, a Clifton Park native, agreed: "It's frustrating," he said."It's bittersweet, but it's not a good feeling losing any time. It doesn't really matter how many points you score or how many shots you make."