 Tadric Jackson hit a layup as time expired to give Georgia Tech a 52-51 win over Northwestern in the Big Ten-ACC Challenge. Ben Lammers led the Yellow Jackets (4-1) with 13 points and Jackson added 10 as the ACC took a 3-0 lead in the challenge.
Bryant McIntosh scored 18 points, Vic Law added 12 and Dererk Pardon had 10 points and 12 rebounds for Northwestern (4-3), who have now lost three of their last four after a 3-0 start.
Slow start for both teams
Both teams came out of the gate slowly, and the score was just 7-2 at the second media timeout with 11:52 to play in the first half. Lammers scored the first seven points for the Yellow Jackets, but the Wildcats used an 8-0 run to take the lead.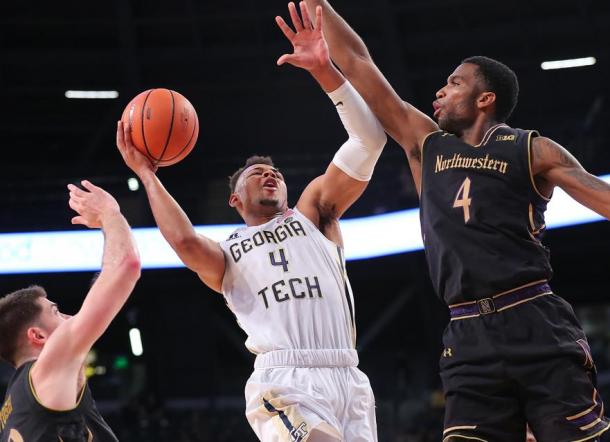 After the game was even at 22, Georgia Tech connected on consecutive three-pointers to take a 28-22 lead into the break. McIntosh led the way with a game-high 9 points and also added 5 rebounds for Northwestern in the first half, which shot just 2-of-14 from beyond the arc in the opening frame.
"We have to do a better job first half and early in the second and not put ourselves in that position first off," McIntosh said.
Northwestern rallies only to see Georgia Tech win at the buzzer
Trailing 47-36, Collins replaced Lindsey with Jordan Ash and he scored five straight points to cut the lead to 47-41. Georgia Tech, a Pardon dunk and a turnover followed by a McIntosh bucket made it 47-45.
Yellow Jackets head coach Josh Pastner took a timeout, but it didn't seem to help as McIntosh tied the game at 47-47. Law forced another turnover and another McIntosh score gave Northwestern the lead. Georgia Tech drew a foul and hit both free throws, but another Law steal gave Northwestern the ball with 30 seconds left, setting up the memorable finish.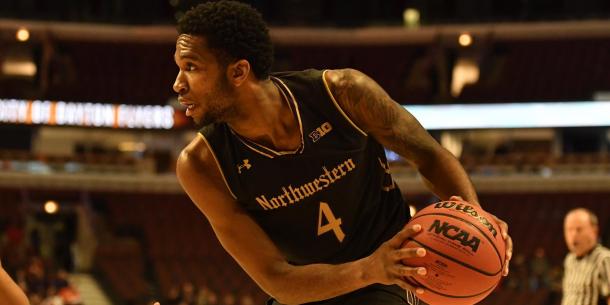 Trailing 50-49, Pardon's putback with 7.1 seconds remaining gave the Wildcats the lead at 51-50. Georgia Tech guard Jose Alvarado took the inbounds pass and drove upcourt, finding Jackson on the left wing, where he slashed to the basket for the game-winning layup as tiem expired.
"When I had the ball, I looked up and I saw two seconds," Jackson said of his game-winning heroics."I took a couple of dribbles and just focused on making the layup."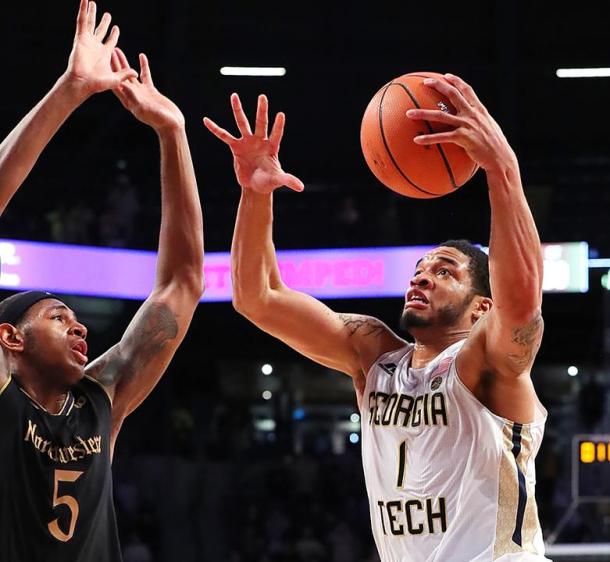 Northwestern sharpshooters have miserable night
Scottie Lindsey came into the game averaging a team-high 17.8 points, but he went scoreless, missing five three-point attempts and three other shots. Aaron Falzon went one for eight from the field, all seven of his misses from beyond the arc.
Despite the tough shooting nights from Lindsey and Falzon, Wildcats coach Chris Collins was proud of his team's toughness:
"When I look at the stat sheet and I see my two best shooters 0-for-12 from 3 and I see us outshot 16-4 at the foul line, to lose a game by one at the buzzer, it shows a lot of grit in my guys that we hung in there and gave ourselves a chance".