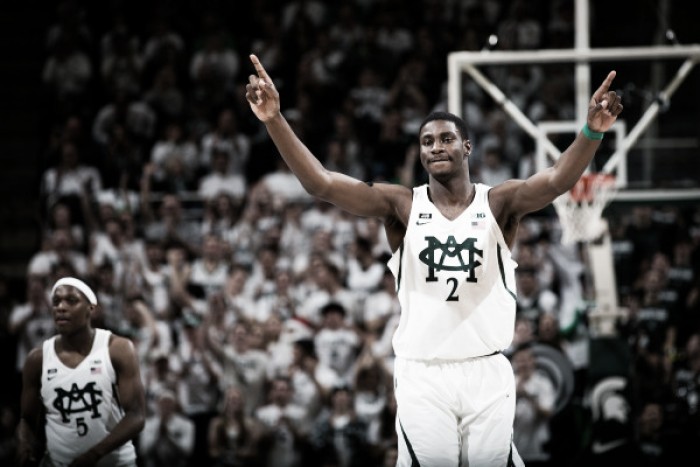 Joshua Langford and Cassius Winston scored 17 points as third-ranked Michigan State blitzed fifth-ranked Notre Dame 81-63 in the final game of the Big Ten-ACC Challenge.
Although the ACC won the overall challenge 11-3, the Spartans (6-1) sent the Big Ten out on a high note. Bonzie Colson led the Fighting Irish (6-1) with 17, Rex Pflueger had 15, T.J. Gibbs 11 and Matt Farrell 10.
Huge first half gives Spartans a commanding lead
Three-pointers from Winston, freshman forward Jaren Jackson Jr. and Myles Bridges gave Michigan State a 14-5 lead at the 16:34 mark and a jumper from Langford with 14:05 to play made it 20-8, forcing Notre Dame into an early timeout.
The rout continued, the Spartans outscoring the Fighting Irish 11-3 over the next 3:58 and took a 31-11 lead on free throws from Langford with 10:02 to play.

The lead was down to 15 points, 33-18, after a free throw from Gibbs, but a 3-pointer from Winston gave MSU its biggest lead, 46-24, with 52 seconds left before settling for a 20-point lead at intermission.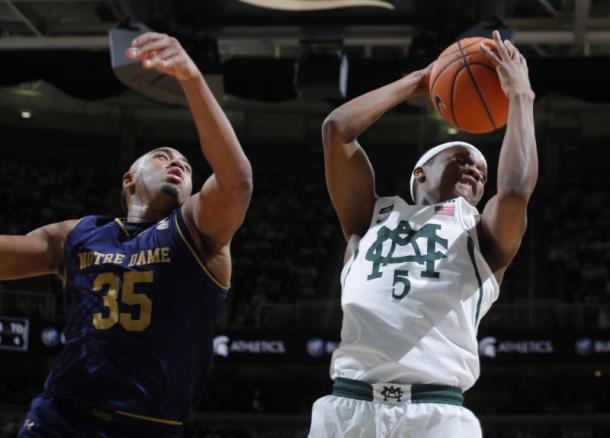 Notre Dame cuts into lead, Michigan State seals game late
Notre Dame hit four of its first six shots in the second half and pulled to within 48-38, on a triple from with 16:47 left. A 3-pointer from Langford extended the MSU lead back to 11 points, 53-42, but a layup from Austin Torres and a jumper from Farrell made it 53-46 at the 13:09 mark.
A layup from Ward and a jumper from Langford pushed the lead back to 11 points, but the Fighting Irish again trimmed the lead to single digits, 57-49, on a three from Pflueger before went Michigan State went on a late run.
After Notre Dame had cut the lead to 60-51, the Spartans outscored the Fighting Irish, 19-8, over a seven-minute period and pushed the lead back to 20 points, 79-59, on a layup from Bridges with 2:49 left and cruised to victory.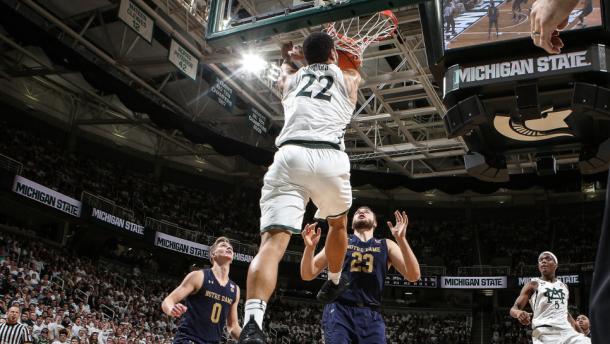 Postgame quotes
Michigan State head coach Tom Izzo was complimentary of Notre Dame and praised his crowd for helping the Spartans: "I think we both got good teams — they're gonna win a lot of games. I mean, that was a GOOD win for us. Our crowd really helped us when we kind of struggled a little bit, which is what the home court is supposed to do."
Fighting Irish coach Mike Brey was afraid of Michigan State getting off to a quick start, which is exactly what happened: "My worst fear was for them getting off to a great start. Because when they do that in this building, it's a heck of an uphill climb."
Langford knew Notre Dame would make a run, but also spoke of his team's ability to weather those runs: "What we said at halftime, and what we knew at the beginning of the game, is that they're a great team.
"They're a top-5 team for a reason, so they're gonna make their big runs within the game. … I think the biggest thing we tried to stay consistent, because if we could sustain their run, we knew that we would win the game. And that's what we went out there and did."