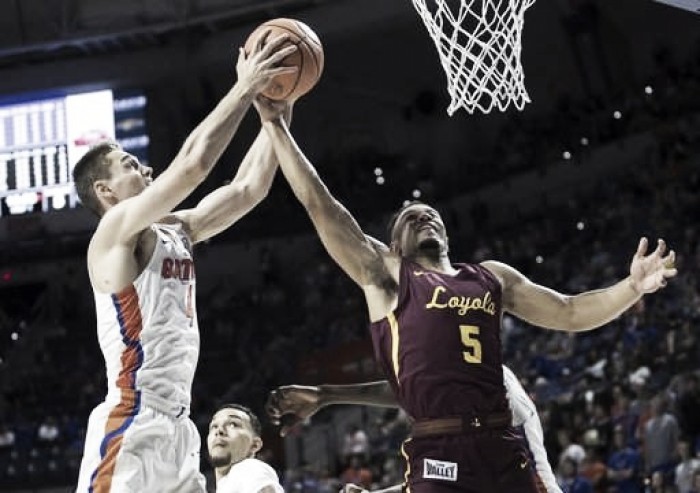 Aundre Jackson scored 23 points and Cameron Krutwig added 14 as Loyola (IL) shocked fifth-ranked Florida 65-59 on Wednesday night.
The Gators (5-3) led for just 93 seconds and have suffered their third straight loss after losing to Duke and Florida State. No player reached double figures in scoring.
Awful shooting from the perimeter dooms Gators
KeVaughn Allen went just 3-of-11 shooting, including 1 of 5 from 3-point range. Jalen Hudson was 3 of 11 from the field and 0 of 5 from behind the arc. Egor Kouchelov was 3 of 13, including 0 for 3 on treys. Chris Chiozza was 3 of 7 from the field, had a team-high nine points and finished with four assists.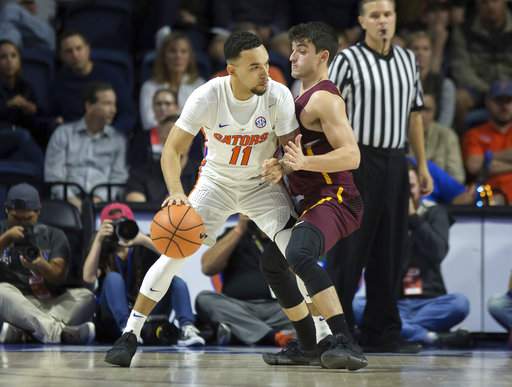 In being held to their lowest point total of the season, Hudson was brutally honest about the loss: "I can't put a word on it. It's pretty embarrassing," he said. "It's so embarrassing."
He continued: This is the lowest we can get. " don't think we can get any lower than this. I'm sure we're out of the rankings; none of that even matters. But we're as low as we can get.
"We've got to completely change everything we're doing and go back to the basics. ... We've got to have a change of heart, a change of everything. It's not working."
Huge start for Loyola
The Ramblers got off to a sizzling start as Jackson, who earlier in the day was battling illness, but came out on fire, scoring 11 of Loyola's first 15 points, hitting a trio of three-pointers in the process to give the Ramblers a 15-8 advantage.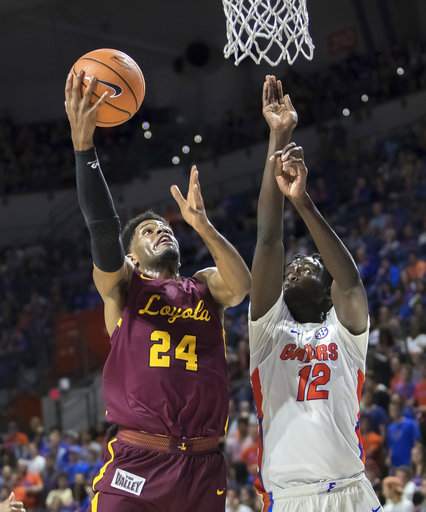 The visitors continued to shoot the ball well and held the host Gators in check and another three, this one from Donte Ingram , stretched Loyola's lead to 27-14, its largest of the half, with 10 minutes remaining.

Florida turns up defensive pressure to close gap at halftime

Florida coach Mike White decided to make a tactical change on defense, switching to a press and it seemed to work as the Gators went on an 8-0 run to cut the Loyola lead to 27-22.
The Ramblers answered right back with a basket by Clayton Custer and a triple from Ingram, beating the shot-clock buzzer to push the lead back to double figures at 32-22.
Again, Florida answered with eight unanswered points to get within two points before Marques Townes buried a runner in the lane just before the first-half horn to send Loyola into the locker room on top, 34-31.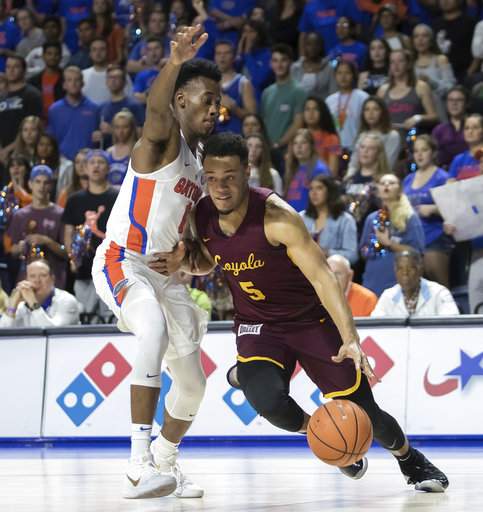 Ramblers make decisive run after Florida takes lead
After Florida took its first lead since early in the first half by going ahead 39-38 in the opening minutes of the second period, Loyola responded by going on an 11-4 run that put it back on top, 49-43.

The Ramblers led by as many as seven points 61-54 in the second half but the Gators mounted one last surge, cutting the Loyola lead to 61-59 on Chiozza's layup with 1:29 remaining.
The Loyola defense stiffened and Cameron Satterwhite stepped up, hitting four free throws to ice the game in the final 16 seconds after the Gators missed two chances to tie the game.
Allen missed a driving layup, and Kevarrius Hayes' ensuing tip-in was waved off because officials ruled the ball was on the rim when he touched it. The win was the Ramblers biggest in 30 years since a victory over fourth-ranked Illinois in 1984.
Moser stresses importance of Loyola victory
Speaking after the huge upset, Ramblers coach Porter Moser was adamant how big this win was for his program:
"It's huge for us," he said."We're just trying to turn the culture of the program. It's huge for us because of Florida's program. They've been to Final Fours. They were in the Elite Eight last year. They're fifth in the country.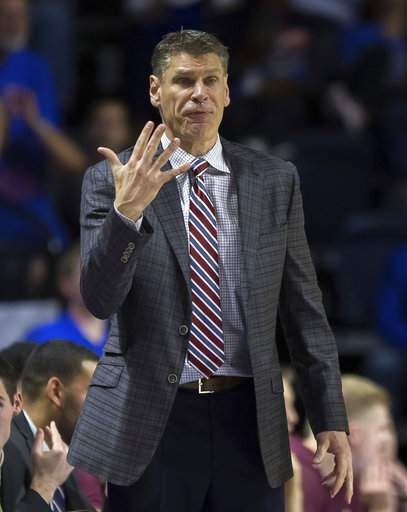 "I'm not going to undersell the importance. It was a really good win for us and I'm really proud of our guys. ... Obviously, when you win a game like this, it's a good spotlight on you. But you want that spotlight to burn even more inside as we prepare and get better as the season goes on."