 To some it came as a shock. To others, it was not a surprise at all. Whatever you made of it, it still sent some kind of wave through college basketball as Zion Williamson, the consensus number two overall prospect in the 2018 class, chose to attend Duke University.
It seemed written in the stars that Williamson was going to choose Clemson, and if not, somewhere else that wasn't Duke. Clemson's game, a victory over Notre Dame, just ended when Williamson was set to make his announcement as the Tigers were looking to get two victories in one night.
Clemson did enter as the heavy favorites to get the Spartanburg, South Carolina native. Most had Duke fifth in the pecking order behind Clemson, Kentucky, South Carolina, and rivals North Carolina. In the end though, the 17-year-old chose the Blue Devils.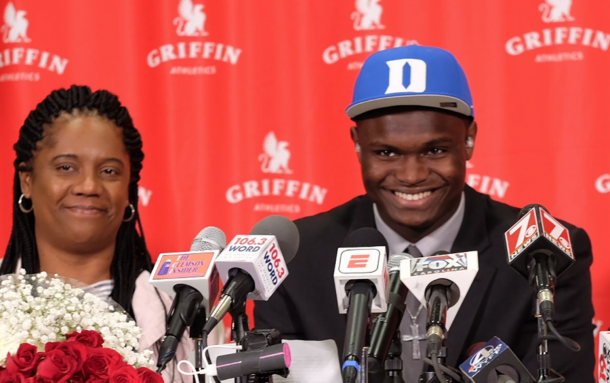 Four's A Company
With the commitment of Williamson, Duke now has the top-three recruits in the 2018 class. R.J. Barrett is the consensus number one in the Class of 2018 after his reclassification from the Class of 2019 as well as Marvin Bagley III's reclassification from 2018 to 2017.
Along with Barrett, Cameron Reddish is the number three prospect in the Class of 2018 and joining him is Tre Jones. Jones is the younger brother of former Duke star and Final Four Most Outstanding Player, Tyus Jones. Tre is rated as the number one point guard in the class and is ranked by most places as a top-10 recruit. In this unbelievable recruiting class for Duke Head Coach Mike Krzyzewski, Jones is the lowest-ranked prospect
All four of Duke's recruits are McDonald's All-Americans. Barrett and Williamson will be on Team East while Reddish and Jones are on Team West. Jones, Barrett, Reddish, and Williamson have all had some sort of exposure to the national team circuit as well. Barrett was the FIBA U-19 World Cup MVP for Canada, Reddish played for the US in the U-19 World Cup, Jones was a FIBA U-16 Americas champion, and Williamson has been a part of a number of Team USA camps.