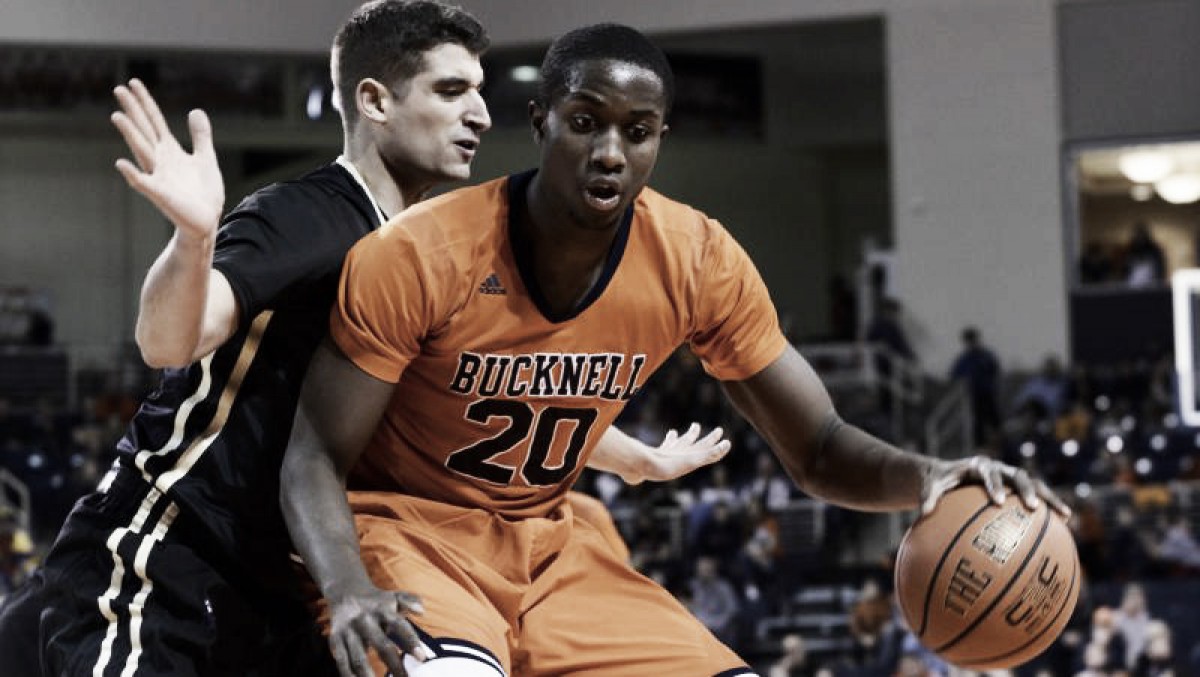 The Patriot League tournament begins tonight with two first-round games, but the general theme is the same: Bucknell is the team to beat yet again. The Bison clinched their seventh regular-season title in the last eight years this season.
The biggest challengers to Bucknell appear to be second seed Colgate and fourth seed Lehigh. The Raiders and Mountain Hawks both defeated the Bison, handing them their only two losses in league play. Here's how things should play out.
Bucknell once again the class of the league
The Bison bring back most of last year's NCAA Tournament team and feature four of their highest scorers from that team in Zach Thomas, Nana Foulland, Stephen Brown and Kimbal Mackenzie.
Thomas and Foulland are the stars and form a formidable duo in the paint. In earning Player of the year honors, Thomas averaged 21.1 points per game while also pulling down 9.3 rebounds a contest and got to the foul line twice as often as he did last year.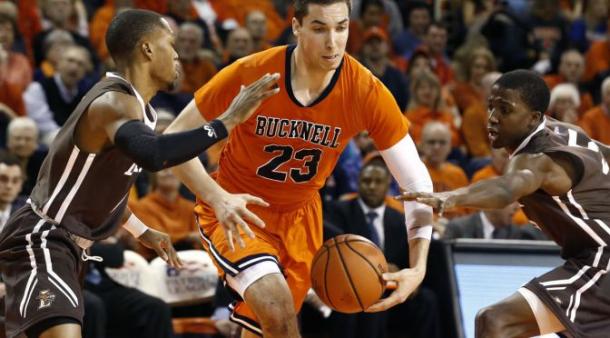 Foulland was the 2016-17 Patriot League Player of the Year and had a terrific follow-up campaign, with averages of 15.6 points per game, 6.9 rebounds per game and 1.2 assists per game. It will be hard for anyone to match these two down low.
Colgate, Lehigh biggest challengers to Bucknell
Lance Tejada came to Lehigh after transferring from East Carolina and is the Mountain Hawks' most lethal shooter. The junior averages three made three-pointers a game, while shooting at a ridiculous 46% clip. He's made a triple in all but two games, and hit six three-pointers twice in conference play.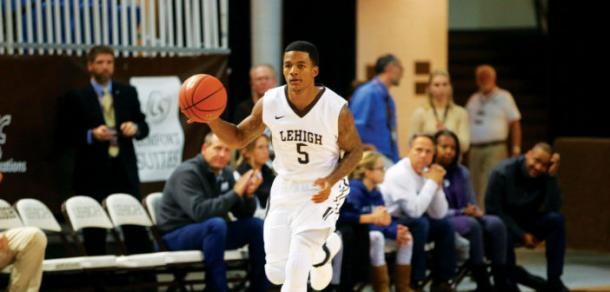 Colgate is led by sophomore forward Will Rayman (14.3 ppg, 6.4 rpg), Sean O'Brien (11.0 ppg, 3.7 apg) and forward Jordan Swopshire (12.3 ppg). O'Brien also finished among the NCAA leaders in assist-to-turnover ratio (3.6) for Patriot League Coach of the Year Matt Langel.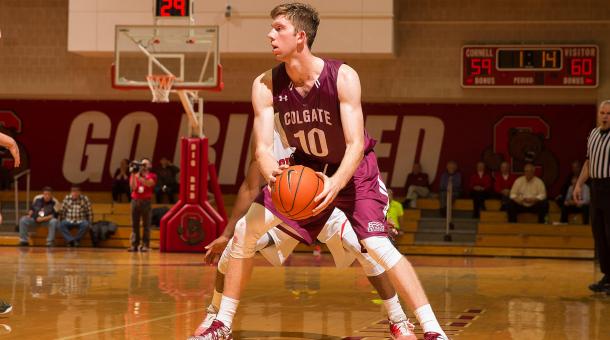 Who will win the tournament?
I've long been skeptical of Bucknell come this time of year. They've only converted their six previous regular season championships into two NCAA bids and are prone to early upsets in the Patriot League tournament. That won't be the case this year. Thomas and Foulland are virtually unstoppable down low and add to the fact that the rest of the league is down and it all adds up to the Bison reaching March Madness again.
If a case is to be made for Lehigh and Colgate, it's that the Mountain Hawks have historically played well against Bucknell in the Patriot League tournament while the Raiders held the Bison to 64 points per game in their two matchups. The negative is that Tim Kempton, one of the best players in Lehigh history, graduated last year and despite how good Tejada has been, they simply have no inside presence to counteract the Bucknell duo.
Colgate may not be able to go on the road and win a defensive struggle against Bucknell since they may be in foul trouble very early in the game. They'll likely reach the final and get the final shot at keeping the Bison out of the NCAA's, but it will prove to be a losing battle as this Bucknell squad will be in the field of 68.
Prediction: Bucknell ddeffeaats Colgate in the final
Tournament schedule (all times Eastern)
All games will be played at campus sites at the higher seed.
First Round (February 27)
#9 Army at #8 Loyola (MD), 7PM (Patriot League Network)
#10 American at #7 Lafayette, 7PM (Patriot League Network)
Quarterfinals (March 1)
Army/Loyola (MD) at #1 Bucknell, 7PM (Patriot League Network)
#5 Boston University at #4 Lehigh, 7PM (Patriot League Network)
#6 Holy Cross at #3 Navy, 7PM (Patriot League Network)
American/Lafayette at #2 Colgate, 7PM (Patriot League Network)
Semifinals (March 4)
The two highest remaining seeds will host in this round. There is no re-seeding. The games will tip at Noon and 2PM and will both be shown by CBS Sports Network.
Final (March 7)
at highest remaining seed, 7:30PM (CBS Sports Network)