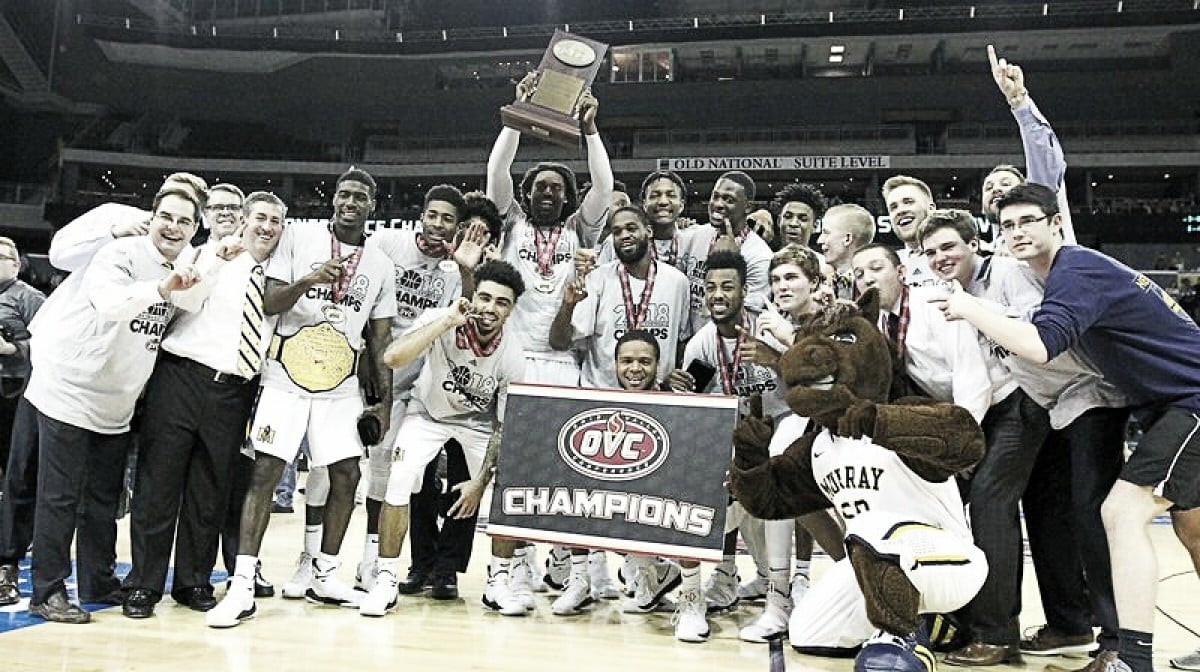 The Murray State Racers have returned to the NCAA Tournament for the first time since 2012 with a 68-51 victory over the Belmont Bruins in the Ohio Valley Conference championship game. Murray State snapped a five-game losing streak to Belmont while extending their own winning streak to 13, the longest in the nation.
Jonathan Stark led Murray State (26-5) with 24 points and Ja Morant added 15 with five rebounds and five assists as the Racers avenged losses in the 2013 and 2015 OVC title games to the Bruins. Kevin McClain led Belmont (24-9) with 17 points while all-OVC first team member Dylan Windler scored just 10 while only attempting seven shots.
Belmont overcomes fast start by Murray State to lead at halftime
It was a quick start for Murray State as they scored the first seven points of the game en route to a 14-2 lead. Belmont slowly worked their way back into the game using the three-pointer, nailing four in the first half.
They took their first lead of the game at 29-27 when Austin Luke hit the last of those triples, capping a 15-2 run to take a 32-29 lead at halftime. The Bruins defense also turned up the pressure, holding the Racers to three points over the final 6:04 of the first period.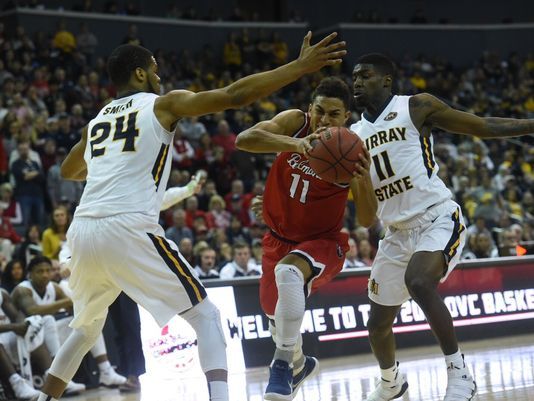 Stark and Terrell Miller combined for 12 points on just 6-of-21 shooting in the first half with coach Matt McMahon saying "I challenged them at the half. They weren't scoring the ball as effectively as we needed them to score".
Stark and Miller combined for 23 in the second 20 minutes as Murray State made seven 3-pointers and shot 43.8 percent from beyond the arc in the second half. Morant had three treys while Stark and Miller added two apiece.
Racers turn up the heat in second half, pull away late to return to NCAA's
The game remained close with Belmont continuing to lead, but a dunk by Brian Sanchious gave Murray State the lead for good at 42-41 with 13:58 remaining. The Racers kept the Bruins at arm's length and was a four-point game at 52-48 with 6 minutes to go when Miller buried a 3-pointer from the top of the key that sparked a 16-3 run to put the game out of reach. He added another with 2:24 left to extend the Murray State lead to 67-49 with 2:24 remaining.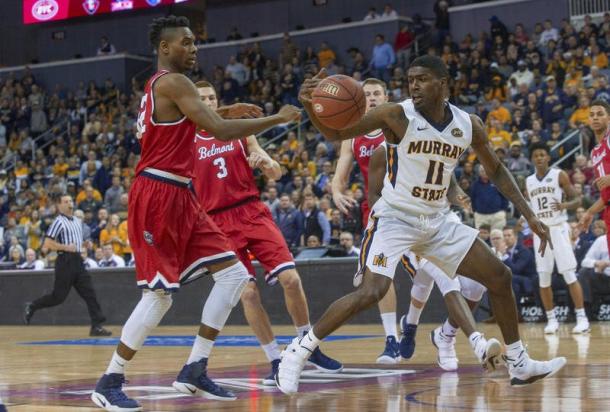 Murray State ended the game on a 31-10 run to secure their first bid in six years. "It's an amazing feeling," Stark said. "We've been working since we came here for summer school knowing all those hours would pay off. It finally paid off for us."
McMahon was pleased with his team's second half performance: "They weren't scoring the ball as effectively as we needed them to score. They stepped up and delivered in the second half like they have all year long."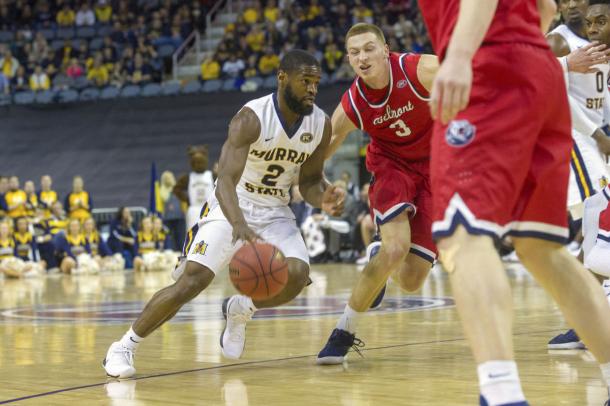 "Just really proud of our guys. They've been awesome every single day, all year long. Really sold out to the team, committed to each other and played for each other all year and stepped up with a big-time effort tonight. Defense was terrific. Best job we did all season long from a communication standpoint."
He was also pleased with the atmosphere in Evansville after having played the OVC tournament in Nashville 23 of the last 24 years: "I thought our guys really fed off the energy and enthusiasm. The arena, it was electric in there. To me, that's what a conference tournament should be."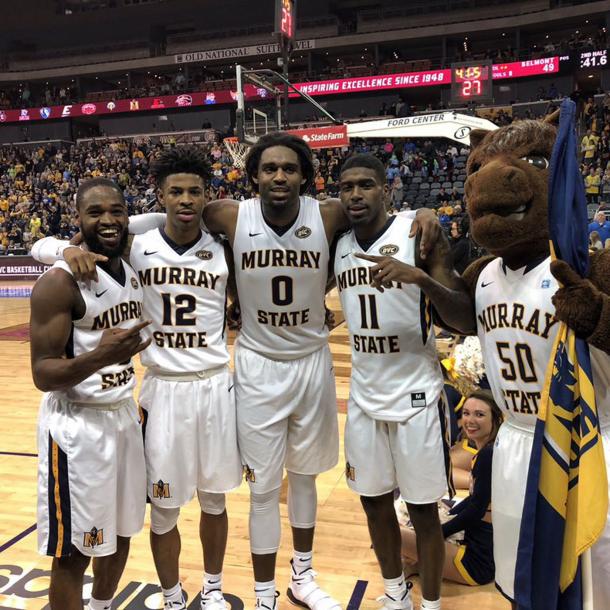 Belmont coach Rick Byrd was understandably disappointed at the outcome, especially the end of the game, which saw Murray State close on a 31-10 run: "I'm disappointed in the margin; I don't know what the last seven minutes was, but it wasn't very close," he said."It made the score look, frankly, I don't know if I can say worse than it was. But it was a good basketball game up until then."
The Bruins hit 12 three-pointers in the semifinals against Austin Peay, but only made six in the final: "If we're not knocking 3s down then we're not going to beat a lot of good teams," Byrd continued on. "They had plenty to do with it, but we also just didn't have our shooting night."