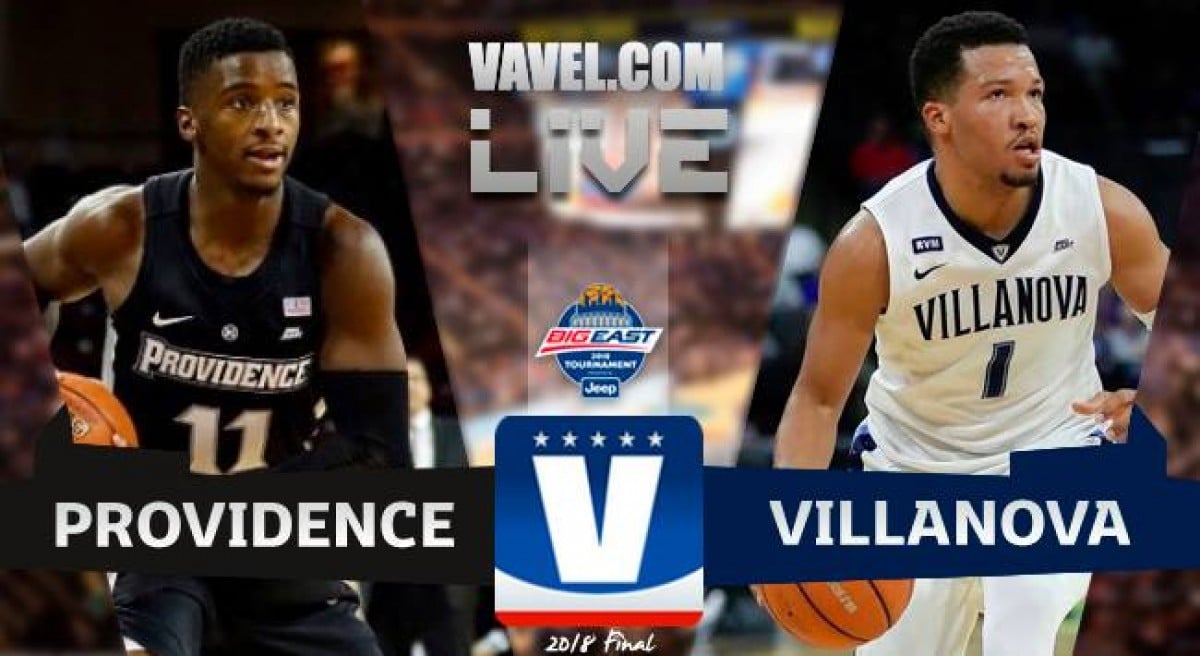 Villanova has defeated Marquette and Butler to reach the championship game.
Providence is seeking their third Big East tournament title while Villanova is looking for their fourth title in the last five years.
Jumper by Bridges. 13-11 Villanova.
Turnover for Providence.
Providence with seven turnovers so far in the game.
We have reached halftime with Villanova ahead 31-27.
Villanova has called a timeout with 9:04 left to play. The Wildcats lead 51-49.
Drew Edwards with the jumper to tie the game at 51.
Edwards completes the three-point play. 52-51 Providence.
Bridges with the latup off of an offensive rebound. 53-52 Villanova.
Bridges has been huge all game and he cans a
Alpha Diallo with two free throws. 56-54 Villanova..l
Jumper by Eric Paschall. 58-54 Villanova.
We have reached the final media timeout. Villanova still leads 58-54.
three. 56-52 Villanova.
Diallo with two from the line. 58-56 Villanova.
Cartwright with the beautiful assist to Diallo!
Providence leads 60-58 with 41 seconds left in regulation. Timeout Villanova.
Brunson ties the game at 60 with two free throws. Providence with the last possession of regulation.
Providence misses and we are headed to overtime tied at 60.
Bridges with another huge three! 63-60 Villanova.
Jalen Lindsey pulls Providence within one with a pair of free throws. 63-62 Villanova.
Omari Spellman cans a jumper. 65-62 Villanova.
Kyron Cartwright with a pair from the line. 65-64 Villanova.
Bridges with another huge three! 68-64 Villanova. Providence calls timeout. 2:08 left in overtime.
Donte DiVincenzo with two from the line. Timeout by Providence. 72-66 Villanova. 27 seconds left.
That is the final whistle and the Villanova Wildcats are your 2018 Big East tournament champions! Congratulations to Jay Wright and his club.
That will conclude coverage of the Big East championship game between Providence and Villanova. Good night from VAVEL USA.
Much-needed basket by Providence. Rodney Bullock with a triple. 21-14 Villanova.
Providence comes into this final on the back of consecutive overtime wins over Creighton in the quarterfinals and Xavier in the semifinals.
Jalen Brunson with the first four points for Villanova.
Mikael Bridges with a fadeaway jumper plus the foul. Providence calls timeout. 9-2 Villanova.
Nate Watson pulls Providence within two after a three-point play. 11-9 Villanova.
Each team won at home. Villanova defeated Providence 89-69 on January 23rd 2018. Providence defeated Villanova 76-71 on February 18th, 2018.
Providence vs Villanova Live Stream and score 2018
Madison Square Garden is the venue for the game.
Villanova leads the all-time series 58-38.